Trucking It Down the Tombigbee!
From the Tennessee River at Pickwick Lake, we turned down Yellow Creek to the beginning of the Tombigbee Waterway.  We checked our map, and knew the first day would not be bad as we didn't have any locks to transit and there was large lake with plenty of coves and anchorages for the night.  We passed a barge on Yellow Creek and knew we would start seeing a lot more commercial traffic.  As soon as we got on the Tombigbee you could tell they moved a lot of dirt to make the passage.  The channel was very narrow, the sides were terraced, and the average depths was probably 10ft.  There was rip rap on both sides to prevent corrosion and the ditches were paved concrete with concrete blocks to break up water flow to prevent silting in.  The very first train bridge we came to was listed at 49ft at full pool.  Our mast height is 48.5ft and it was lower than full pool.  We slowly eased our way under that sucker, and made it without even touching the antenna!   I have a list of reasons of why our boat is the perfect size and this is one of them, any larger and we would have to pull the mast.  After that bridge the rest of the bridges down the waterway are 52ft.
Fortunately we did not cross paths with any barges during the beginning stretch.  There were no pull offs, no coves, no anchorages.  There would be room to squeeze by a barge, but I'm glad we didn't have to!  We made it to the first and largest lake on the river, Whitten Lake.  It was gorgeous! Large, remote, secluded.  There wasn't one house on the whole lake (that I saw).  We anchored in a cove way in the back and gleefully hopped in the water as we figured this might be the last time we had pretty, clear water to swim in.
After spending the evening looking at the charts, we knew the next few days would be rough.  In that first stretch there is a lock almost every 10 miles.  So about every 2hrs or so we would be locking through.  We did our best to try to pick out the next best anchorage, and started our journey.  But before we left through Whitten Lock we stopped at the Tombigbee Visitors Center where we learned all sorts of neat facts about the waterway we were traveling.  In 1946 the proposed waterway got its first approval, but construction did not begin until 1971 under President Nixon as he allotted $1million to the Corps of Engineers budget.  Finally in 1984 after 12 years of construction, the waterway was completed for just under $2billion.  The Tenn-Tom was the largest earth moving project in WORLD HISTORY.  310 million cubic yards of soil were excavated, which was 100 million more dump truck loads than the Panama Canal.  Wow! That was a neat stop to really gain an appreciation of what we would be traversing.
After the stop at the visitor center we went through Whitten Lock, Montgomery Lock, and Rankin Lock on the second day.  On the charts there are some spots on the waterway that look like they might be widened out and a good anchorage on paper (or cell phone in our case), but once you get to the area its really just swampy shallow land with tree roots jutting up out of the water.  No cozy coves that night, we anchored just downstream of Midway Marina and were able to pickup their wifi.  We were off the main channel by about 50ft and in between the shore and the channel marker can.  The next day we went through Fulton Lock, Wilkins Lock, and Amory Lock.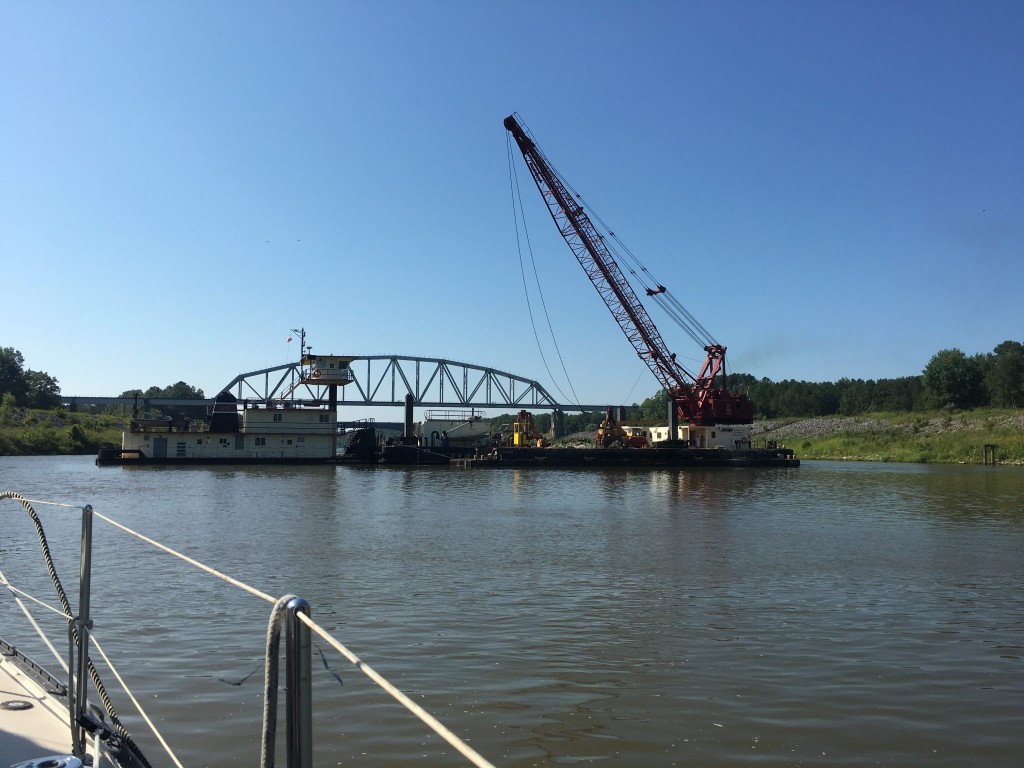 small dredging operation after amory lock
We were hoping to make it to Aberdeen Marina to get a little more diesel, as we read it was the cheapest on the Tombigbee.  It is a gas station with a "marina" out back.  I called them on the way their, wanting to make sure our deep draft sailboat of 5.5ft could make it back there, and I got a "yea sure sure" in response.  Well the channel was silted in, and we bumped bottom 3 times trying to make it through.  We were prepared though, we closely watched our depth and speed and as soon as we nudged the bottom we would throw it into reverse and we would get out.  So after failing at that we decided we needed to anchor for the night and puttered around to the marked anchorages and all of them were silted in! There must've been a flood or something because it would be 10ft then 4ft out of nowhere.  So we were stuck at the top of the Aberdeen Lock with nowhere to anchor, so we called the Lock Tender on the VHF asking for advice.  At the same time there was a tug boat coming up the lock, and we heard them conversing.  The lock tender said he technically wasnt allowed to give advice because you know how that goes, and the tug boat captain said he's seen barges anchored just right off the chanel by an island.  And if it was deep enough for them it would probably be deep enough for us.  So we did it.  We anchored like 15ft from the can, and 15ft from an island, and set our bow and stern anchors so we wouldn't swing. The tug captain said we looked good to him as he passed by and the lock tender said he would alert other barges of our position.  It worked, but it was less than ideal.  Once anchored Erik couldn't resist the lure of cheap fuel, so we hopped in the dinghy and found the "marina" that was just an afterthought.  There may have been 10 boats there, all slowly sinking into the water.  And the back dock was locked initially, but we got the owners attention and we were able to get diesel for the price at a gas station.
The next day we locked through Aberdeen Lock, and the lock frequency started to slow down.  At this point I realized that I wanted to be done with this stretch of the Tombigbee.  It was narrow, shallow, little scenery, little anchorages, and lots of locks.  We were putting in around 40 river miles a day. At one point during the trip we had to do a double take because even though we were in the middle of the channel, it appeared a small island was also in the middle of the channel.  Erik and I sorta freaked out and had the boat idling as we slowly drifted past a grassy knoll.  Turns out it was a large chunk of floating plant.  This happened a few more times, and we affectionately nicknamed them Alabama Icebergs.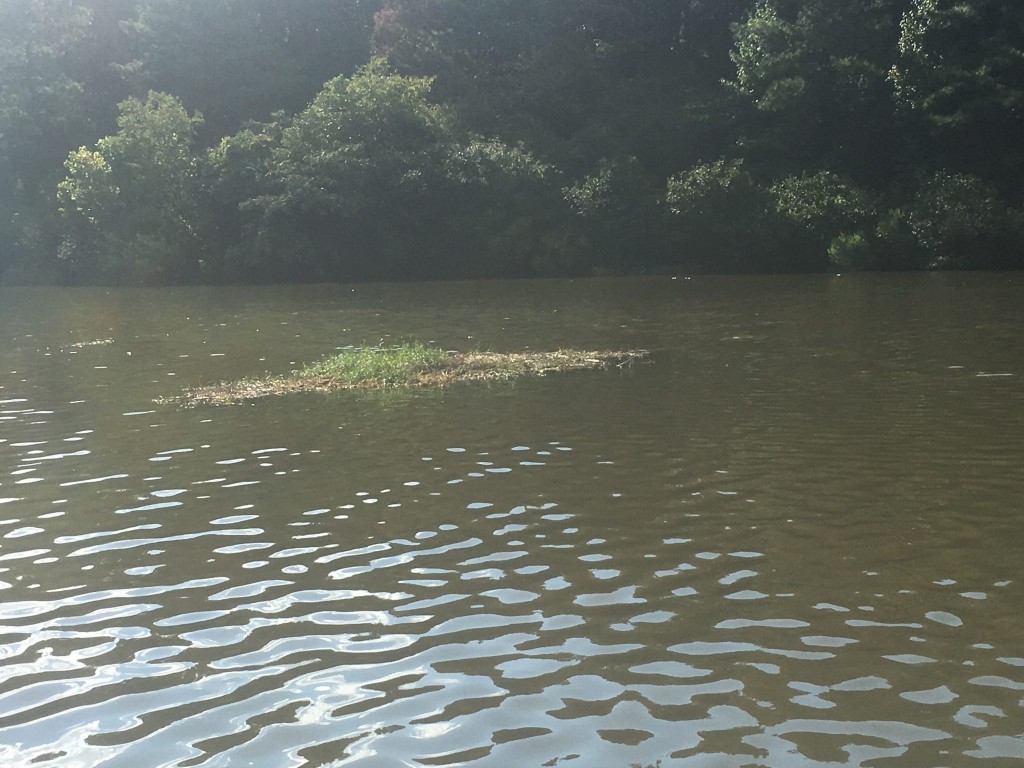 The first stretch was brutal, but it did get a little better as we continued!