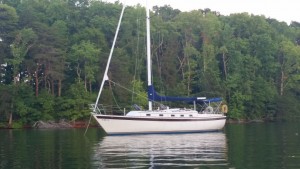 The Aloha 34 first went into production by Ouyang Boatworks in 1981, and "Ragnarok" (Originally "Ragnar", then "Aloha Makai") was built in 1983 (hull #179). The Alohas were deigned by Ted Brewer and Robert Walstrom, and Bob Perry has stated that he drew the deck lines for the Aloha 34. They were built in Whitby, Ontario, Canada so many of the boats are located in the Great Lakes.
Design Characteristics:
With a sail area to displacement ratio of 14.96, the Aloha 34's modest sailplan is tailored toward cruising with a shorthanded crew. It takes alot of wind to overpower the boat, and we can endure relatively high windspeeds before needing to reduce sail area. We often approach 15 degrees of heel in strong winds, but the boat's relatively wide beam provides significant resistance to further heel at that point. The 48′ mast height is great for getting under all the 50′ bridges that are so common. Our boat has a 5.5′ draft with a fin keel and skeg hung rudder, which prevents us from anchoring in shallow areas, but allows for good upwind sailing performance. The keel is fully encapsulated in the solid fiberglass hull so there are no keel bolts to worry about corroding away. The 13,500lb displacement puts it on the heavy side for a production boat, and the slotted aluminum toerail is bolted every few inches through the hull to deck joint, creating a fairly bombproof construction.
Cockpit:
The Aloha 34's T-shaped cockpit has a deep port side locker for access to the Westerbeke 21 diesel engine, batteries, fuel tank, etc. We also keep fenders and other bulky items than can get a bit dirty. There is a shallow locker on the starboard side, as well as 2 propane lockers in the rear (which we use to store other things since we have no propane system). The rear lazarette provides access to the rudder and quadrant for the Edson wheel steering system. We traveled from Knoxville, TN to Tampa, FL without an autopilot system, but we will likely be installing one soon! So far we've used our phones as makeshift chartplotters, and while we'd like to have one as well, that upgrade is a bit further down the list.
We installed 200w of flexible solar panels on the bimini (soon to be 300w), and 645 AH storage cappacity in the form of six, 6V golf cart batteries. We have no mechanical or wind generators, so the solar provides all our power with the exception of what the alternator puts out incidentally while we're motoring.
Kitchen:
The port side U shaped galley provides a secure area for preparing food in the aft of the cabin. We have a gimbaled non-pressurized alcohol stove, which we enjoy for its simplicity and safety (no risk of a confined space propane explosion)! We have a deep single sink with pressure water, as well as a foot pump with filtered water for drinking. We connected it to our 60 gallon water supply with new pex plumbing. Soon we'd like to tap into the engine raw water hose so we can have seawater at the sink to do dishes with. As of Nov 2016, we've been doing dishes in a 5 gallon bucket to conserve fresh water. Food is stored in all the cabinets (and one deep locker) near the kitchen in the aft part of the cabin. We don't have refrideration and its too much hassle to keep up with resupplying ice, so our icebox serves as extra unrefridgerated food storage area.
Cabin:
Starboard of the galley is the navigation station and chart table where we store old maps, our radios, and random items that we use daily. There is also a cave like berth under the shallow starboard cockpit locker that we currently use to store bulky items. Forward of there, the cabin area has an L-shaped settee on the port side with alot of flexibility. You can use it as a normal couch, slide it out into a lounge area or bed, or lower the folding bulkhead table. There is also normal settee on the starboard side. There is one 30 gallon water tank under each. On each side are several cabinets above and behind the seat cushions for quite a bit of storage. Heading forward still, the head (toilet room) is on the port side and is opposide a hanging locker and cubbies for keeping clothes. Further forward, the V-berth is where we sleep. Theres storage on either side, and we've each claimed a side for personal nicknacks and whatnot. At the very front is the anchor locker, which is accessed from the deck and holds our 75′ 1/4″ G4 chain spliced to 225′ 5/8″ 8-brait nylon rode. The 45lb Mantus anchor hangs off the front of the boat, and we pull it up by hand since we currently have no windlass!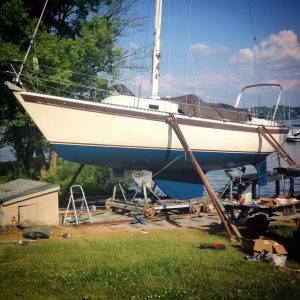 Aloha 34 Hull Statistics
LOA 34′ 0″ (10.36m)
LWL 28′ 8″ (8.74m)
Beam 11′ 2″ (3.40m)
Draft – Shoal 4′ 8″ (1.37m)
Draft – Deep 5′ 6″ (1.68m)
Displacement 13,600 lb. (6182 kg)
Ballast 4,700 lb. (2136 kg)
Bal/disp ratio 0.39
Aloha 34 Sail Statistics
Total sail area 445 sq ft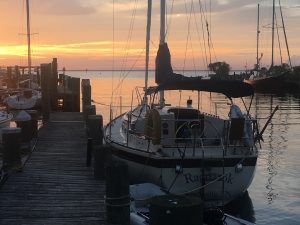 Main 226 sq ft
Working jib 219 sq ft
150 % Genoa 456 sq ft
Sail Measurements
P 37.75
E 12
I 43.5
J 14
Reefing: Jiffy or slab
Spars aluminium, 48' (approx)
Rigging stainless steel
Power 24 HP diesel [varies]
Fuel capacity 20-24 imp gal (109 L)
Water capacity 60 imp gal (272 L)
Construction fibreglass with balsa core deck
Headroom 6′ 7″ (2.02m)
Berths 6 x 6′ 4″ (1.93m)
Designers Brewer and Walstrom