Much Needed Vacation!
After all the hard work we've been putting in at the boat, it was definitely time for a vacation! We've been meaning to visit my Grandma since April, and when we sat down to look at the calendar we decided no better time to visit than for my birthday! It was so great getting to spend my 26th with my Grandma.  She is a huge inspiration to me.  She's 100% Greek and makes the best baklava in the entire world! She lives in St. Petersburg FL so we decided to take the long way down to visit and really make it a trip to remember- and it didn't disappoint!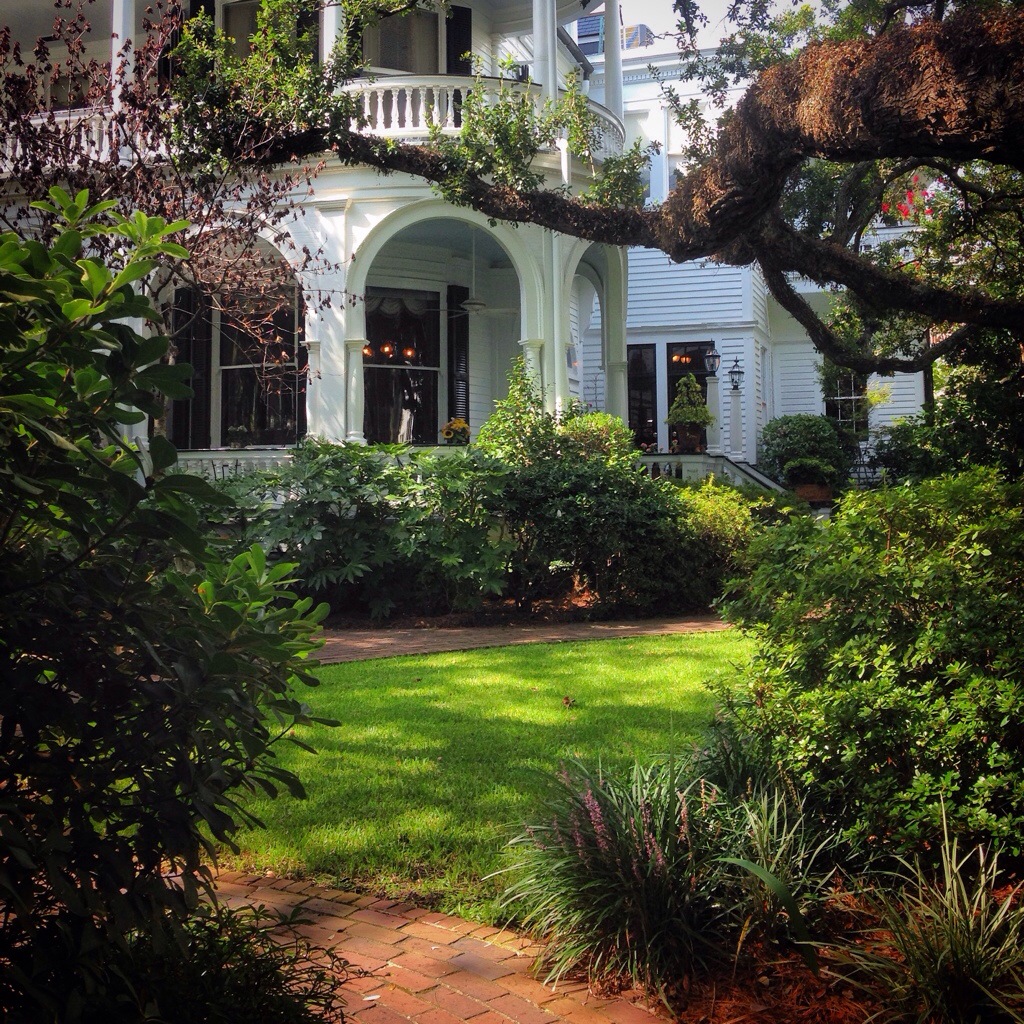 We started with a 6 hr drive to Charleston SC.  We got there in the early afternoon and spent the day walking.  We walked the entire city pretty much.  Strolled in parks, wandered by the waterfront, and meandered through the quiet historic streets. I love that town, it is filled with such beauty and delicious food! We treated ourselves to a nice dinner of she crab soup (of course!), oysters, crab cakes, and tuna tacos.  And after our feet were worn thin Erik was yearning to see some beach, so we drove out to Folly Beach.  We got sidetracked and traipsed around a marina looking at sailboats but we made it to the quaint town and enjoyed dipping our feet in the sand and rolling ocean waves.  By this time it was dark, and without much of a plan (and being the cheapskates we are who refuse to spend $225 on one night in a motel) we drove back in to town to find the cheapest motel we could crash at for the night.  We were exhausted (ok maybe I was a little more exhausted) and slept like rocks.  Awaking at 8am was the perfect time as Erik checked the internet to see when a ferry left for an island he sorta kinda did some research on.  The ferry left at 11:45, and the town was 3hrs and 45min away! YIKES! We packed our things and I made good time down the flat roads arriving at St. Marys GA for the next leg of the unplanned adventure: Cumberland Island.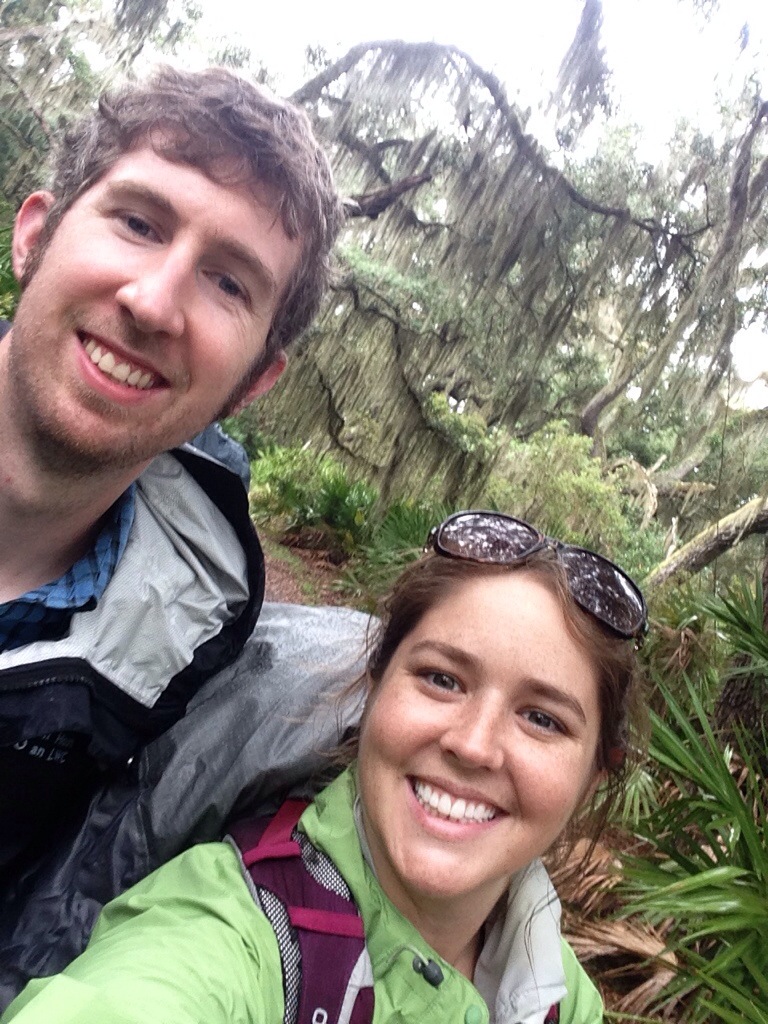 Arriving just in time to pack our things we boarded the 30 min ferry to the island.  It was a little overcast and right as we were docking it started drizzling, but a little weather has never stopped us before.  After grabbing our gear we met with a ranger who gave us a briefing on rules and regulations of the campsites.  By the time we were done the rain had subsided and we searched for our camp spot.  It was beautiful.  The palms, the curving oaks, and the spanish moss were surreal. We set up tent and headed to the ocean.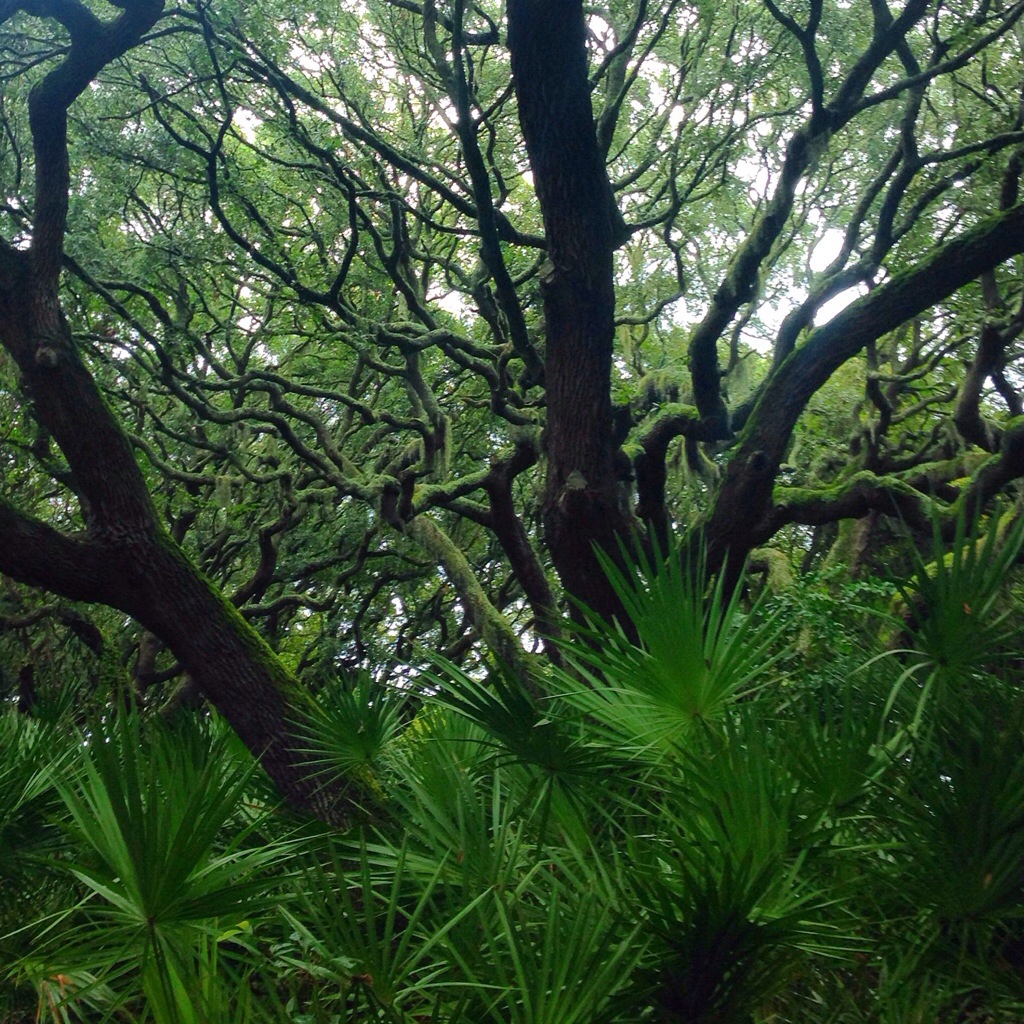 Due to the overcast weather and the fact that it was a Sunday there was no one on the beach.  We swam and body surfed the big waves of the East Coast.  The waves were really big and quite pushy as we found ourselves far from our belongings, but we would just get out run past them and then get pushed back down shore.  It started raining again but what better time to enjoy the rain then when you're already wet and swimming?!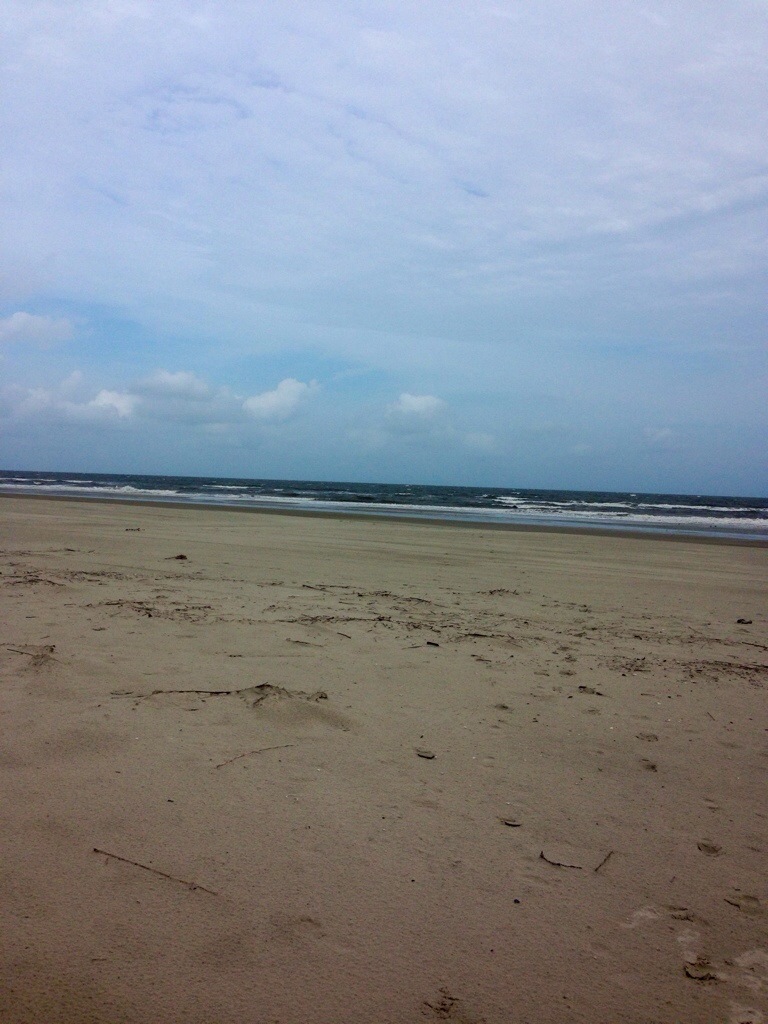 After thoroughly wearing ourselves out we retreated back to home base to have dinner.  By this time the weather was nicely clearing up.  After dousing ourselves in bug spray (the mosquitos were TERRIBLE) we decided to do some exploring.   We had heard the Carnegie's built a mansion on the island years ago then abandoned it and that it's ruins remained so decided that's where we would wander.  On our entire adventure, we did not run into one human soul.  We did run into deer, turkeys, wild horses, crabs, and many other souls,  none of which were human.  It was truly magical.  Being in such a grandeur atmosphere lends much to the imagination and we really couldn't get enough.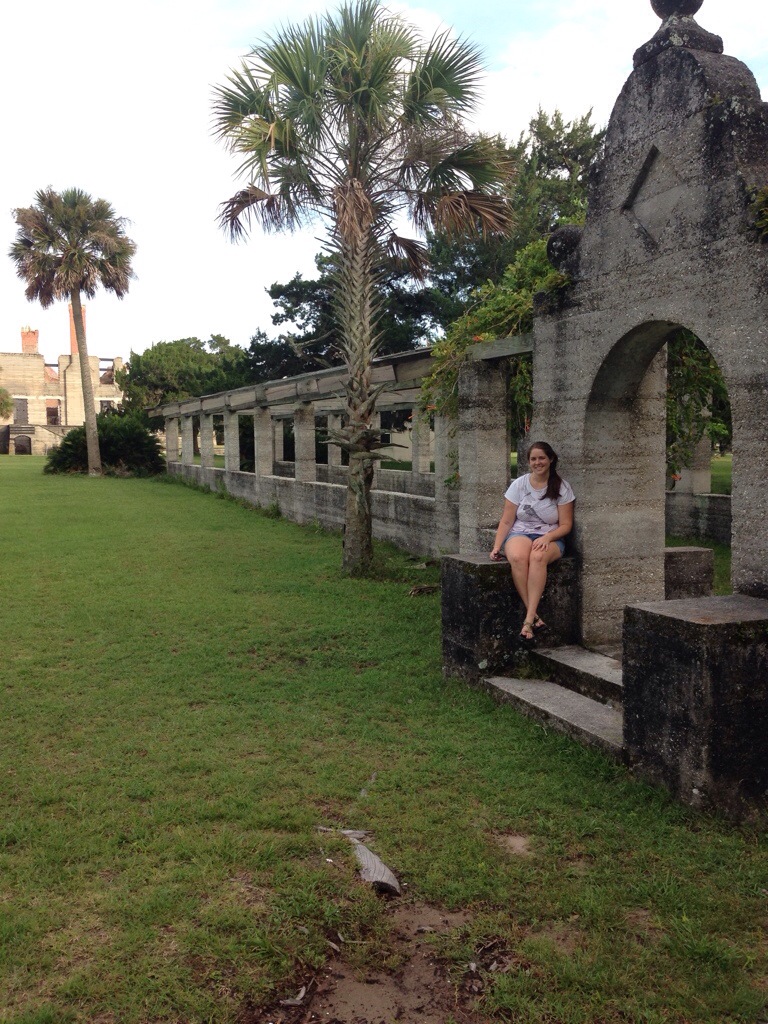 Every ruin we came across caught our attention:  a pond, old shack, boat house, fountain, veranda, greenhouse, stables, and the list just keeps going and going.  My imagination was running wild, almost as wild as the horses wandering the property.  These were the horses, that like the mansion, was abandoned.  Left to fend for themselves they are feral now.  I would definitely recommend exploring this magical place, and plan to return one day as I am sure we just caught a glimpse of all it has to offer.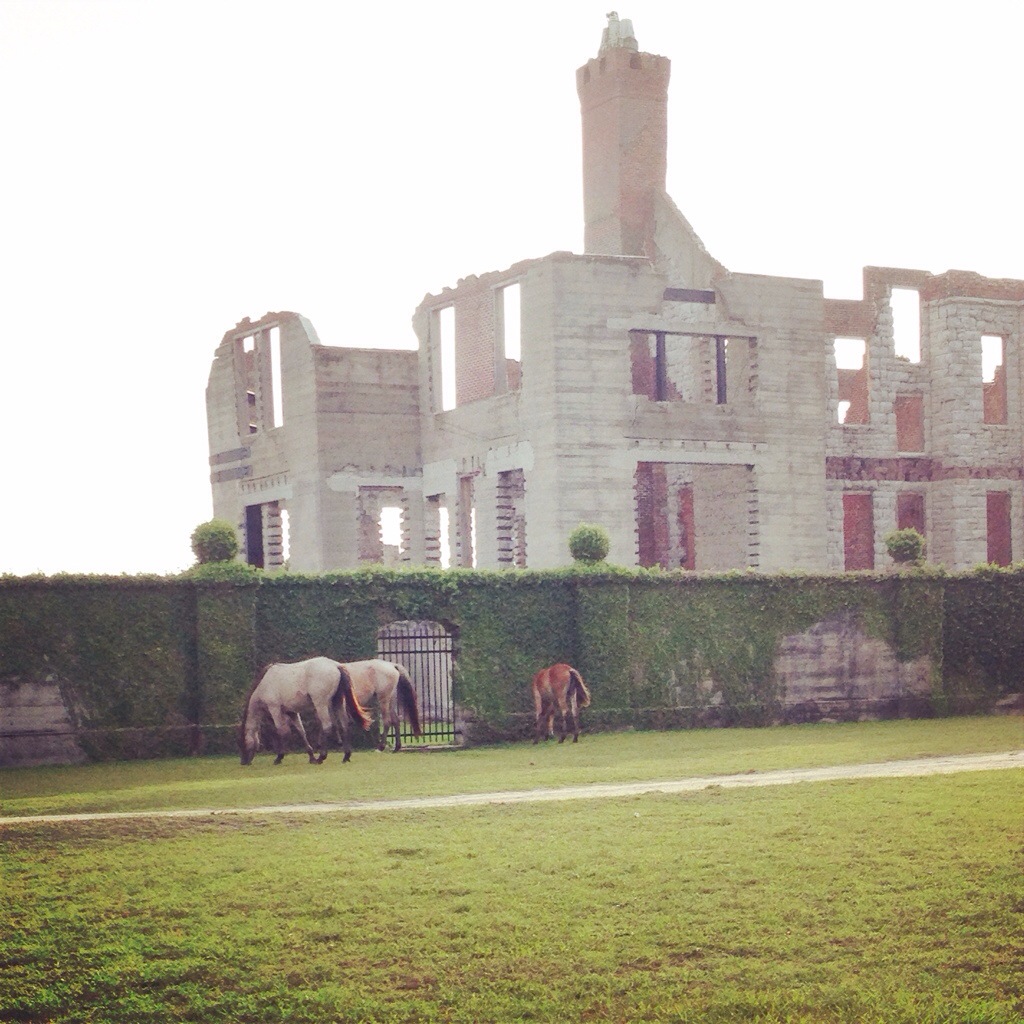 After wandering till our hearts content, we opted to walk the beach back to our camp site instead of taking the easy trail back.  Oh yes, how romantic, a stroll on the beach at dusk.  Nope.  The picture from earlier with sprawling beaches is how it looks at low tide.  Well when we decided to walk back, the waves were all the way to the edge of the sand dunes and vegetation.  Not to mention, there was some of the most relentless wind blowing at least 30 knots that did not let up at all, and it was blowing AGAINST us the whole trudge home.  But we made it, and we sure did sleep good.  The next day we awoke, packed our things and caught the ferry back to reality.  From there we ate lunch and decided our next destination: the springs of central FL.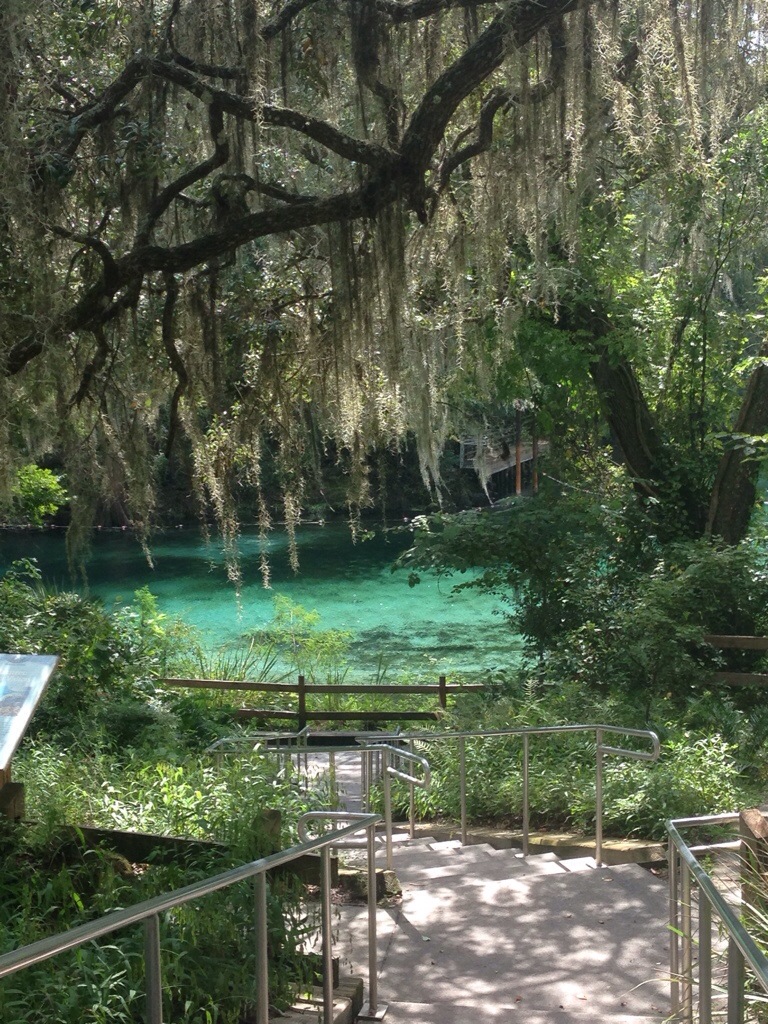 Fanning Springs was our first stop.  After drive time we only had a few hours till dark so we stopped for a swim at the crystal clear water in Fanning Springs.  Quite nice!  We then headed to find camping grounds to get well rested for more springs in the morning! Ichetucknee Springs is different from other springs in that it runs a good distance before  connecting to the Suwanee River, so it offers a chance to rent a tube and float on the liquid diamonds. And so that was our plan.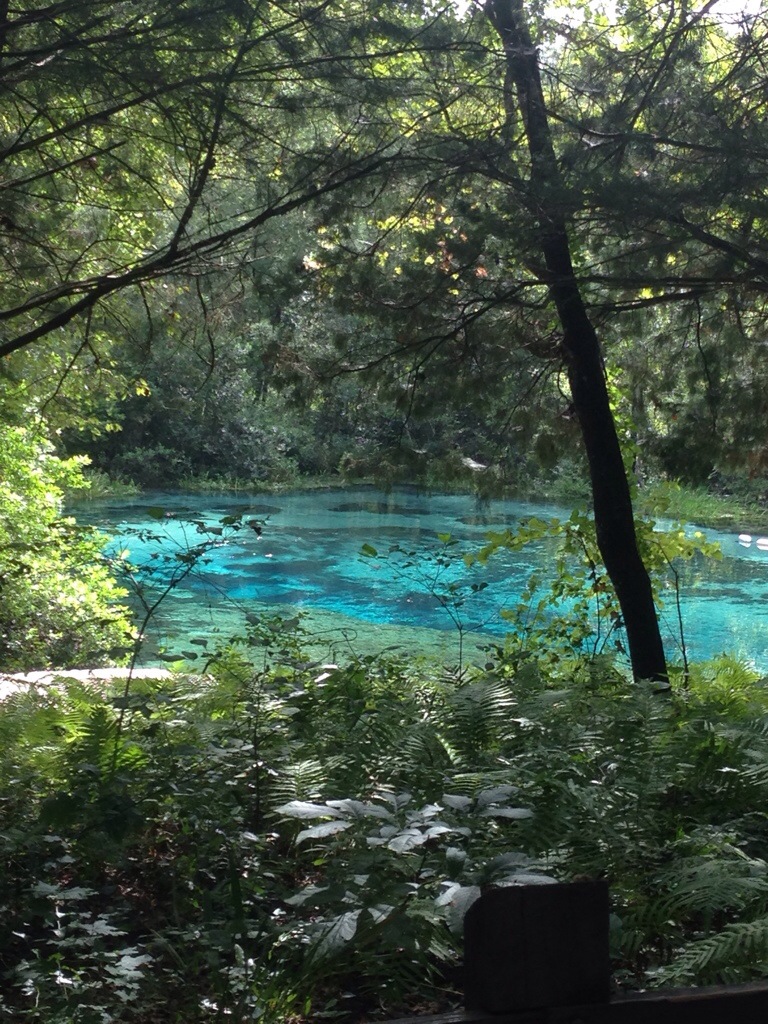 Ichetucknee Springs was a sight to see indeed.  Gorgeous.  Well instead of renting tubes we decided to just float with our life jackets and snorkels the whole trip down.  It was great!  We saw so many fish, turtles, and other wildlife in the spring water.  However it was an hour trip and by the end of it, the water temperature was really starting to get to poorly insulated Erik.  He was purple and shivering by the time we were done, so next time we will opt for a tube!  And before we headed to Grandma's we had one more spring to see!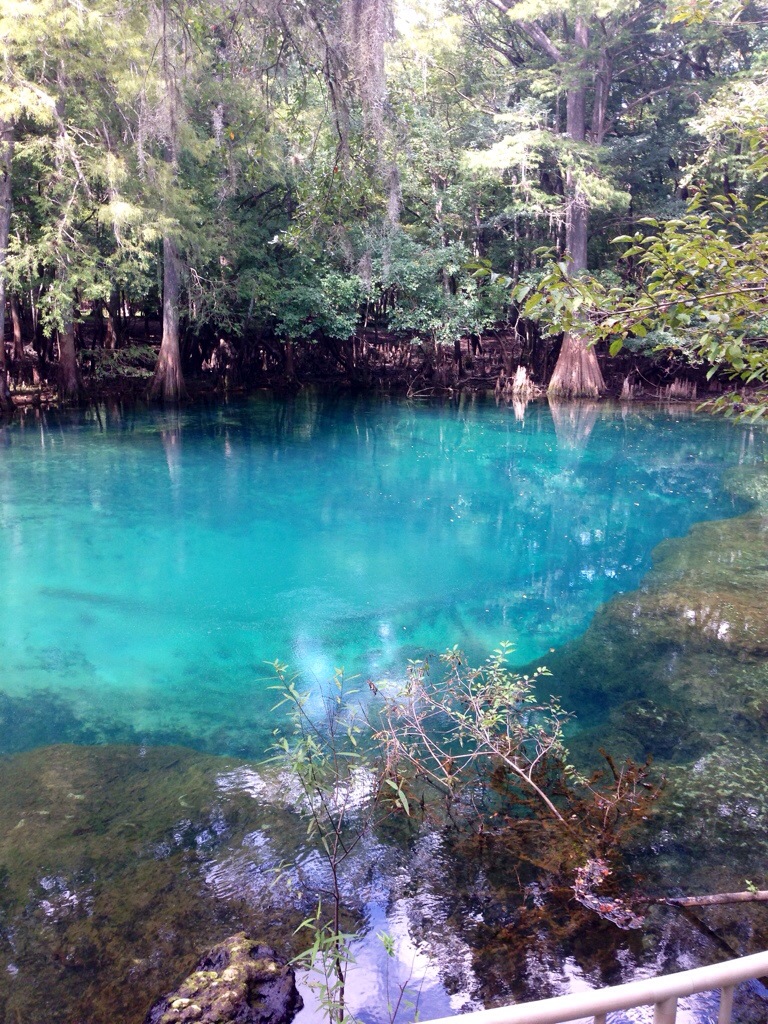 Manatee Springs.  Dad has taken me to Manatee Springs when I was younger and I remember being in awe at how clear the water was and since it was on the way we stopped for a quick dip here as well.  From there it was on to Grandma's!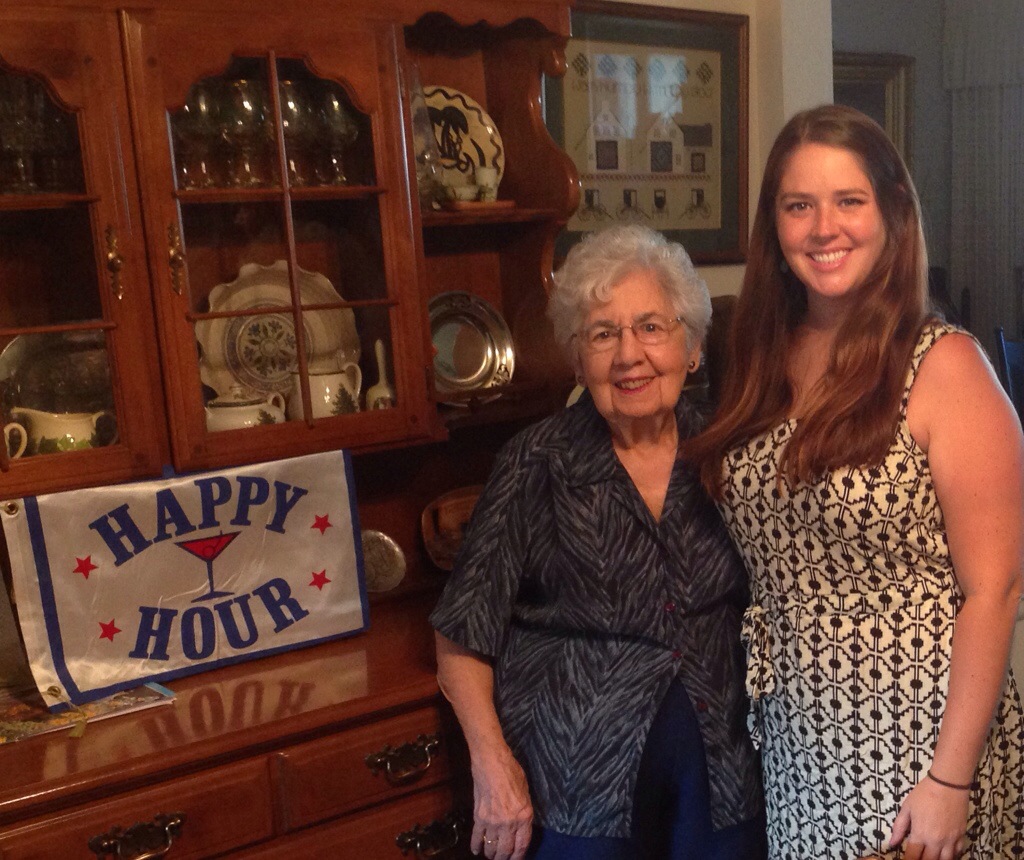 I am so glad Grandma got to meet Erik!  We had such a great time visiting.  We had many great seafood dinners, and Grandma took us to a new place in town called Rumfish for my birthday dinner.  It was very tasty, but the neatest part was the huge aquariums all over the restaurant!  You all know how much I love fish!  She gave me this Happy Hour flag to fly on our boat too! We also got to visit the St. Petersburg Museum of Fine Arts,   where my great uncle has donated quite a few pieces of art.  I also got a quick family history lesson about my Great Uncle Gus, who was a painter (and my most favorite painting hanging in my house is by him).  I love learning tid bits of information like that, it's really great.  Of course Grandma had made baklava as well which I devoured promptly.  THE BEST!   We visited Pass-A-Grille Beach, Treasure Island, and Ft Desoto Beach.  And we even got to go to Busch Gardens for a birthday adventure to ride the new ride! It was awesome.  I can't wait until we get to visit again.  Hopefully next year in our sailboat 😀  I love you Grandma!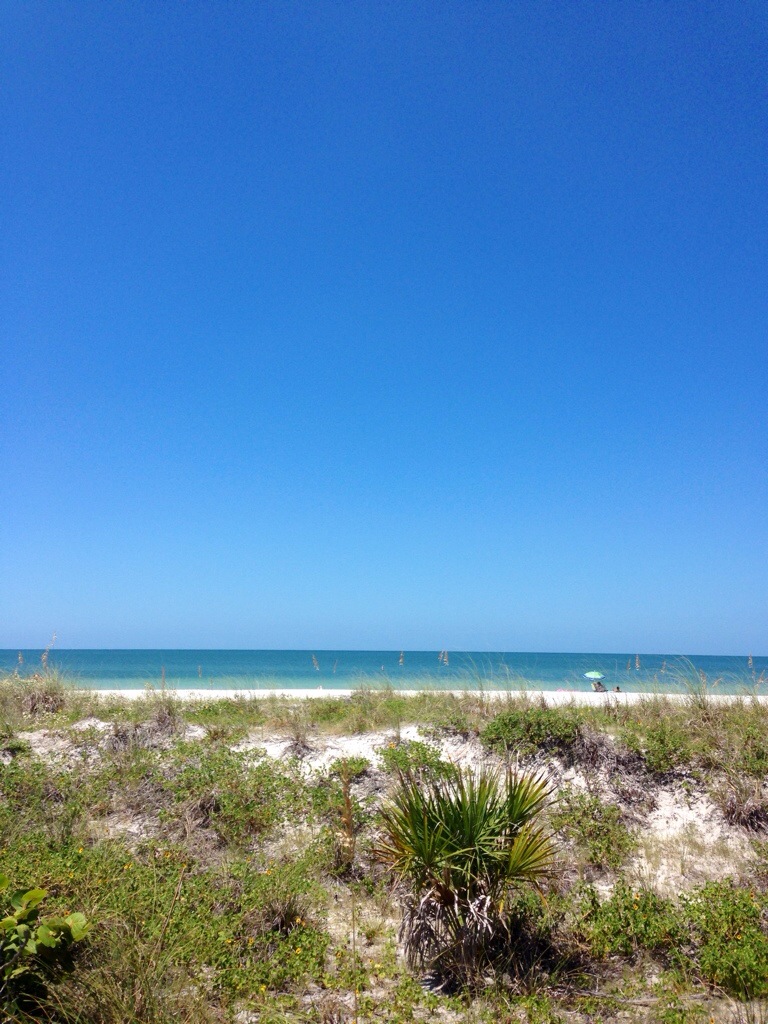 Ahh it was so nice spending a week on vacation, a week away from the boat without worrying about what project to do next.  We got home late Sunday, and the next Monday was a holiday so Erik and I both had off.  I decided it would be best if I spent time unpacking, doing laundry, and buying groceries to get geared up for the coming work week.  While Erik decided he needed to see the boat.  We were separated for ONE HOUR when he calls telling me that there's a hole in the boat because he ripped out a hatch….. Oh joy, guess we are gonna jump right back in to boat work!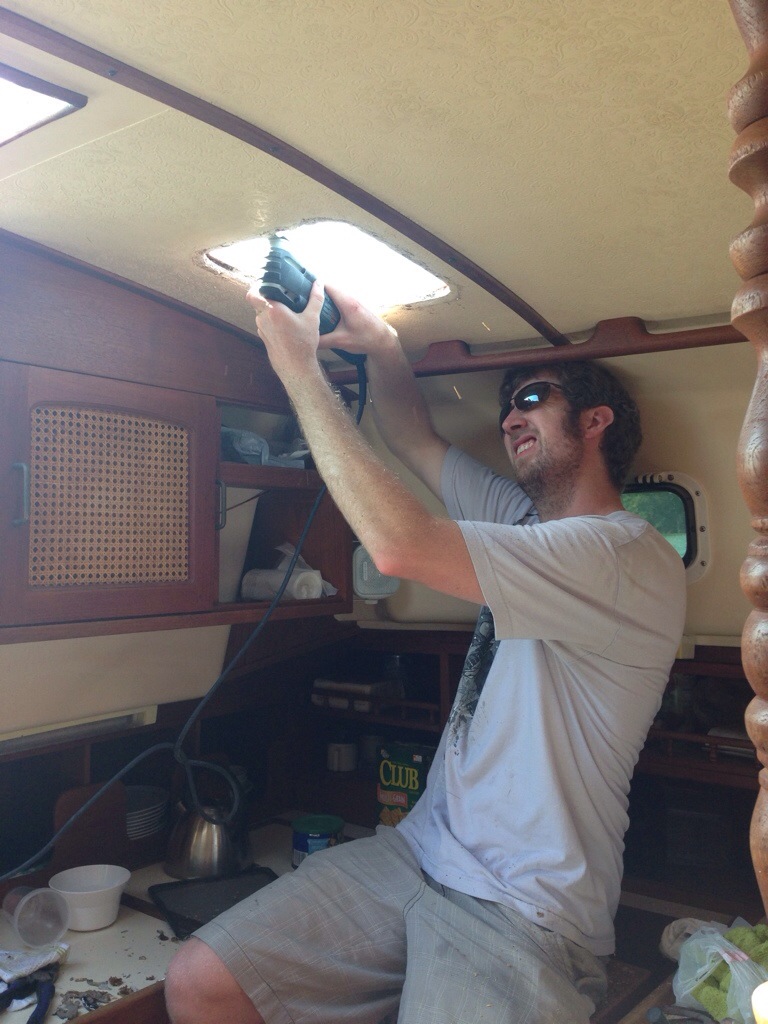 Of course I dropped what I was doing to go check out the damage.  The hatch above the galley had a crack in the acrylic and when it rained there was a drip inside.  So the plan was to remove and replace the acrylic.  Well when Erik got to proding at it (on a non-raining day) there were drips coming from around the hatch, and if you haven't figured out what that means yet, then go read my blog about deck rot! So he rips the hatch out and rotted wood surrounds the hatch.  We brainstormed and asked for advice, and came up with a solid plan (pun intended).  More on that later!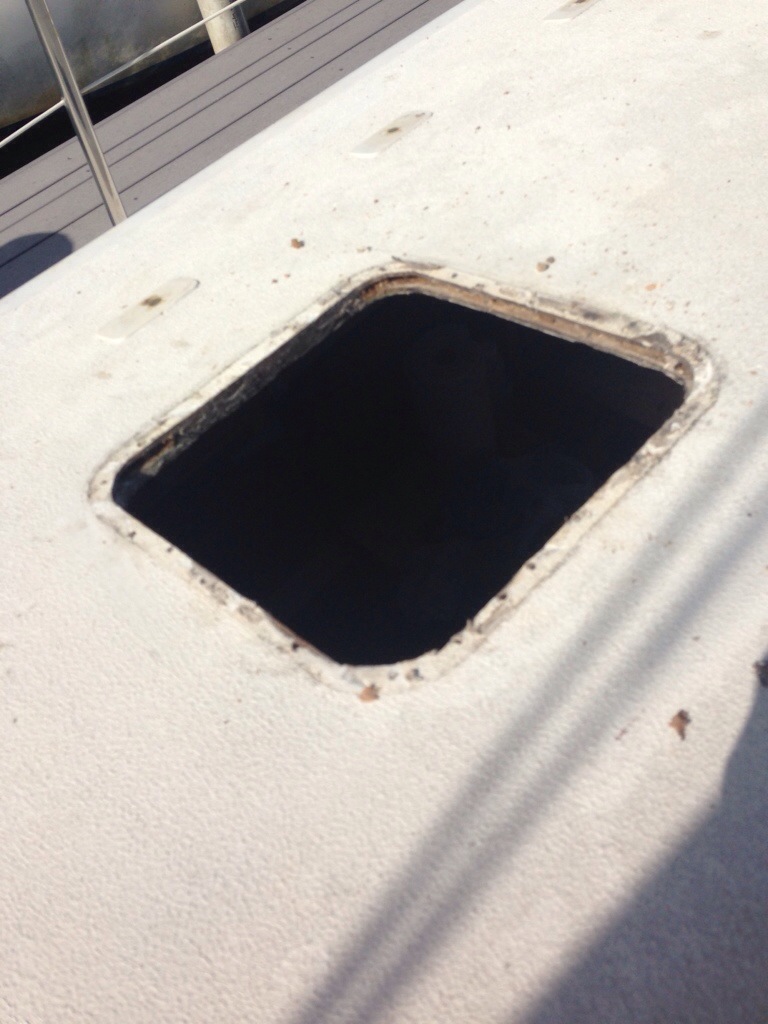 The joys of boat ownership.