Joe Wheeler State Park to Pickwick 
First and foremost, welcome to the new blog! We were able to get our own domain and save all the content from the wordpress hosted blog.  This will give us more flexibility in managing the blog and we will be able to customize it how we please!  There will be a "video" section where you can find all the videos so far, and there will be a "gear review" where we will go over what is working for us, value items, and items we love in our daily life.  I have also become an amazon affiliate, which means I can link items I talk about in the blog and you will be able to find them easier.  This should enrich content for you, and if you happen to buy something it puts a little something in our pockets. But don't worry, I will not flood the blog with nothing but links, only pertinent info that I talk about in that post.  Erik has worked hard so far on the new website and I expect it to change here and there as we figure out what works best.  We would love feedback so tell us what you love, what you hate, and anything else you want to see more of! And please share with your friends or family or anyone who might be interested in pursuing an outlandish dream. Thanks for all the love and support we have received so far, I can't wait to share what else this adventure has in store.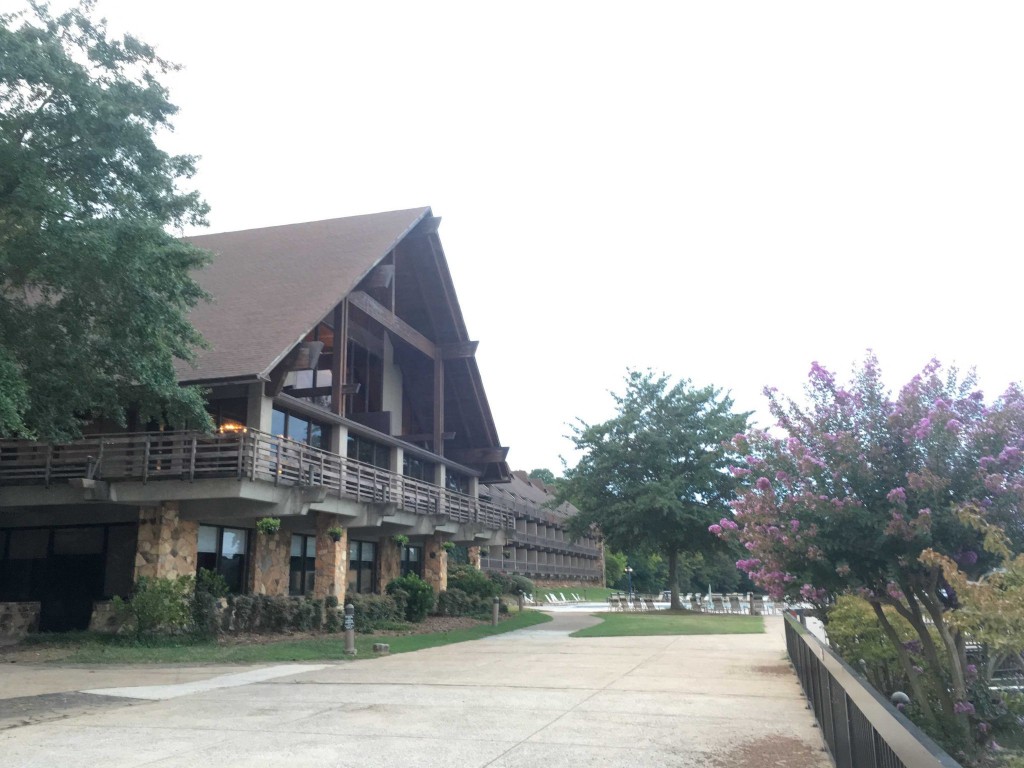 This was the last leg of our journey down the Tennessee River, and it was one of my favorite! Right above Wheeler Lock was a state park, Joe Wheeler State Park.  This was one of my favorite stops along the entire river.  It is a beautiful lodge, hotel, and marina right on a secluded cove.  Being the cost conscious cruisers that we are (doesn't that sound better than cheapskate?) we decided to drop anchor about 200ft across the way from the main marina.  On the first night we got there we dinghied over to explore the area.  It is so cool!  The lodge and hotel are all old stone, and decorated from the 70s or 80s.  It is expansive, and I couldn't help thinking how cool of a place it would be for gatherings like a family reunion or a weekend getaway.  They have a restaurant on premise and we treated ourselves to our FIRST meal since we left Knoxville (well Chattanooga). We wandered around until we found the showers and cleansed ourselves.  This was our first real shower since leaving Chattanooga too.  We bathe ourselves as needed in the river when we swim, but it was nice to get clean!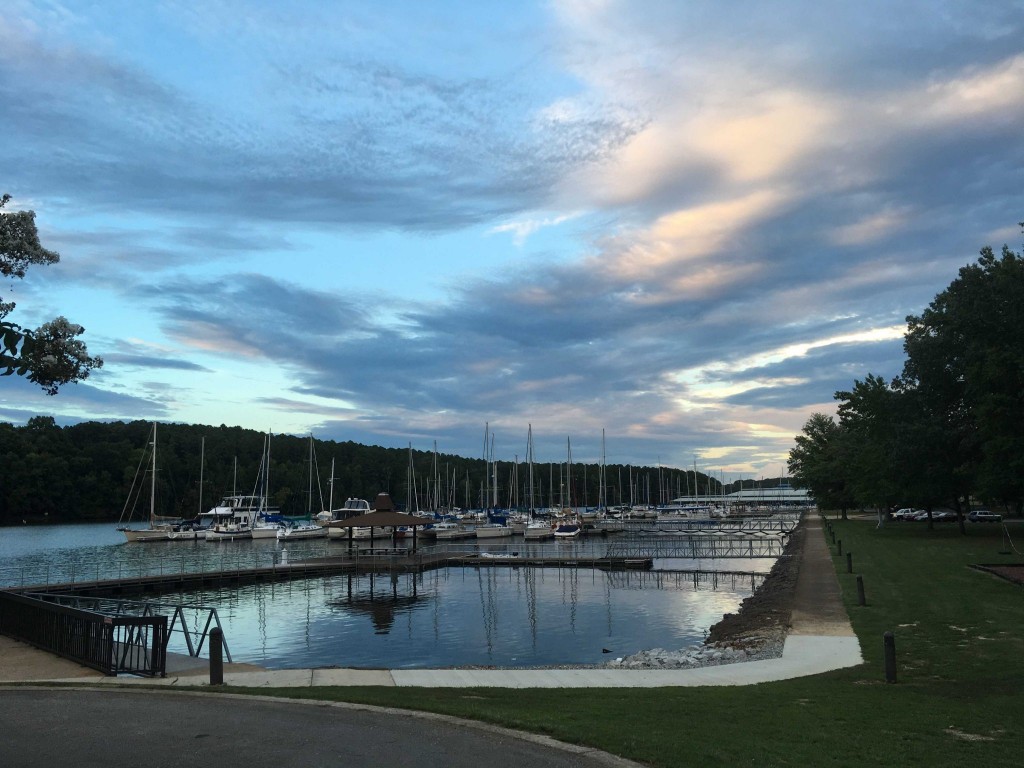 Upon returning to the boat well fed and clean we decided we definitely needed to stay another day because we also found laundry and we were picking up the free wifi from the lodge on our boat.  We have a wifi amplifier, and if there are any unlocked wifi within miles we can access it (how I'm writing this now).  The system we have is called The Bullet by ubiquiti and it's significantly cheaper than other versions that are targeted directly at cruisers.  It is a headache to install and set up but once it's going its great.  Perfect for high density populations, near marinas, or close to restaurants where there is generally unlocked wifi.
Ubiquiti Bullet M2 Titanium – Wireless Access Point – AirMax (BM2-TI(US))
So once we have wifi we are generally happy campers.  There were more sailboats at the Joe Wheeler State Park than we had seen anywhere else so I was getting excited that we were closing in on our last bit of being on the Tennessee River, but also knew I would miss it so bad.  The water is clear and fresh, there are scenic stretches of river and wide stretches of lake, and there are plenty of coves to tuck into for the night.  And I will remember the last lock we went through too!  It was Wilson lock, and generally when we approach the lock we would radio about 2miles away, which took us 15-20min to get to the lock.  It also takes about 15-20min to "turn around the lock" or fill it with water, so the lock operators generally start filling the lock once we contact them.  Well we radioed that we were headed downstream and would like to request downstream lockage.  The tender radioed back to us and told us to let her know when we were at the "arrival point".  The arrival point is literally 100ft in front of the entrance to the lock, so we radio her letting her know we had "arrived" at which point she says, "ok I'll start getting the lock turned around for you"! Sheesh! And this was the biggest (tallest) lock on the Tennessee River, 110 ft! Most of the locks we had been through were between 30-50ft.  So of course this took even longer, Erik just did doughnuts for 20 minutes at the top.  As soon as were tied up the storm cloud above us started raining.  I just sat there, on the front of the boat getting soaked, being aggravated about life.  After we rode down the 110ft it had stopped raining and there was a beautiful rainbow looking back as we motored away from the last of the TN River locks. I guess sometimes you have to sit in the rain to see a rainbow!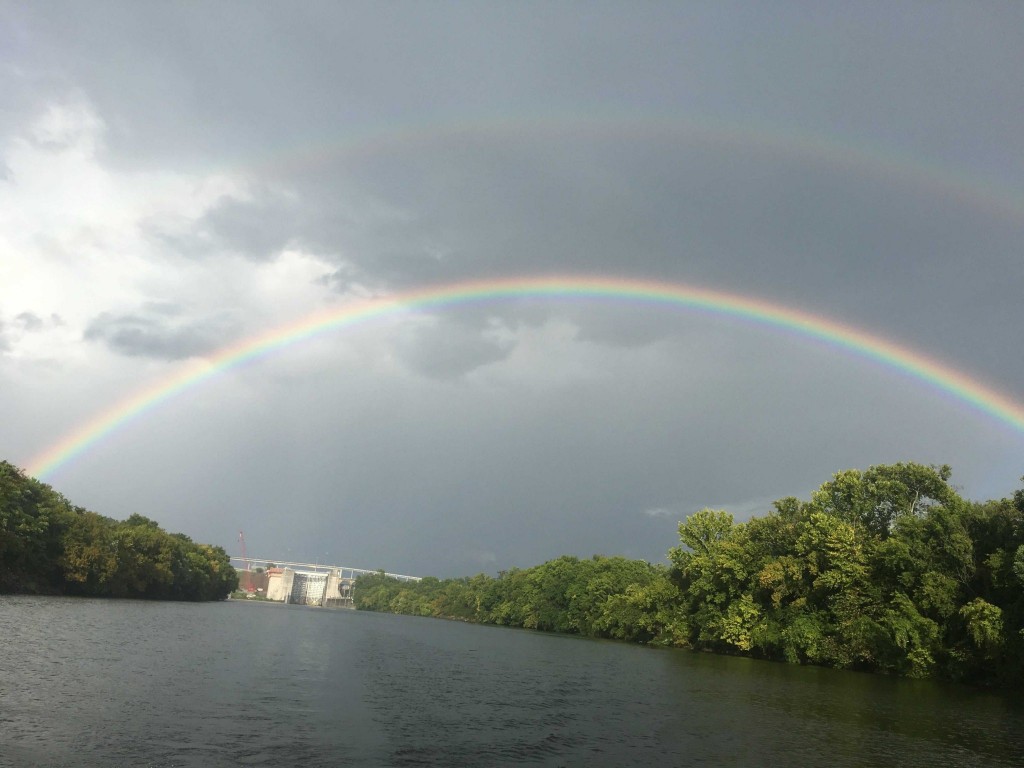 Up until this point we had beautiful weather without one drop of rain! I have no idea how that happened, we were always checking the weather and it was raining behind us or in front of us, but never on us.  I think the day after that minor shower was the first time we got stormed on.  I was watching the radar pretty closely as the storms were moving perpendicular to the river at a pretty fast rate.  When we came around one bend we saw the big grey storm cloud and rainstorm right in front of us. This is what it looked like!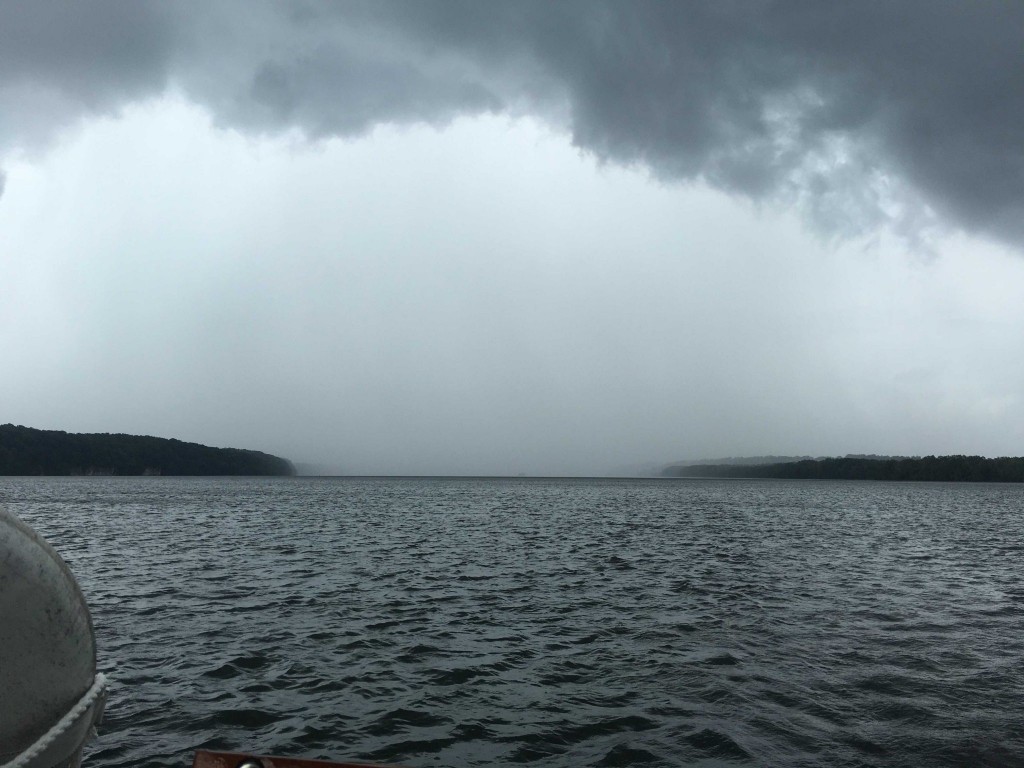 With my eye close on the radar, Erik suggested we make a quick U turn to avoid getting rained on.  I whole heartedly agreed.  Within 15min the same area looked like this!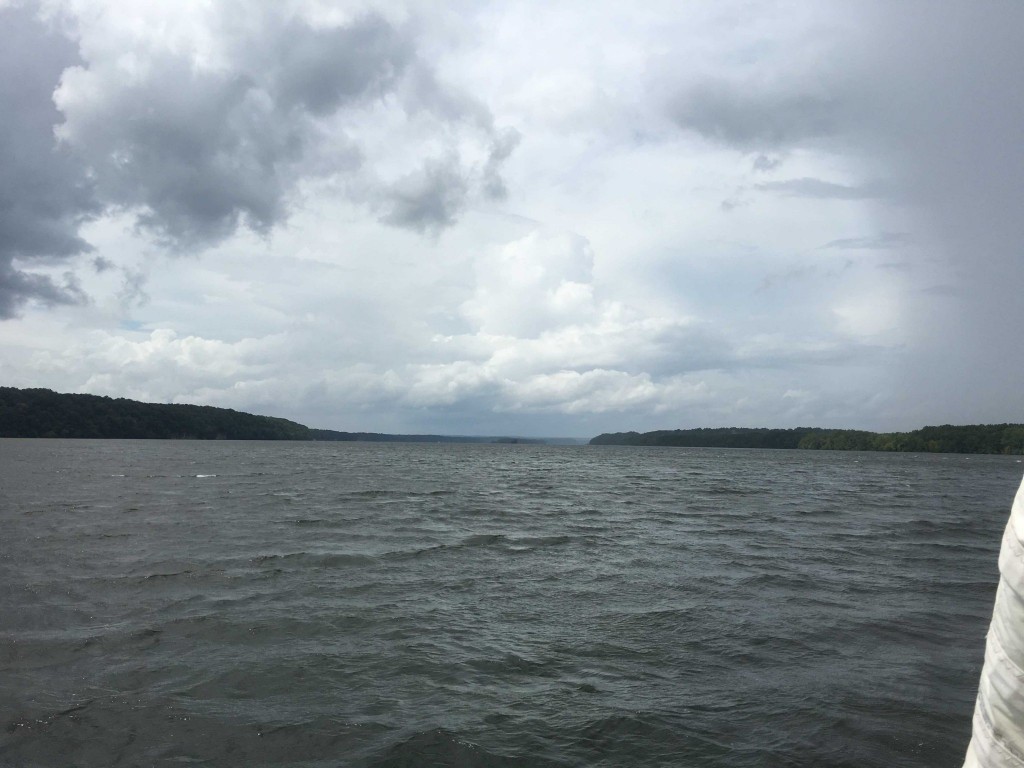 We thought we were so clever out running the storm, but just 15min later we were in the middle of another summer shower.  Dang.  I let Erik hammer it out in the cockpit while I sought shelter down below.  He loves getting stormed on, it makes him feel more extreme.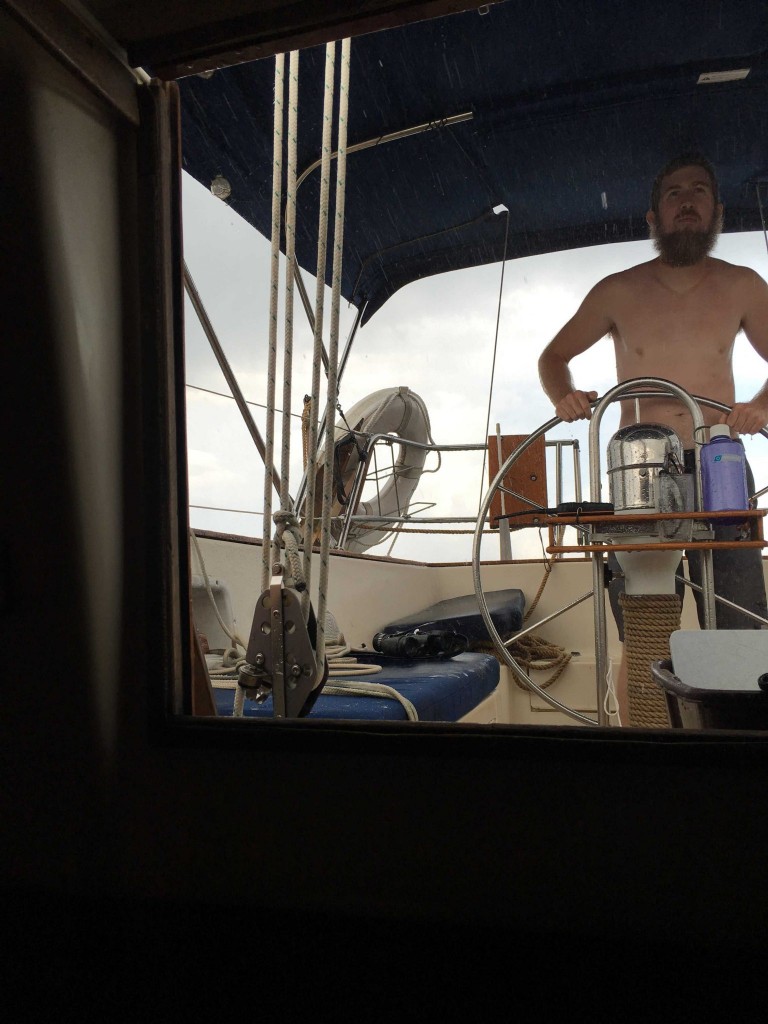 After a long day I made another wonderful loaf of bread and a DELICIOUS recipe out of "The Boat Galley Cookbook".  It was so hearty.  I've raved about this cookbook for the cruiser so I'll mention it again.  It breaks down everything you need to know about the galley and even taught me to make bread.
The Boat Galley Cookbook: 800 Everyday Recipes and Essential Tips for Cooking Aboard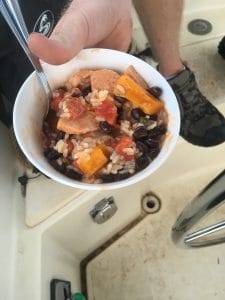 Our next destination we had in mind was called "waterfall" on active captain.  It is on pickwick lake and we had to check it out.  We knew we probably wouldn't be able to anchor there from the reviews saying how popular it is, but we lucked out and was able to anchor in the cove directly next to it.  It is a very narrow cove, so we deployed both bow and stern anchor to ensure we would't swing.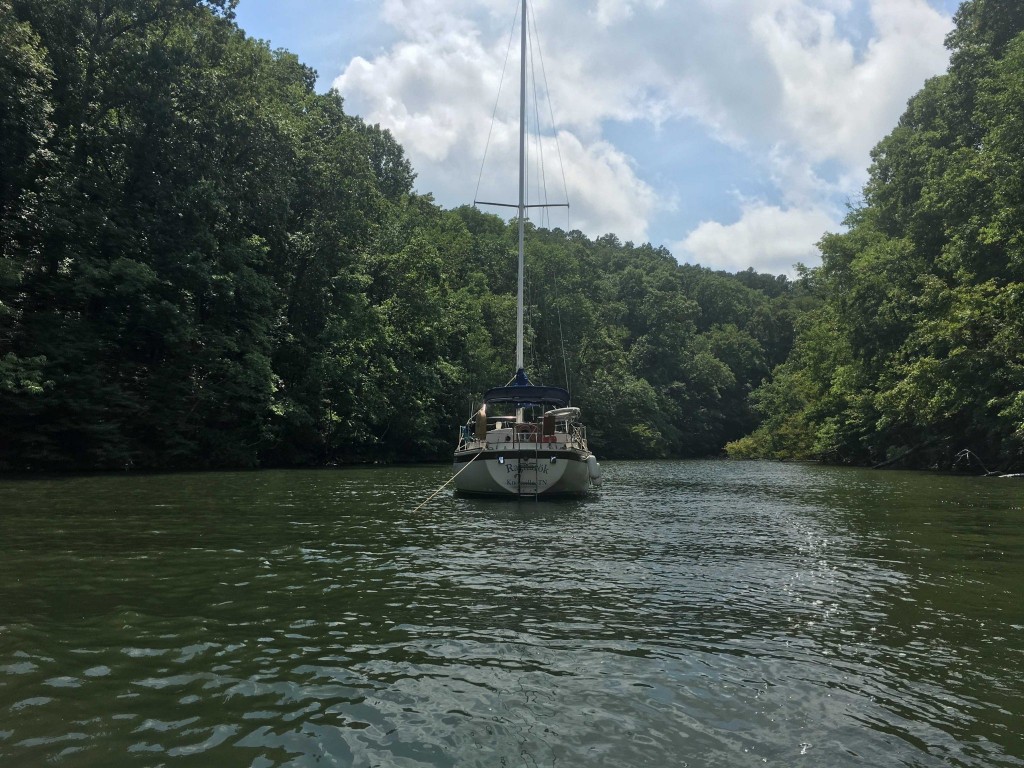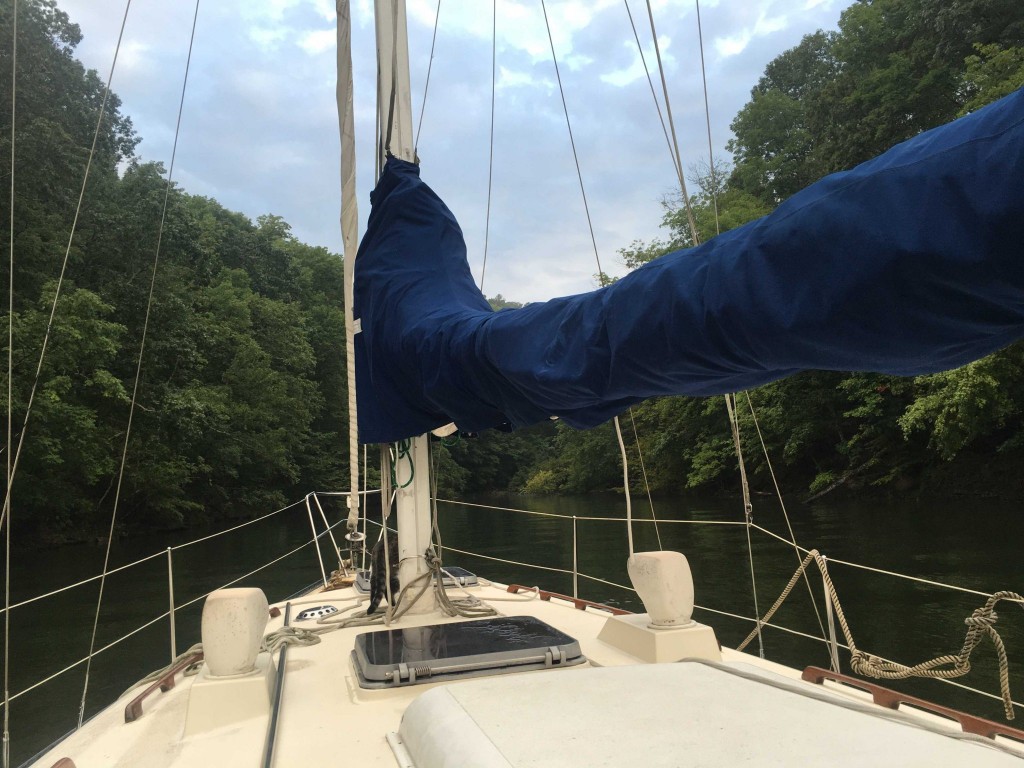 It is so scenic and felt like we were in the middle of nowhere.  We decided we had to stay here longer than one day as well.  I think knowing we were about to be on the Tombigbee, also known as the ditch, made us appreciate the last section the TN River has to offer.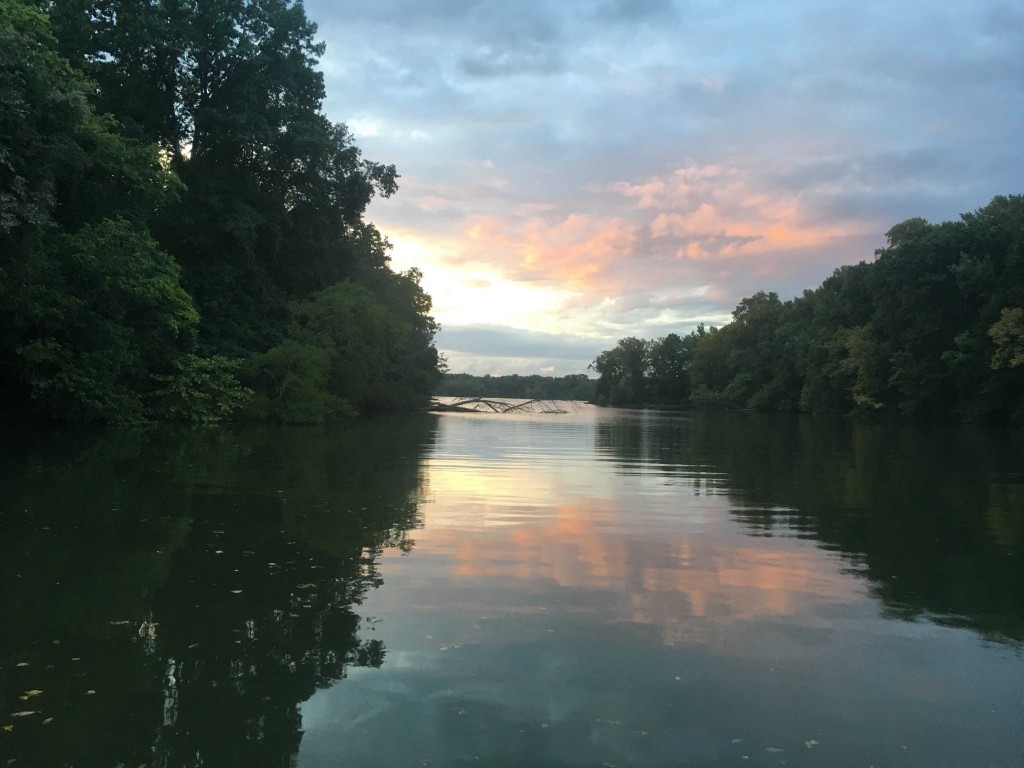 At this point on our journey I realized we were low on fuel for our non-pressurized alcohol stove.  It wasn't an emergency quite yet, as we still had enough.  It just meant I couldn't bake anymore bread! Drats!  We were close to a huge marina and I read that they have a great ships store, so we dinghied on over to check it out.  Not to our liking… Everything was overpriced and they didn't have any alcohol for the stove.  Oh well.  We swung by the waterfall on the way back to the boat and had a good swim.  There is a rope swing there so of course Erik had to try it out a few times.  It is super cool!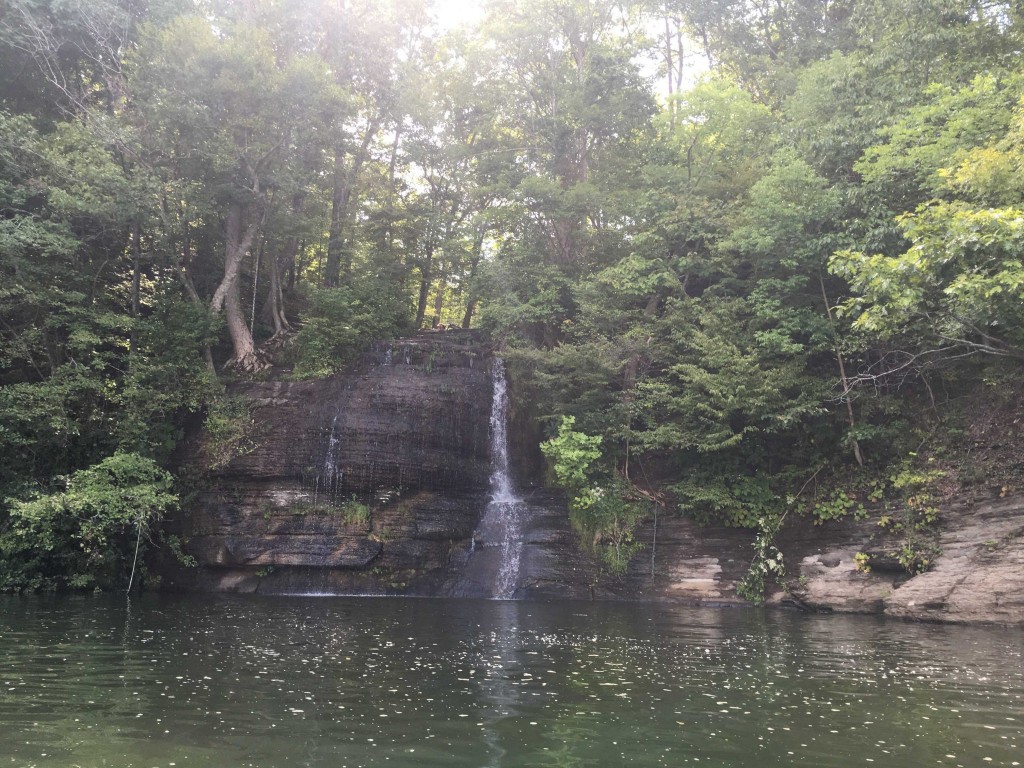 So that was the end of the Tennessee River!  Tennessee, Alabama, and Mississippi all meet up at Pickwick Lake.  We readied ourselves for the next leg of the journey and knew it would be a little more difficult than what we had experienced so far.