The Month of Many Changes
Well we have settled nicely into our new home.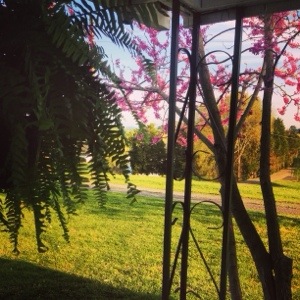 It's fabulously spacious and I am loving the yard.  I have started a small garden (planning on planting some veggies soon, this weekend maybe!) and the animals love it as well. Sidenote: Should I shave Bryson?
[polldaddy poll=7980253]
So besides changing our place of residence, I have also changed jobs.  The driving factor being my Saturday work schedule.  When I interviewed for my previous position, I was told I would work the majority of Saturdays. Welp for four solid months I worked every single Saturday.  Hey, it was the winter and it was dark and I was in hibernation mode so it didn't bother me too much.  Then we got Ragnarok.  And I remembered, wait I was told I would get into a rotation that allowed me an occasional Sat off, so I brought this up as well as a solution to the problem, but was denied.  So with the recent change of address I decided to see what options were out there when I found my shiny, new Mon-Fri job.
Well anyways back to what I've been doing with my weekends now free… WORK! It seems like we have so many projects that it's all we do but it's extremely rewarding.  We boat camped Friday night, woke up Saturday to a beautiful day and man I couldn't have been more pleased.  The sun was shining beautifully and my peanut butter and banana sandwich was so tasty! I got to lounge around before Erik followed me up shortly thereafter and we pondered what we should do.
Erik always loves to sleep with sun shining in his eyes, I don't get it.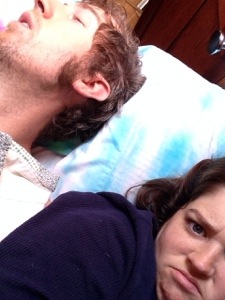 Mr Extreme was wanting to scale the mast.
Always put sunscreen on! All geared up in his harness, but the safest thing he did was lather that 'screen on.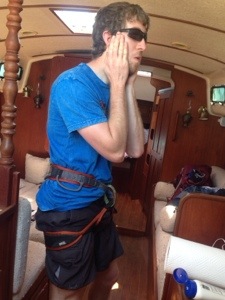 I guess to inspect the wires and rigging and overall soundness of the mast.  He had it figured up using rock climbing techniques to where he had prusik knots sliding down secured ropes that were clipped to his harness as well as another "safety line" what was roped up to the winch that I was in charge of.  Just pulling in the slack, and waiting for him to unexpectedly dropped like an angel shot down from heaven above.
All geared up looking tough.  Wanna burn me rope, not a chance.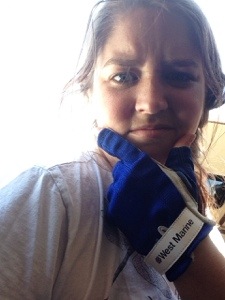 So yea basically my job was to sit there and get tan. Because Erik is no angel, and Erik does not fall. He did great! Halfway up at the "spreaders" he inspected wires and lights.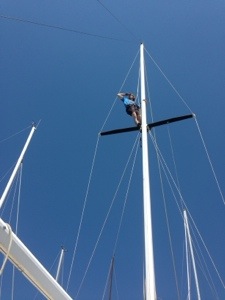 He needed a tool at some point so I clipped my swiss army tool to the rope that pulls the sails up and hoisted it up to him, it was fun! Before I knew it he scaled all the way to the tippy top, and when it came time to get down he nimbly repelled down with his handy prusik knots and me feeding the safety rope.  All is well with the mast and rigging except for the lights/eletrical.  We figured as much since none of the lights worked but the whole mast wiring will probably be replaced, so add that to our to-do list!
Pro-status: do work.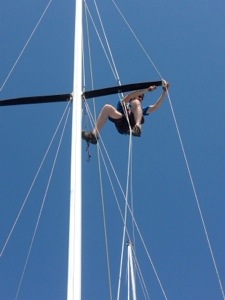 Oh and we also took the boat out for her very first voyage! It took a while because like I mentioned previously, the engine leaked the very first day we started her.  So we waited for parts, assembled, and observed before we decided it was time for a test drive on a beautiful day.  We wanted to be out for at least 30 min to make sure things were running smooth, and boy they sure were! The engine was great, and we tested her limits.  How fast, how slow, how fast she turns, stops, etc.  It was great!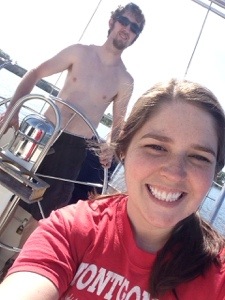 It's a big boat! He looks great driving it!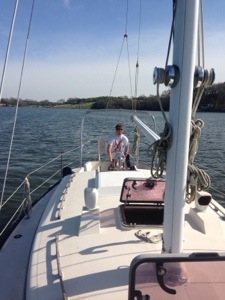 O captain my captain!