Journey
I haven't posted anything in quite a while because I've been very busy. A few days after my last post, my mom wanted to make it a point that we have a "FaceTime" chat and set a date for a few days away.  She said she wanted to tell us something.  I asked if it was a surprise, she replied maybe.  But I could tell from her tone that it wasn't a good surprise.  I recalled a flash of a memory… When I went to visit her only three months ago, she showed me her large swollen but not painful lymph nodes on her neck.  They weren't bother her and she wasn't sick. She was busy, busy running the Louisiana Physical Therapist Association of which she has been the President for the past 4 or 5 yrs… I've lost track, she's done it so long.  She has such a passion for the Physical Therapy profession and she has tirelessly devoted her time representing at the state, national, and APTA levels. In fact that was why she was so busy, she had a a trip planned out to Washington DC. And getting that lump checked out was something that would just have to wait until she returned home.
Well she did get it checked.  She went to a quick care clinic first, where they ruled out any immediate infection but went ahead and referred her to an ear nose and throat specialist where he cleared out any ear, nose and throat problems but took a biopsy of the strange growth.  And it came back as cancer. Lung Cancer actually, and that was the story she told.
We were left asking questions because there were so many unknowns and theres a million different types of cancers, in many different stages.  She didn't know any more than what she told us until she got a PET scan, and an MRI. So now we started the waiting game that our healthcare system has become.  Finally it was decided: Stage 4 Lung Cancer, pulmonary adenocarcinoma, non-small cell, poorly differentiated, a 1/2in mass on the left upper lobe and the lymph nodes on the left side of her neck.  And she was to begin chemo in a week.  Reality set in as i began to realize what this meant. I immediately had a ton of questions, I did my online research (which is scary believe me) but I didn't want to overwhelm her.  I asked a few questions, but she shook them off and insisted she would start her treatment.  I must not have been only one who felt like this couldn't be happening and she needed a second opinion.  At the urging of family and friends she agreed to get her second opinion at MD Anderson in Houston TX which is the #1 cancer hospital for adult patients!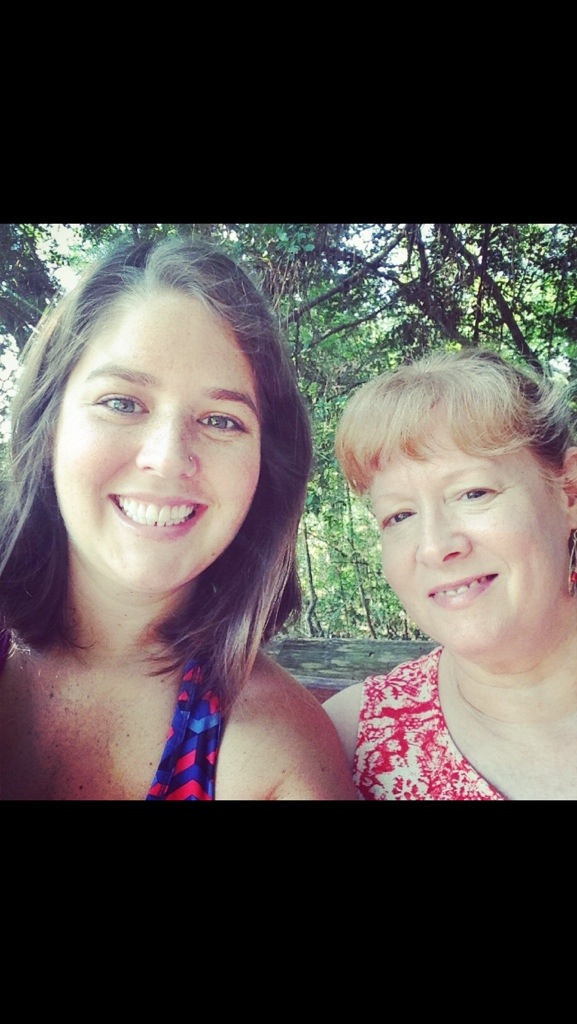 As I mentioned this whirlwind all took place right as I was quitting my job and we were set to be downsizing and moving to Knoxville to be closer to the boat.  I ended up leaving my job 2 days earlier than I said I would because Mom squeezed into an appointment on a Thursday afternoon.  So Tuesday was my last day of work, I left Loudon early in the morning to drive the 11 hours to Shreveport.  We were able to grab a quick bite at Ki'Mexico on opening day, Shreveports newest and most delicious taco joint where my brother just happens to work.  Only got to see him for a glimpse they were so busy!
The next day, early Thursday morning we left Shreveport for Houston, about a 4 hour drive.  When we get there the traffic is heavy, the hospital is full and bustling with people coming and going.  People, patients, doctors, nurses, swimming about on different floors with different specialties, and a sky bridge to connect the many buildings.  It was a little overwhelming, but every single soul we encountered on our visit was more than accommodating, friendly, and kind.  After speaking with a Thoracic Cancer Specialist, she confirmed the diagnosis and treatment plan mom had received at Feist-Wieler in Shreveport.  Having both opinions made us confident of the next step we needed to take to kick this thing in the butt! We were excited to get started, but she wanted us to see a Radiation Oncologist and the soonest they could see us was Monday.  Which was inconvient as we planned to leave town Saturday, but alas we were there so might as well live it up!
And we had a great time.  Friday was my 27th birthday so we started the day with a little exercise as we were eager to see the Houston Arboretum, which was free! Mom kept raving about how great Dallas's aboretium was and I really enjoyed the bonsai display I saw at the Asheville arboretuem, but when we arrived we realized why it was free.  It was basically just nature trails, which is great I really enjoy nature trails, but I also enjoy being prepared for what I get myself into.  We enjoyed it, it was nice to start the day early with some activity.  When we figured out were not going to be spending two or more hours at the nature trails, we noticed we were in the vicinity of some shopping! We strolled the shops, had a cupcake, then sought out some Thai food.  The first time I had thai food was when mom came to visit me in knoxville.  She used her yelp app to find the place with the best reviews and I have been hooked on Taste of Thai ever since.  Im kind of craving it right now actually….. Anyway we find ourselves at Thai Gourmet.  Very tender meat, delicious curry, but we were both a bit disappointed in our veggies.  My panang curry had none and moms green curry only came with bamboo shoots.  It was still extremely delicious. Saturday we spent all day at the zoo.  It was very fun, quite large, and nicely shaded. Later we met up with a PT student mom knew for tacos, margaritas, symphony, and fireworks. It was a great evening. Sunday we wandered down the road to Kemah TX where I hear everyone likes to keep their sailboats.  We wandered a dock, wandered the tourist trap, then wandered on down to Galveston for one of the best seafood meals I've ever had (which is saying something because I love seafood).  We ate at a place called Gaidos. We shared a lump crabmeat and avocado salad, parmesan crusted snapper topped with lump crab in a hollandaise sauce, stuffed shrimp, and creme brûlée.  I'm drooling thinking about it! And on Monday we got to check out the Muesem of Natural Science and the Butterfly Garden before the appointment.  We really did make the most of it!  It was a great girls weekend and birthday trip.  Minus the whole my mom has cancer thing 😛
I was able to stay in Shreveport long enough to be there though Moms first chemo treatment.  The lumps in her neck are already visibly much smaller and I am super hopeful that this treatment will knock those tumors outta here into space somewhere far far away. I had to leave right as the chemo was kicking her real hard and she got weaker, but now she is on the climb up.  Our favorite motto: Day By Day.  You literally have no idea how the next day will be when dealing with something like this.