Enjoying Pensacola, Difficult to Leave
We made it to Pensacola! It was a easy trip from Pirates Cove, just down the intercostal waterway.  We tried to sail once we got to the bay but our starboard jib sheet didn't cooperate and frayed in the winch.  We got it under control without much difficulty and rolled it up.  We replaced both jib sheets once we were anchored with new rope we had on hand.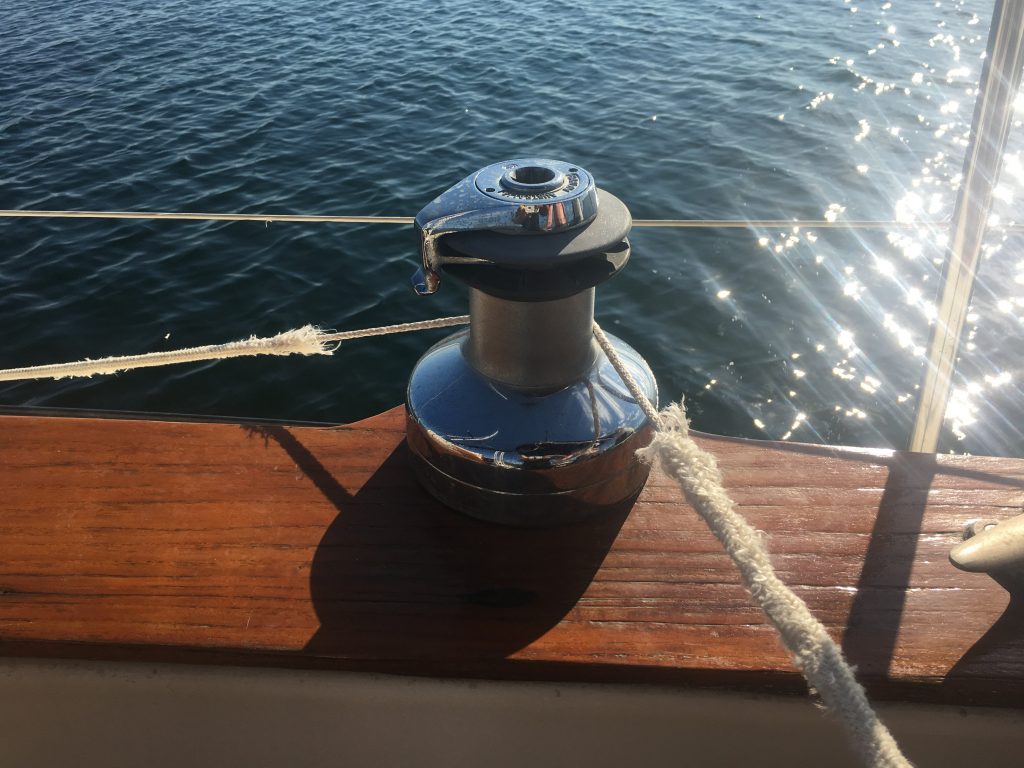 We found a good anchorage in the "big lagoon" near Ft. Mcree and Perdido Key.  We were on the bay side of the state park, and with the winds coming from the south we spent a few comfortable nights there.  We took the dinghy to shore and walked to the Gulf side of the beach where we played in the waves and saw tons of crabs! We were the only people for miles! It was awesome to have our own private beach.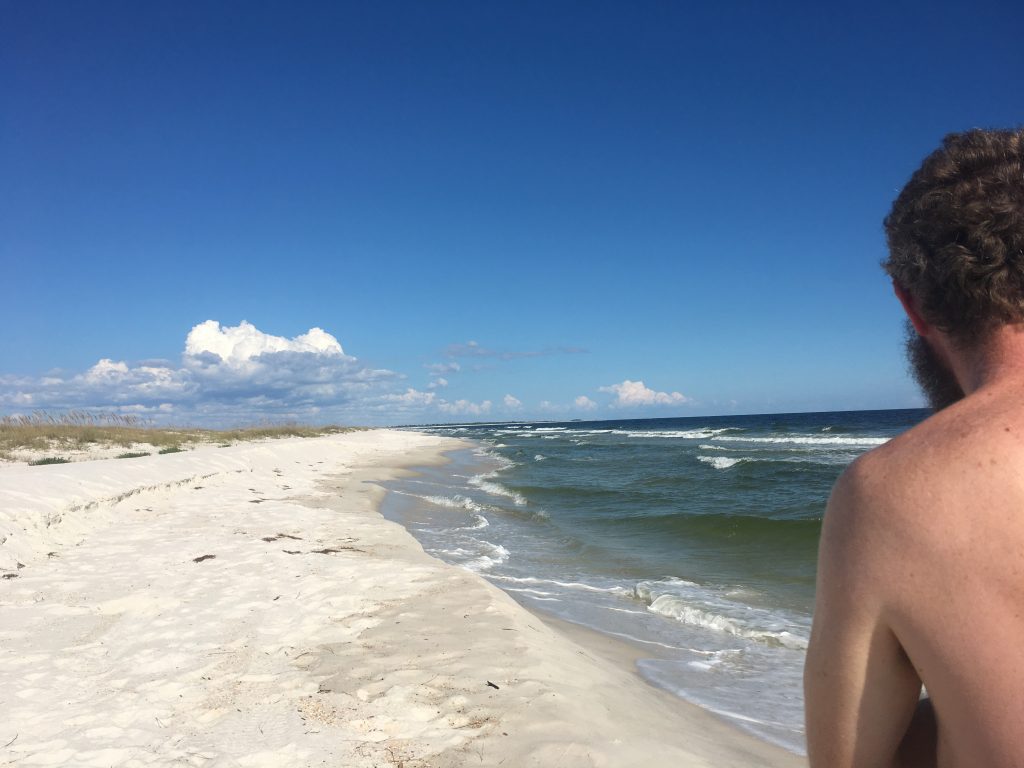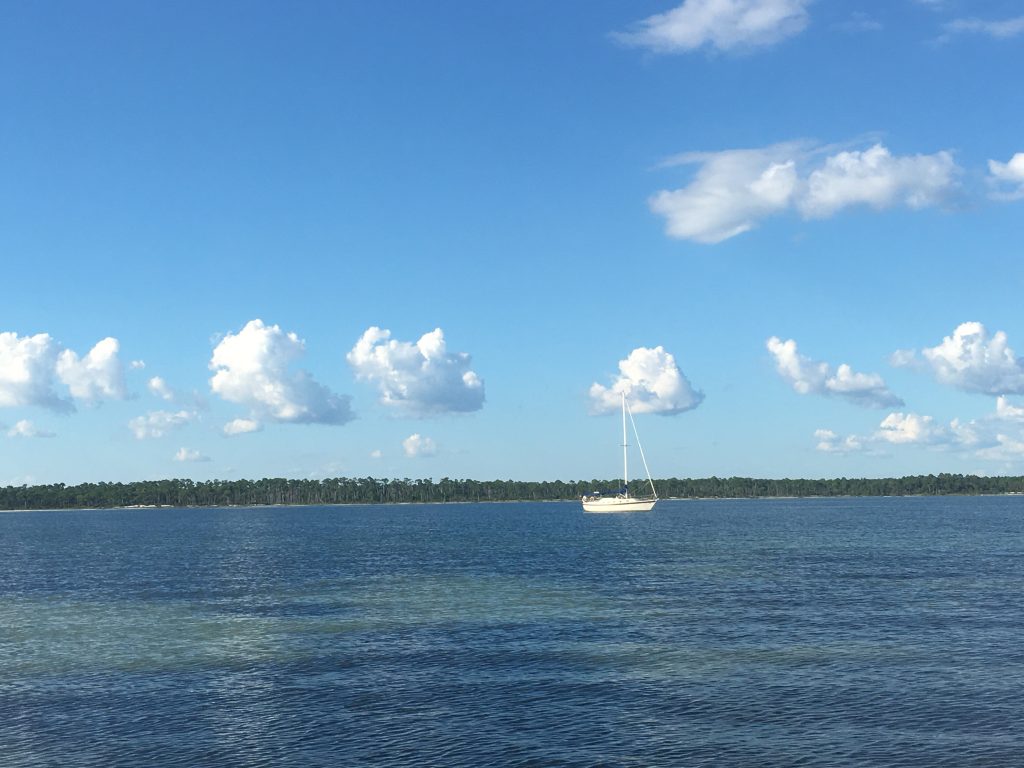 We really enjoyed the remote isolation of the beach, and a few of the nights were really peaceful.  But the wind shifted, and the anchorage we were at was pretty exposed.  I had not slept well in a few nights (and anyone who knows me knows I need plenty of sleep) so I checked out every anchorage on active captain and found Litte Sabine Bay, which appeared to have 360* coverage.  The reviews were mixed, but with a good nights rest top priority we opted to move to this location.  The bay was large and round however the middle was shallow, only a few feet deep, making the majority of the bay useless as we need at least 6ft below us. There were two small marinas at the widest part where we entered, and then private docks encompassing the rest of the bay.  This left us very little room to maneuver but we (thought) we picked a good enough spot equal distant from the docks, shallow shoaling, and other boats.  We were a little overconfident with our new anchor, and let out a scope of 3:1… Which was a bad idea.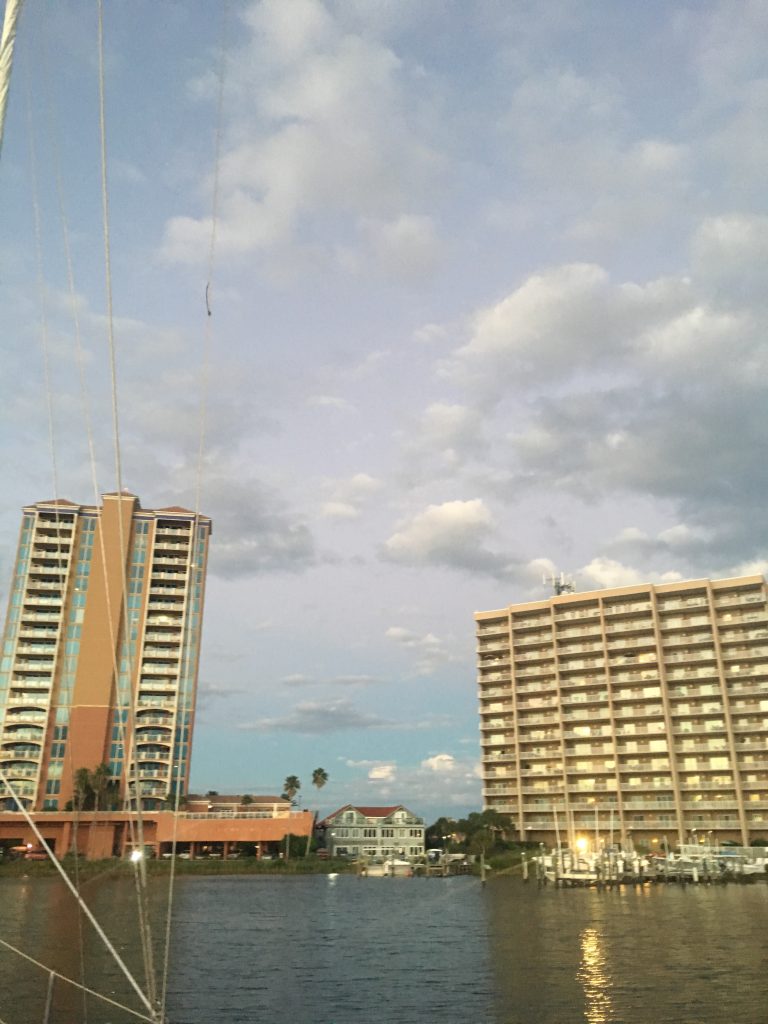 The first couple of nights were fine.  We were right in the heart of downtown Pensacola, so we walked around and checked everything out but it wasn't exactly to our liking since it is such a large (and overpriced) tourist town. The beaches were packed, so crowded we passed on swimming.  The protection in the anchorage was good, but with the winds still very strong , I would still stay up at night. It was much calmer here without the large waves though.  On our last night I got up at 5am for a quick look around, when I noticed we were probably 30ft away and slowly getting closer to a private dock with a very nice fishing boat on it!  I woke Erik up by calmly letting him know I thought we were drifting.  He got up, started the engine, and went forward to pull up anchor while I drove us forward.  He was very calm and collected throughout the entire ordeal which helped me maintain my composure.  We weren't going anywhere fast, but it was extremely unnerving.  When he pulled the anchor up, there was a piece of trash on the tip, but the mud was the softest slimiest mud we've encountered yet which led us to believe it just didn't have anything firm to dig into.  We reanchored temporarily (with an anchor alarm) as we checked our maps for a different anchorage, one that was wide open where we could let out tons of scope and also be protected from the gusty winds that we were experiencing. It was during this time of uncomfortably high winds that hurricane Matthew was doing his thing on the east coast so there was some weird high low weather pressure thing going on.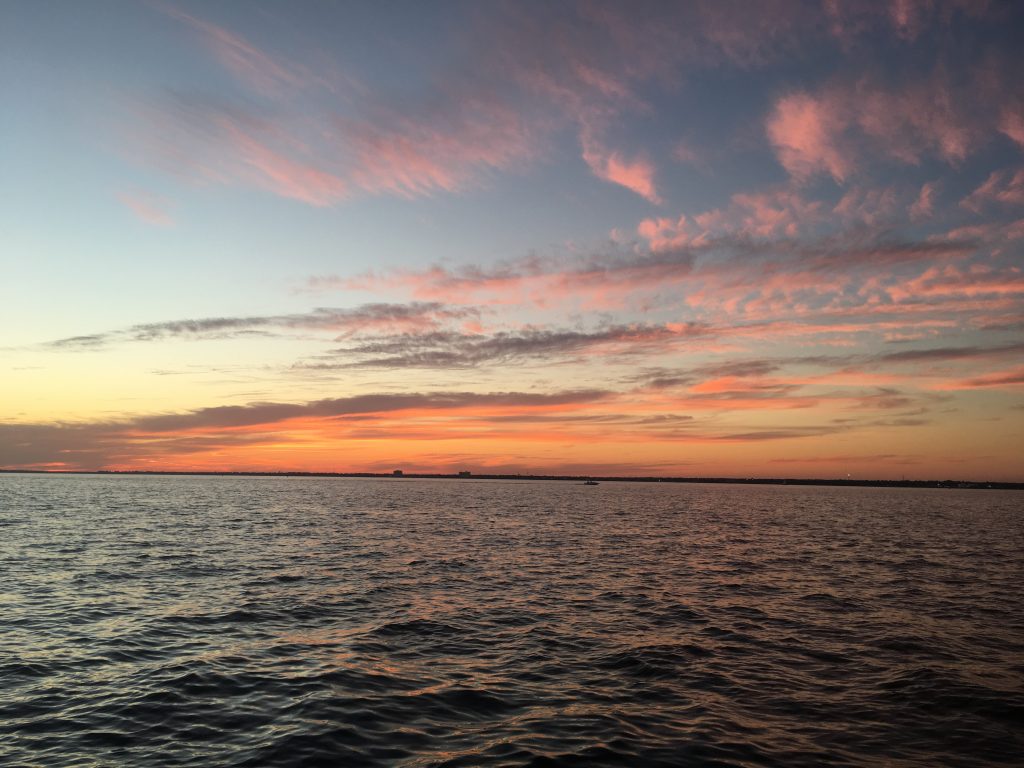 We chose to move just a mile down from where we were off of a small city park.  It was well protected from the north winds that were giving us such a hard time.  While we were there we noted a Publix only about a mile and a half away so we took the opportunity to bring our backpacks and loaded up on fresh produce!  The on foot grocery trips allows us to grab a few essentials like bread, butter, and eggs but its mainly fresh fruit and veggies that we want the most. We buy enough to last us about 1-2 weeks. Small tasks like this turn into an all day adventure when you live on a sailboat!  We only stayed at the park for 2 or 3 days, because there was a predicted shift in the wind.  It was predicted to come from the SE.  So we just moved to the other side of the peninsula for better protection.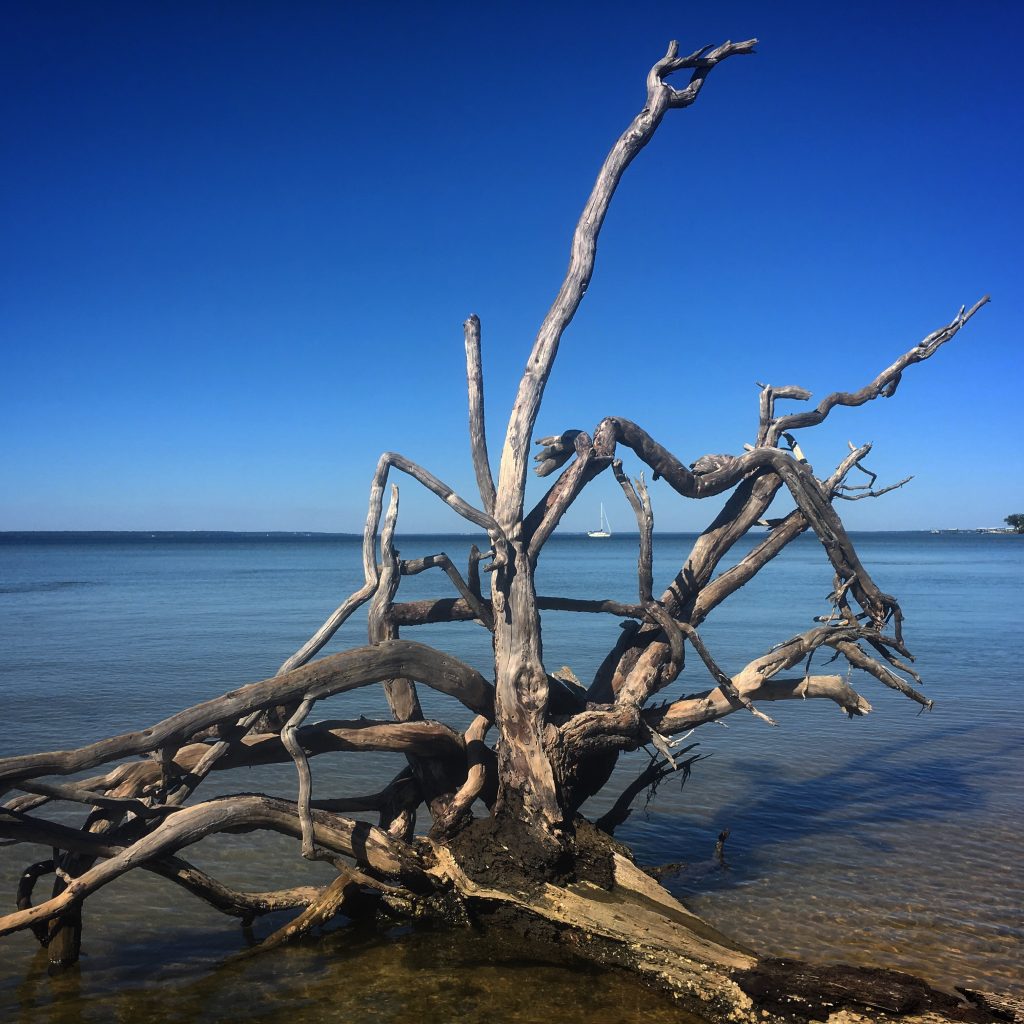 We were anchored by the Naval Live Oak Reservation, which is a national state park.  It is the only federal tree farm in the US.  Back in the day when all boats were made of wood, live oak was considered the premier wood for shipbuilding as it is incredibly strong and resistant to disease and decay.  The US purchased thousands of acres to ensure a live oak supply for naval ships, however with progress in iron and steel in shipbuilding wood became obsolete.  The reserve is now part of the national park service.  We were fascinated by that bit of history, but found it odd that we found no live oaks while wandering around.  This was one of my favorite anchorages because it seemed so serene and peaceful.  We were not on the ICW so there were no large boats going by and we also picked up great wifi! We stayed here for two weeks! Erik's aunt and uncle came by for a quick visit, and also brought us two scuba tanks that Erik ordered off the internet! With our tanks and weights we had finally accumulated all the gear needed for doing some diving!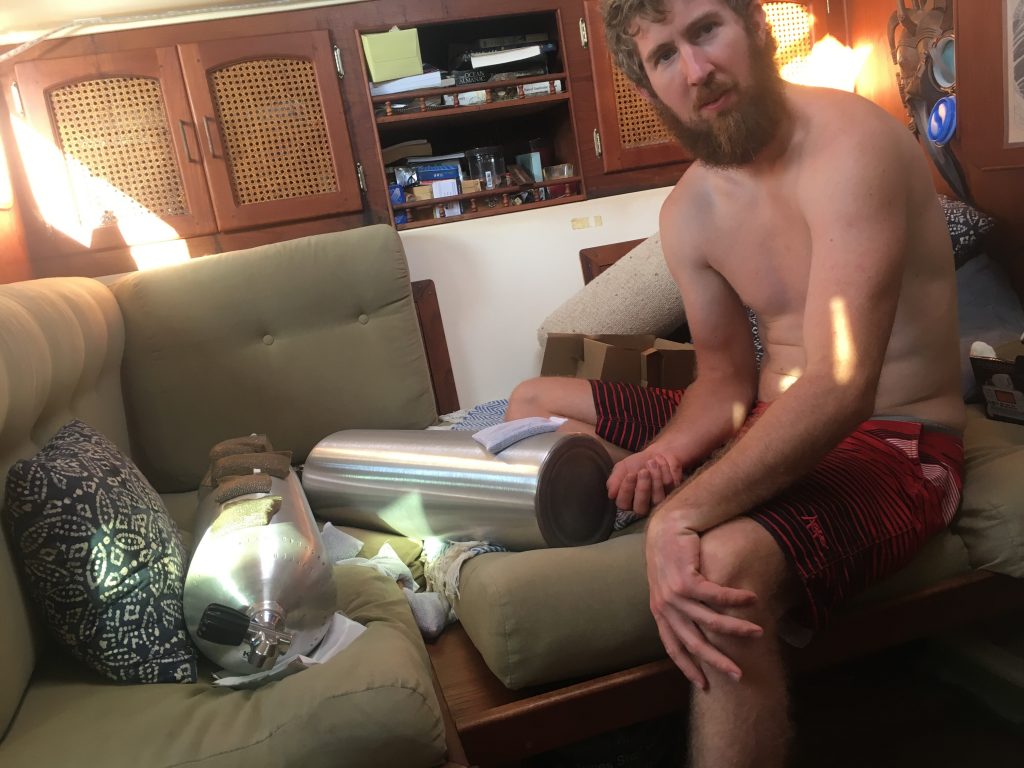 I should mention that to get to the Naval Live Oak Reservation we had to go under a bridge that was marked at 50ft on our charts.  We went under it slowly, made it with room to spare and didn't think twice about it.  Our mast height is 48.5ft.  Leaving, however, would prove to be a little more tricky!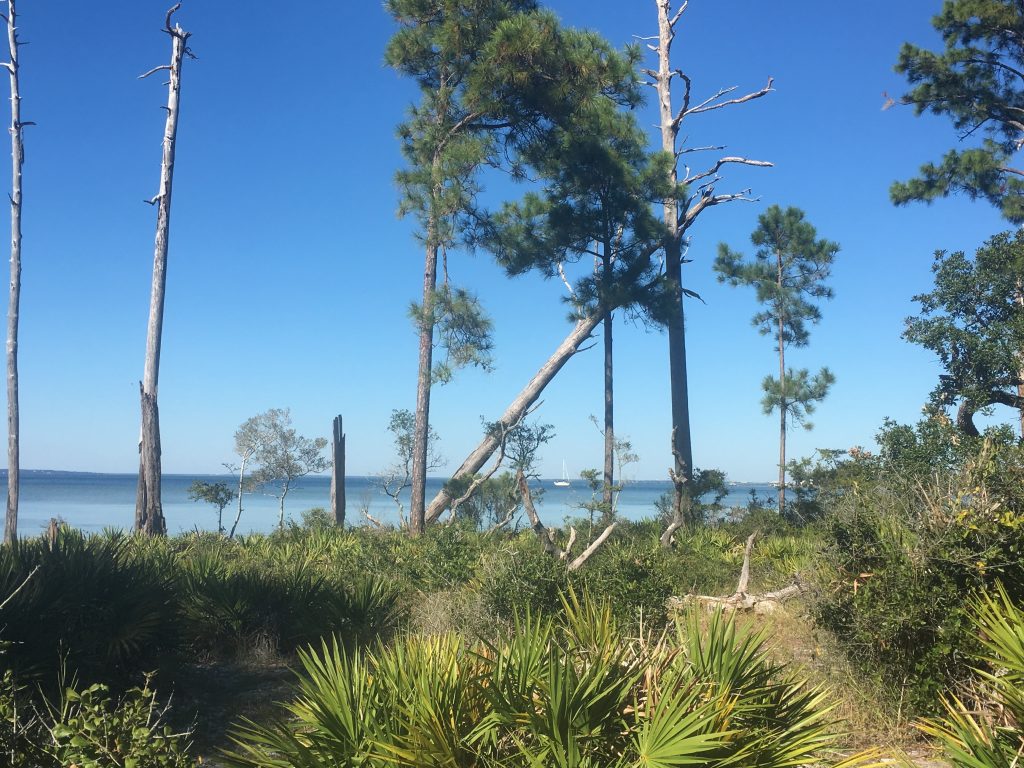 We got the call from my dad on a Sunday afternoon that he would be coming to Panama City Beach late Wednesday, and would be in town until Saturday afternoon.  This got me super excited to see him and I was eager to start heading that way so we pulled anchor.  However, when we got to the bridge, the indicator on the side that shows how much clearance you have was only showing 48ft of clearance (we need 48.5).  We got there right at high tide, and not to mention the waves were rather large.  I made Erik turn around so we could plan things out a little better in the morning.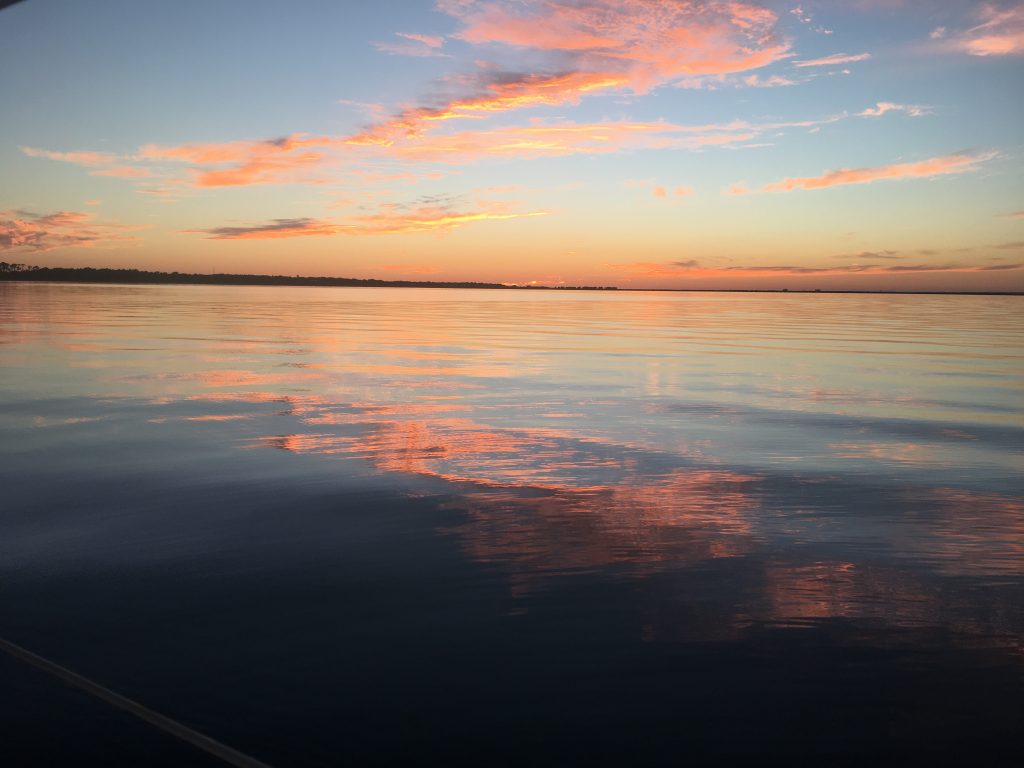 It was a good thing we took a little extra time to plan, because on the stretch of ICW from Pensacola to Destin there are TWO 50ft bridges that other boaters have noted are actually more like 49ft, and that is at low tide! So we were feeling a little adventurous, and since we wouldn't be stopping in Destin, we came up with the idea of attempting our first long distance passage in the gulf! I thought it would be a great learning experience and a way to get our feet wet.  So Monday morning we leave bright and early with the low tide, make it under the bridge with no issue, head to a marina for a pump out and water fill up, and pull out our sails to head south down Pensacola Bay.  It was an awesome sail! We were going 6knots, the wind was just right for heading south, we saw dolphins, and all was right with the world.  We headed south down the Pensacola Inlet (where we saw a massive sea turtle!) and the waves started to pick up a little bit.  But it was still fun, we were making good progress with just our foresail up going 6knots.  Then we tried to head East into the wind and things turned sour.  I got seasick.  I threw up three times.  This was a first for me, although I have felt queasy a couple times previously.  The wind is right on our nose so we are trying to sail upwind, zig and zag, but we were making no progress.  We did what we could for about 30 minutes and realizing we had literally gone about 20ft east and with me in a less than ideal state we decided to turn around and reevaluate the ICW route.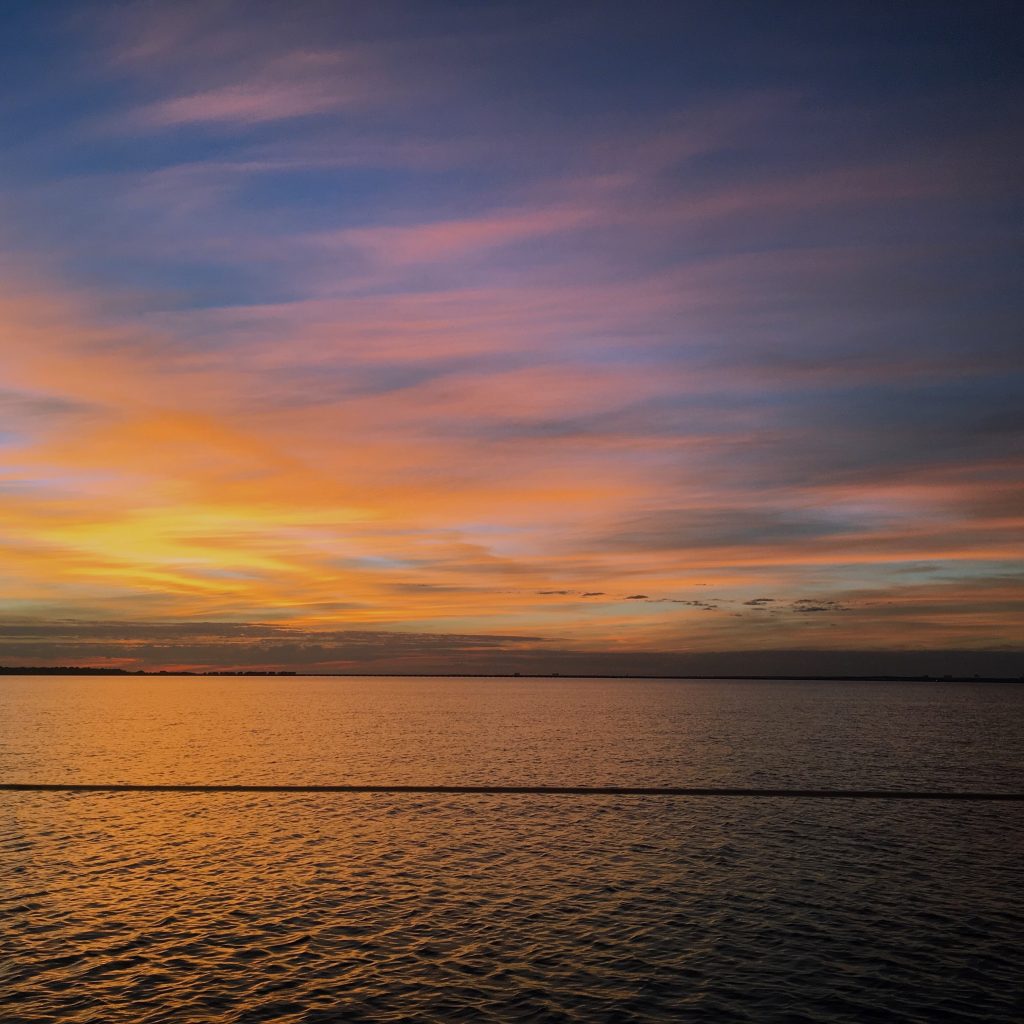 When we made it back into the inlet we anchored at Ft. Mcree (we had come full circle), I napped and collected my composure.  We then checked our maps, checked the tide apps, checked the maps again and realized if we wanted to time the bridges with the tide we would need to be a the Navarre Beach Bridge at 7am, and it was about 40 miles from where we were.  So since we are more night owls than early birds we pulled up anchor at around 4pm and headed east down the ICW.  We had more awesome sailing the entire way there going at least 6knots.  We anchored in the dark (under sail, for practice) jut right off the ICW.  We didn't care that it was less than ideal because we spent less than 8hrs there.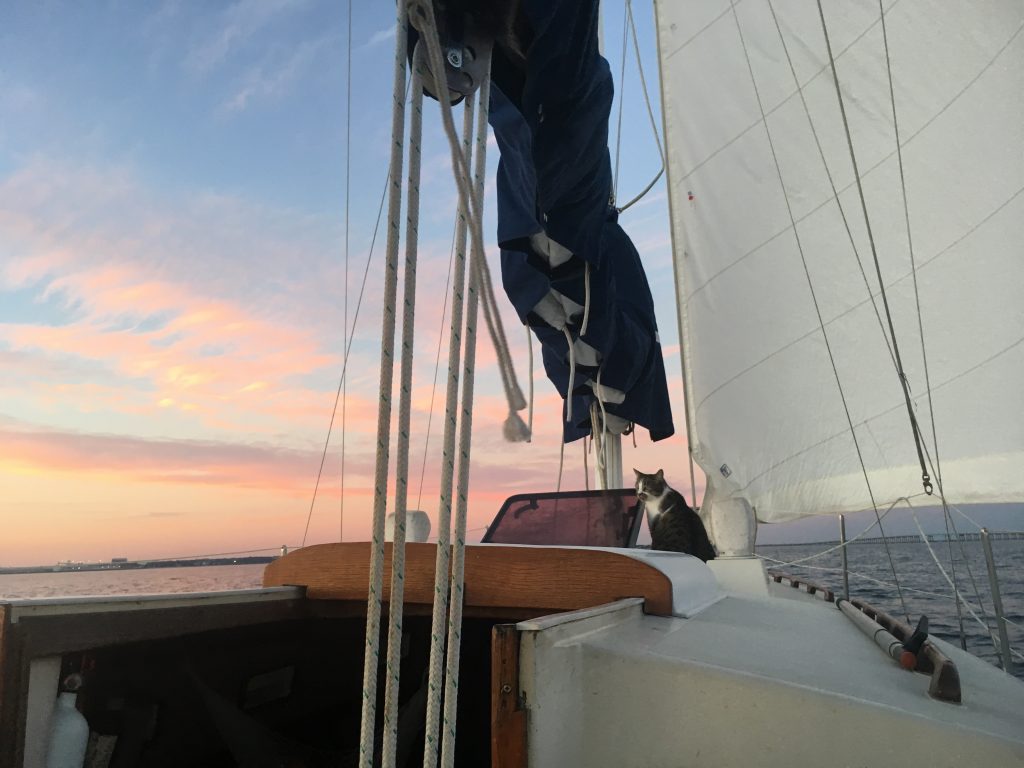 We woke up bright and early on Tuesday to catch the sunrise and had about 2miles before the bridge.  We eased under it super slow, I sat up front and Erik was manning the wheel ready to throw it into reverse.  Luckily we were able to barely make it as our VHF antenna scrapped the beams above.  Phew!  The next bridge, Ft. Walton Beach Bridge, was about 10miles east down the ICW and again we just scraped under that bridge.  By the way, the new regulations state that bridges along the ICW must be 65ft, but these two buggers are the last to be updated citing lack of funds.  So if you've got a mast height taller than 50ft, you better go around.  Another reason I praise Ragnarok on being the perfect sized boat!
After that stressful stretch was over we were in Destin Bay.  We got out our sail and had a great sail all the way across the bay.  Even though we were sailing upwind in the same direction we attempted the day earlier, we were able to sail upwind with ease.  I think the fact that we only had our foresail out with the large swells pushing us around on the attempt might have been why we couldn't gain any momentum, but on calm waters she sails great into the wind.  We anchored that night at the most eastern side of the bay, right at the mouth of the ICW.  The next morning, Wednesday, we hopped on the ICW and made it to the West Bay of Panama City! The winds were vey light but we sailed anyway until they were nonexistent then motored down the rest of the way. We were going to make it in time to meet up with dad by Thursday morning!
Who knew leaving Pensacola would be so difficult! I was proud of us for taking the risk to attempt going offshore, and I would not consider it a complete failure as we learned a lot out there.  We will never learn our limits if we don't push them a little bit!  And we also learned that it is very important to wait for the most ideal weather window.  On a boat you can pick a location or a date, but things start getting tricky when you try to pick both! Lucky for us we were able to squeeze under those bridges on the ICW.
We got Sammy a harness and took him to shore, which I think he loves/hates simultaneously.