Untie the Lines! 
And we are off! We left Knoxville TN on Saturday July 9.  We ran around quite a bit with the buzz of anticipation strong.  Eriks Mom and Pete took us to one more lunch in Knoxville, we untied our mooring lines, and headed to the pump out to empty our holding tanks and fill our water tanks.  As we were leaving Erik wanted to try to sail even though winds weren't very strong so we enjoyed Knoxville for a couple more hours before cranking the engine.  I was very high level stress about leaving in general, so less enjoyment from me about sailing.  I got over it and we continued down the Tennessee River.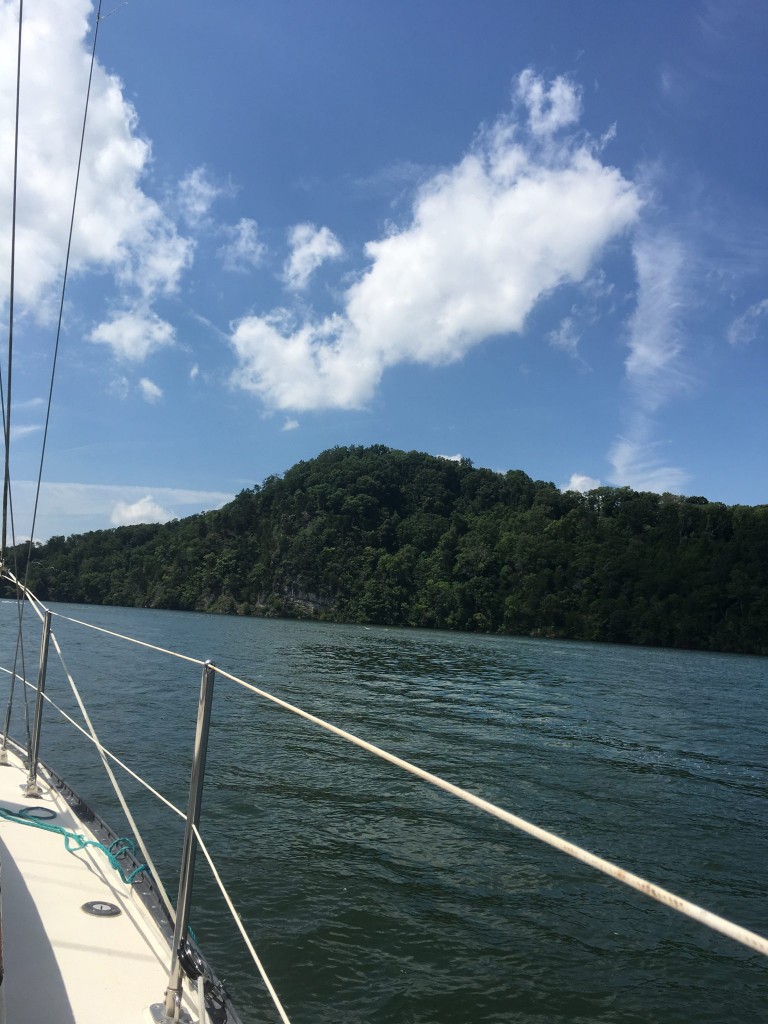 We left around 2 or so, and knew our first lock would be Ft. Loudon Lock. I figured we would just make a short and easy day of our first day out, but we made it to the lock by 5 or so and with no traffic we decided to go for it! We radioed the lock tender with our VHF and let him know it was our first time to lock down, and if he wouldn't mind giving us a little extra walk through. He was so helpful, told us what side to put our fenders on, to wait until the horn blew to enter, and helped us tie off.  For our entrance we decided it would be a good idea if I drove and Erik fended off the front of the boat and well neither one of us did our job very well.  Everything was going smooth until I put her in reverse forgetting about our prop walk.  So the nose of the boat swung to the starboard side which was also where the concrete wall was.  And Erik was busy tying us off that he wasn't fending and I just heard CRUNCH! But neither one of us lost or cool or got upset, I mean we are gonna crunch the boat a few times right? So there we were finally tied off to the floating yellow buoy thing that goes down with the water, but we weren't aligned properly.  Again the nose of the boat was so close to the wall while the butt swung out wide.  The lock tender was kind enough to grab a long pole to pull us back snug to the wall where we realigned for the ride down.  Be sure to check out the next video blog so you can see our struggle.  By the way we checked for damage after we were anchored and there was none! The anchor was the loud crunch I heard, not gelcoat, so relieved!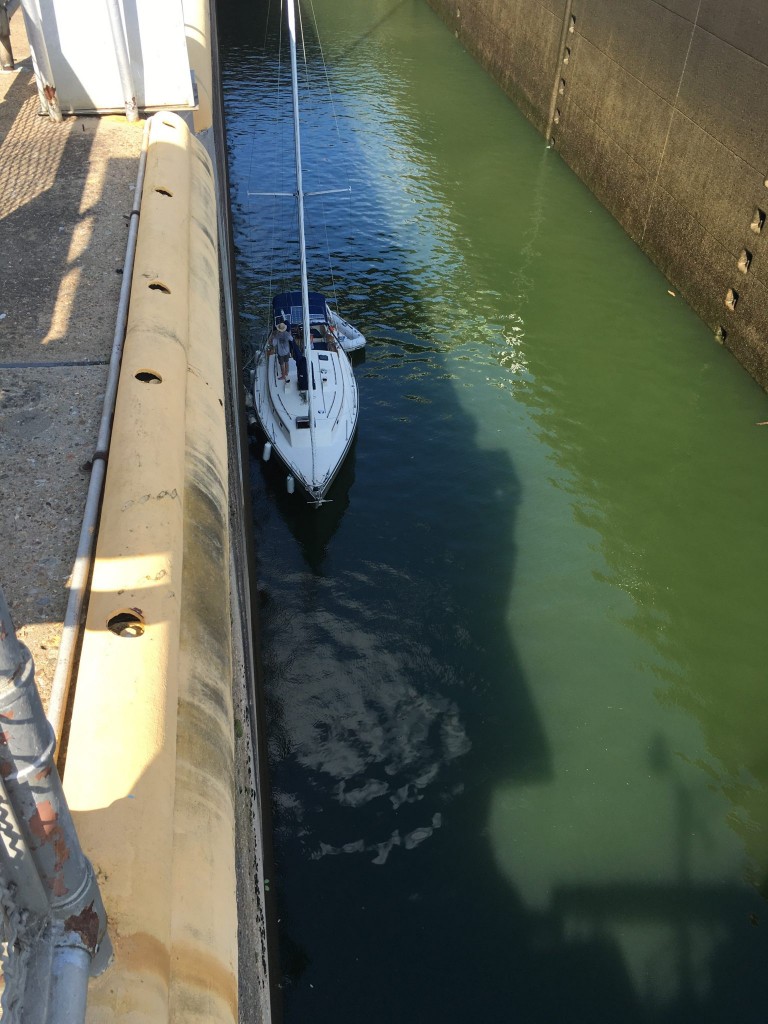 One of my biggest anxieties was going through the first lock, but honestly with all the fiasco of just trying to get in there and tied up, I was relived once the water started to drop.  It was slightly eerie to think a couple of doors was all that was holding back a giant lake.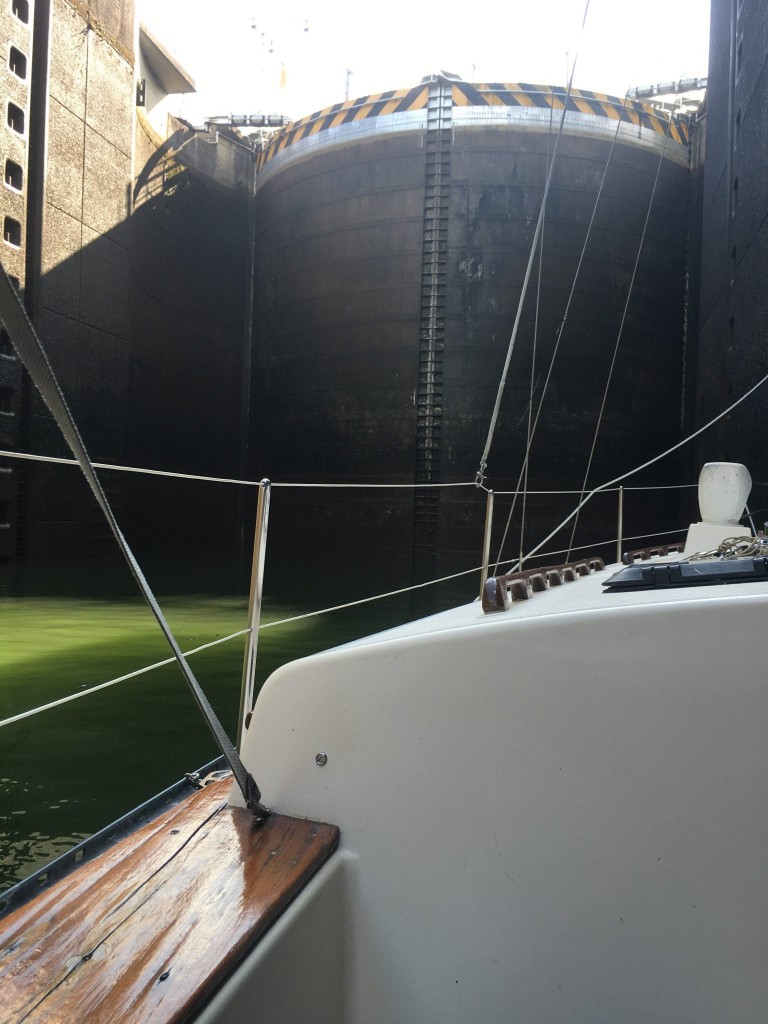 Our lock tender shouted for my phone number as we were towards the bottom and sent me these awesome pictures of us at the bottom, such a neat perspective!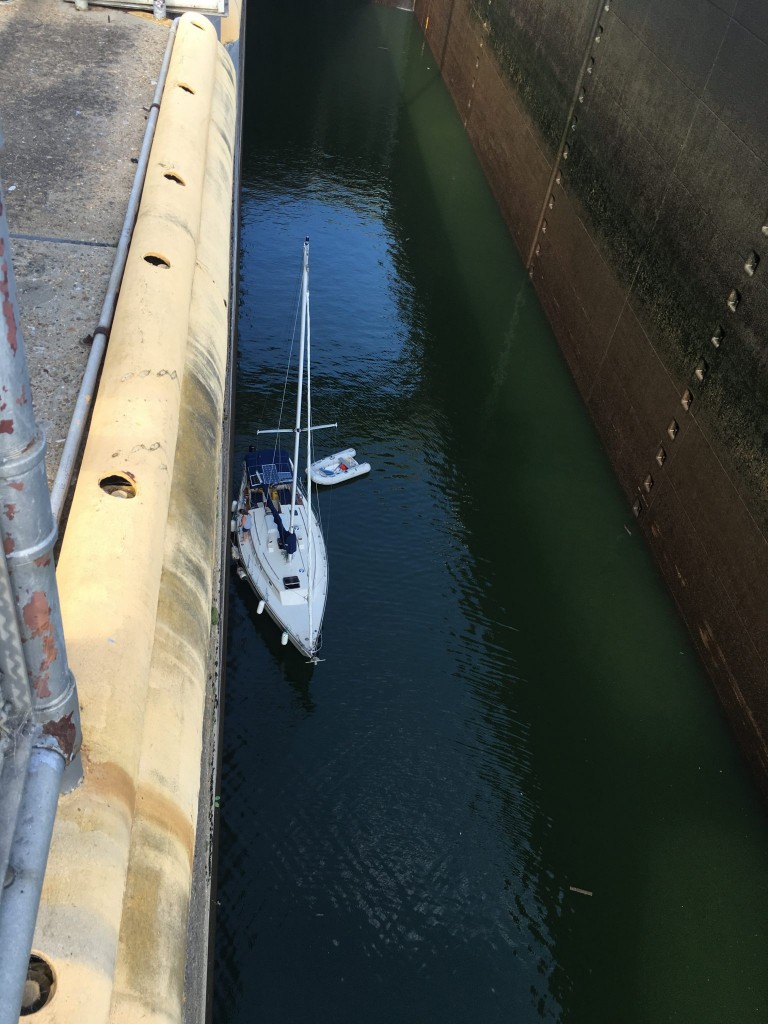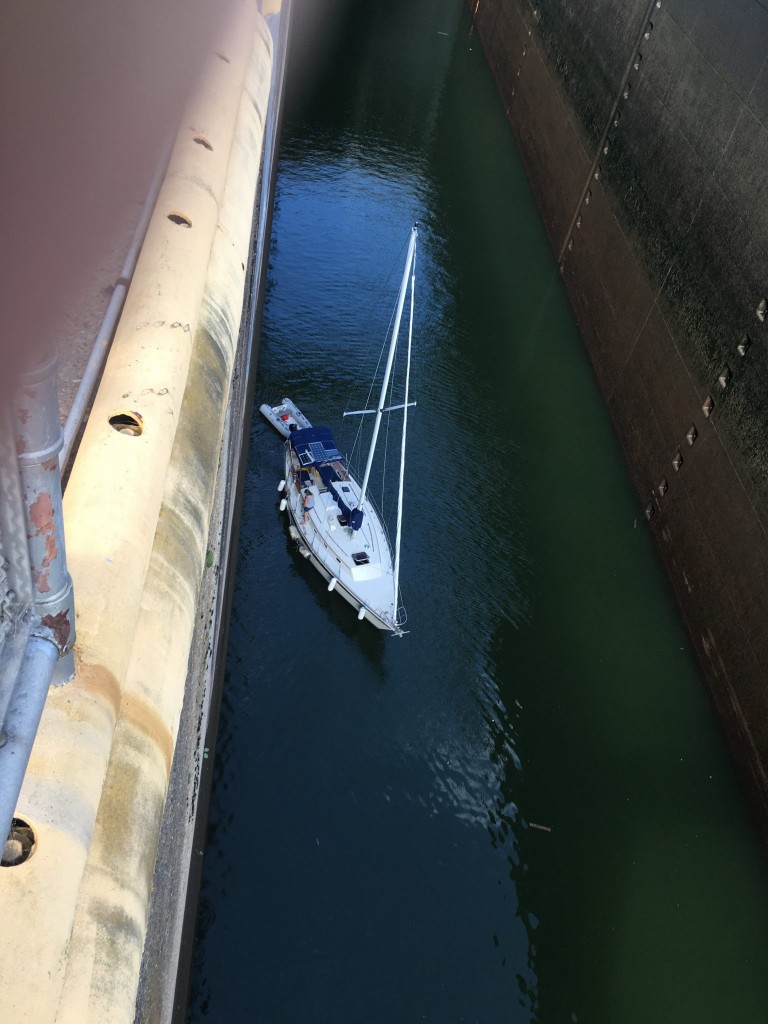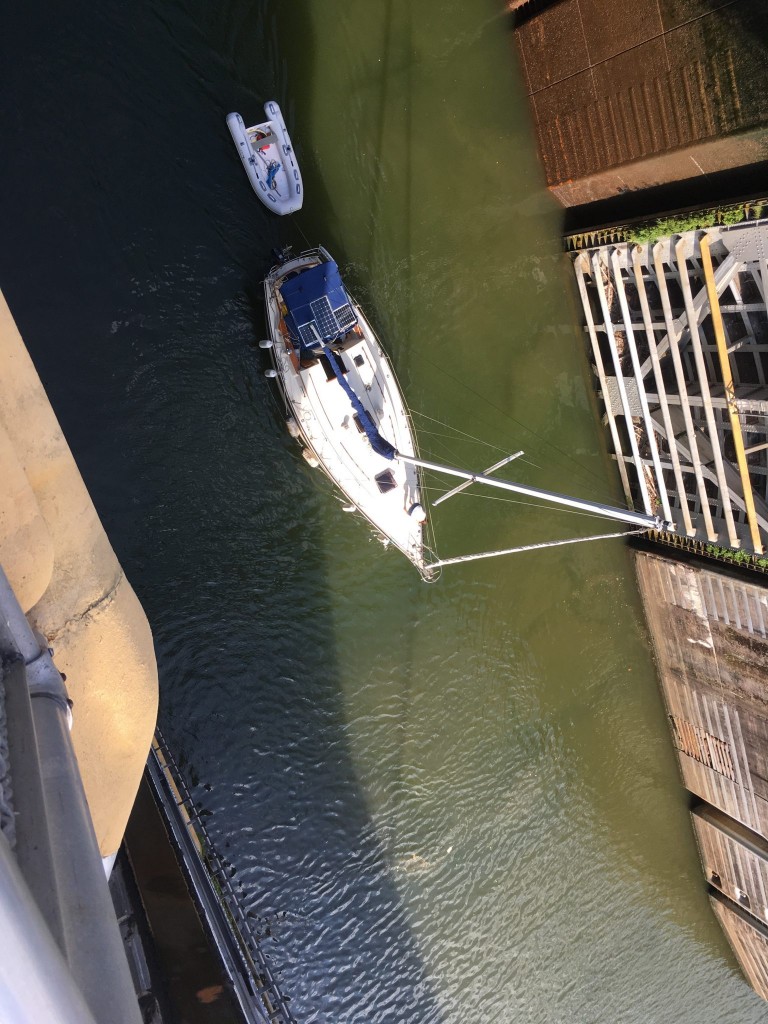 Once through the lock the river was very narrow and we meandered down past Loudon, where Erik and I used to live and work.  His old job was on the river so we got to wave as we floated by!
After we were done with the lock we knew we had to go quite a while until the river widened out for a good anchorage.  But I was ok with that because its the middle of summer and the sun hasn't been setting until about 8:30 or 9 even!
Well it definitely got dusky pretty quick, and then it got dark. We had figured out where we wanted to stay using our map and active captain, but it got too dark too quick! We do have a bright spotlight but I have terrible night vision and of course as I mentioned before high anxiety on day one.  We made it safe and sound, but I requested that we make it to our next anchorage before dusk.  When we woke up I could really take in how beautiful and private the cove was.  We slept in, swam, and dilly dallied until late in the afternoon to start day two.  With day one complete, my anxiety level was finally a little lower and I began to enjoy the river journey.
Erik could tell my stress level was too low, and insisted that I drive while he hung onto the ladder. Sheesh. We were reveling in cruising! It was so much fun to drive the boat hours and make noticeable progress on the map.  Erik drove for the most part while I kept an eye on the map.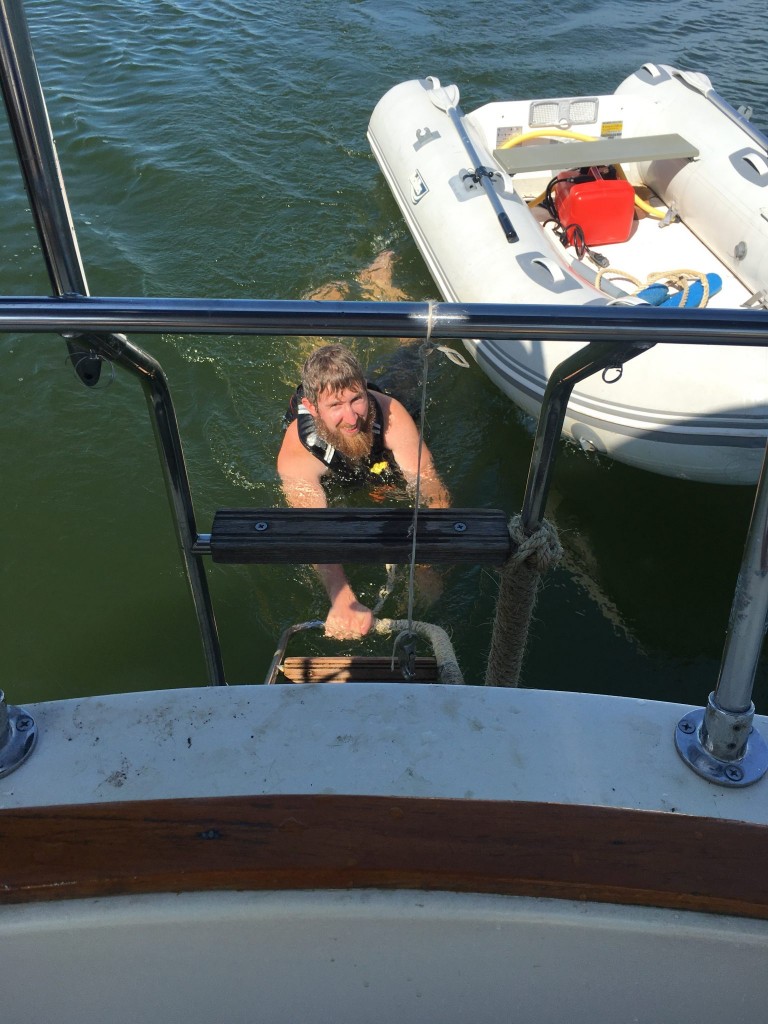 Again we picked out where we wanted to anchor for the night using Active Captain and the map, we chose a park right above the second lock, Watts Bar.
We woke up a little earlier and planned to make a full day of it. Erik spied a bluff and wanted to jump off of it before locking down, so once again I drove while he rowed the dinghy, climbed, and jumped.  Always making sure everything is extreme…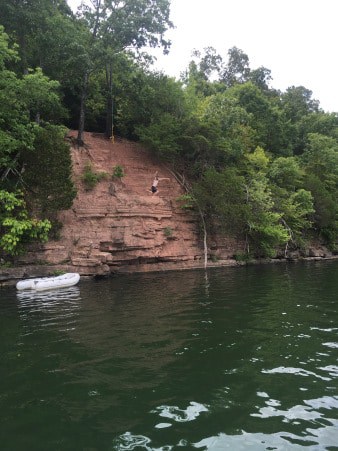 Here is Watts Bar Nuclear Plant.  All I can ever think about when I see these is Homer Simpson eating doughnuts in the control tower…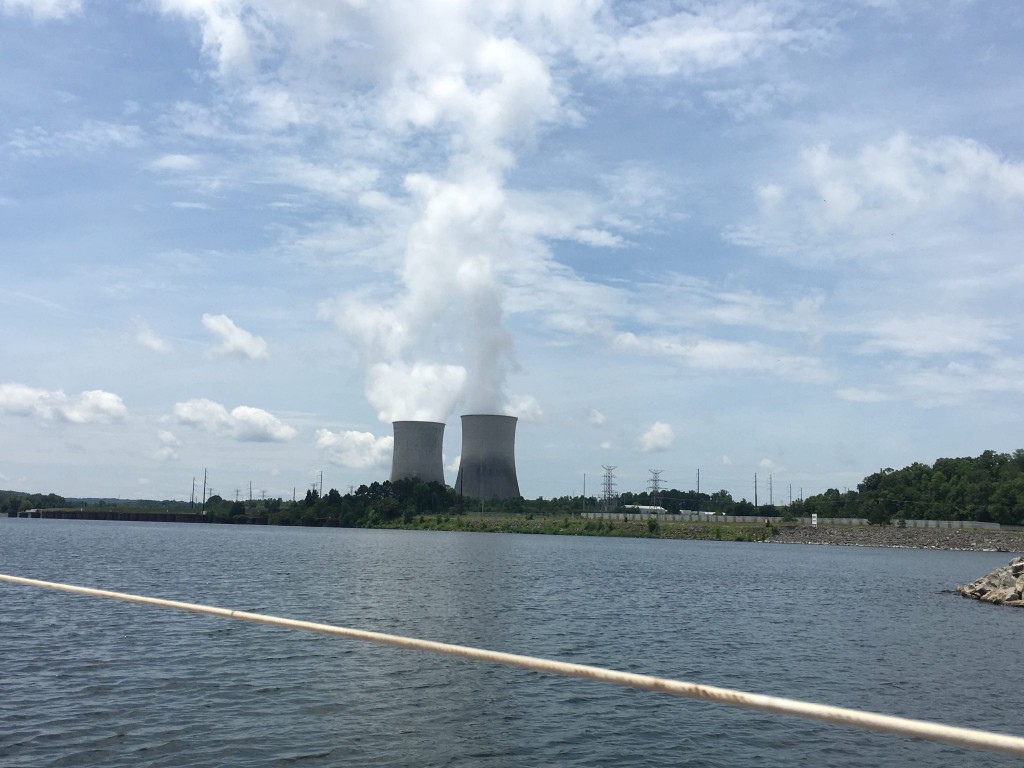 For our second lock down we decided to switch it up a bit and Erik drove while I fended, this time keeping in mind our prop walk.  It went so perfect you would think we had done this a million times! So that was great! We were feeling good about it and excited about how much progress we were making when the lock tenders hollered down to us, "Y'all planning on coming back up later, or what?" I excitedly told them our plans of continuing south all the way to the Gulf. They responded that we wouldn't be going far because the next lock, Chickamauga Lock, closed that morning for a month of repairs! We were baffled! Never had anyone suggested we check to see if the locks would be open, it never crossed our minds, and apparently this is pretty rare.  So the entire lock down Erik and I were just perplexed as to what our next move should be. We could stop and turn around and head back to Knoxville, after all we had only been traveling 3 days.  We could potentially find a marina to stay at for the month.  Or we could just hop around anchoring in whichever coves suited our fancy.  We made a few phone calls; to the lock to make sure this was real life.  It was, the lock was to have a temporary dam built around it so that they could pump it dry so there was no way we could sneak through.  We called our parents because thats what parents are there for right? And we called a few marinas in the area with $240 for the month the lowest option we immediately knew that was out of our budget.  Luckily there was also a state park with marina in the area that seemed to have everything we would need, which is overnight parking and a dinghy dock.  So that was the soft plan.  We continued on and anchored for the night near the mouth of the Hiawassee River.  It was a gorgeous area and the sunset didn't disappoint.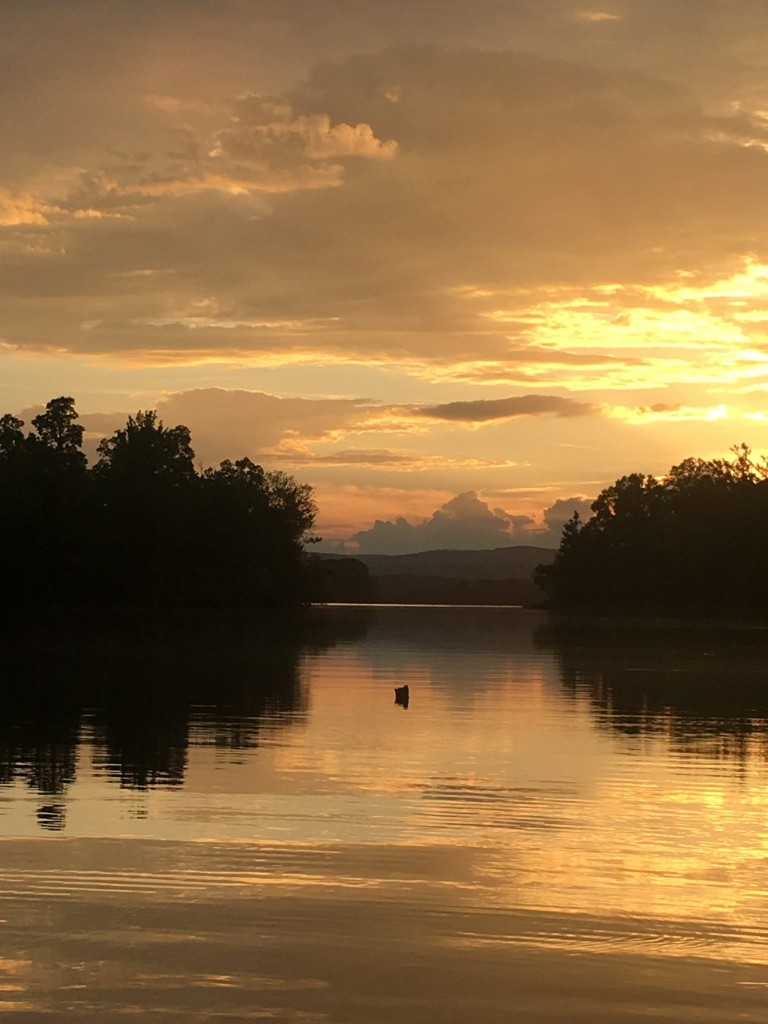 I guess this delay is our first taste of the cruising lifestyle.  We are taking it the best we can, and the lock opens up on August 11 (which we could probably have made it to the Gulf by then…).  Eriks parents are angels and brought us the Subaru for us to use, because even though we were 4 days boat travel from home it was only an hour and a half car ride.  Look forward to the next video as we lock down, and I'll add another post detailing our experience so far!  Thanks for reading, and remember its not always about the destination but the journey!