Christmas special spectacular
Now seems a good time to recollect the wonderful trip we had over Christmas as we come out of a week long deep freeze with temperatures seldomly above freezing and precipitation varying from ice, freezing rain, snow, sleet, slush, rain, and anything in between.  It was warm on our week long cruise to Honduras, Belize, and Mexico.  And those memories are pleasant.  Much more pleasant than this dreary day, so I guess I will start at the beginning and make this a good story.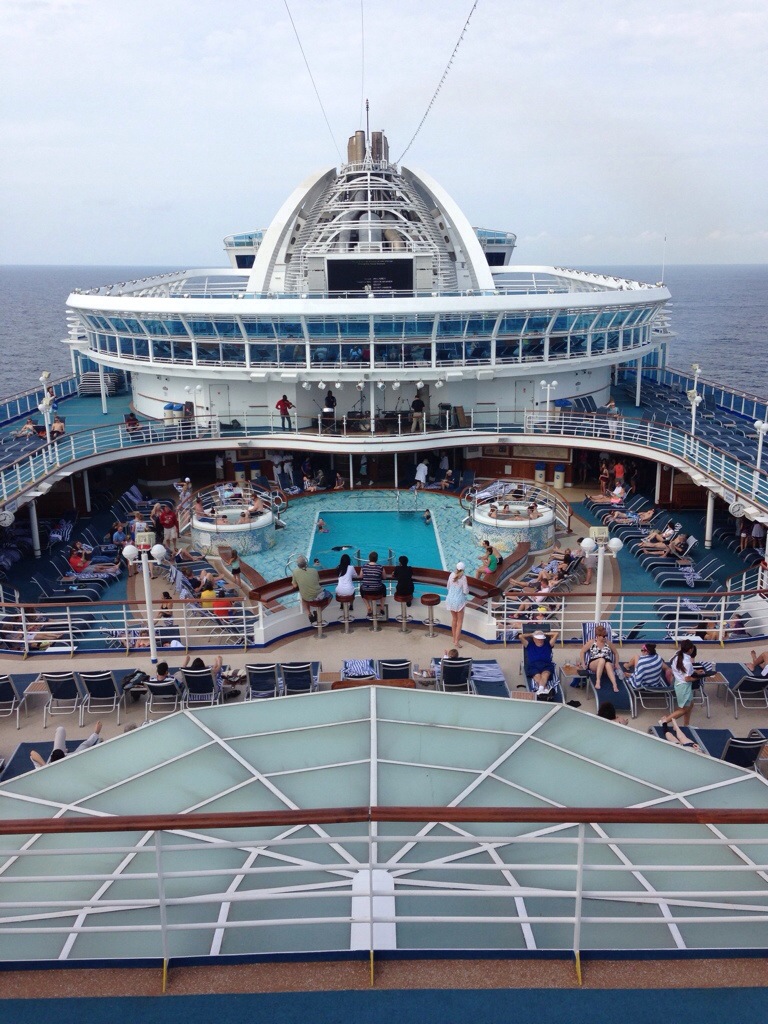 The boat was Emerald Princess, her home port was Houston TX. Of course we put off packing until the very last minute, but I fit my weeks needs into one carry-on and one personal bag! And Erik did too! I have high hopes we will be able to pack lightly once we start cruising.  We left the house at 4am (me with only 3hrs sleep, Erik had none) and left out of Knoxville around 5am.  It was neat getting to travel and fly with Erik.  We have done road trips together, but this was our first flight.  He is a great travel companion and let me have the window seat whenever I wanted it.  After dealing with the headaches of airports (but not with luggage claims!) we finally made it to our destination.  Now the cruise we were taking was organized by the Kenney side of Erik's family, and I was honored that I was invited on this family reunion.  His grandparents live in Knoxville so we get to stop by and visit with them but it would be the first time I met the rest of his family. He also has two uncles living in Houston, so it made since we would leave out of Texas.  His uncle whisked us away from the airport to the boat, and I was starting to get excited!  Of course the amount of people trying to board all at once was overwhelming for a socially awkward soul as myself, but we managed through the maze and finally found our room.  It was wonderful knowing we would soon set sail! The first two days were to be spent at sea, which wasn't bad as we had time to explore the boat.  Dinner was spent together with family every evening, and man cruise ship food is delicious!  I had creme-brulee every single night for dessert.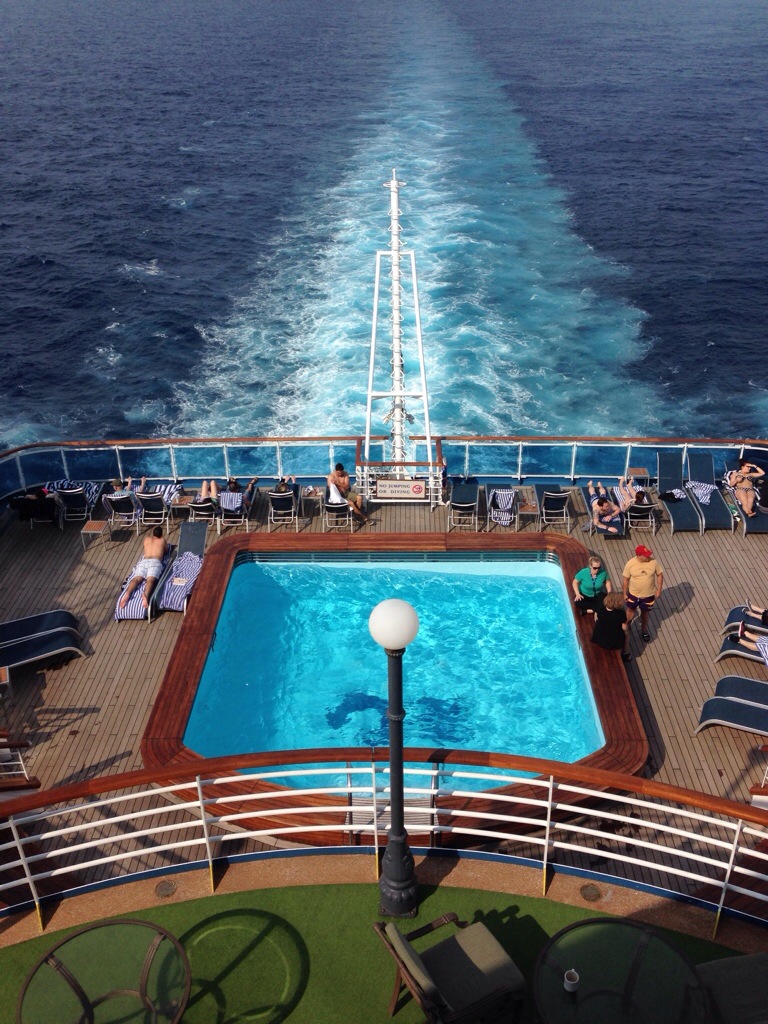 Our first stop was The Island of Roatan in Honduras.  When you get off the cruise ships you are immediately submersed in an artificial port.  All of the business in every port are the same, owned in conjunction with the cruise ship, and in my opinion a tourist trap.  I feel sad for the people who get off the boat, are herded to a false "village", and are then herded to false beach where there are stands to buy buy buy. Erik and I knew we wanted a more authentic feel for Roatan so we wandered outside the gates where taxis were waiting.  It seemed as there was a taxi union of sorts, the prices were listed per person to destinations along the island.  The prices were a little steep at $15/per person, per way totaling $60 for a there and back trip but  we didn't really have time to be thrifty or negotiate so we just bit the bullet and hopped in a taxi.  We told the driver we were looking for good snorkeling, since we packed our mask and snorkel in our backpack.  He drove us to the West End and took us to Half Moon Bay.  He then took us to Half Moon Bay resort where he greeted the owner, the owner greeted us, and we were shown around.  We were on a gorgeous bay, there was bathroom, an open air bar, and a deck overlooking the bay.  We both knew that drinking water in these parts may be questionable so we asked for cerveza and got what the locals got.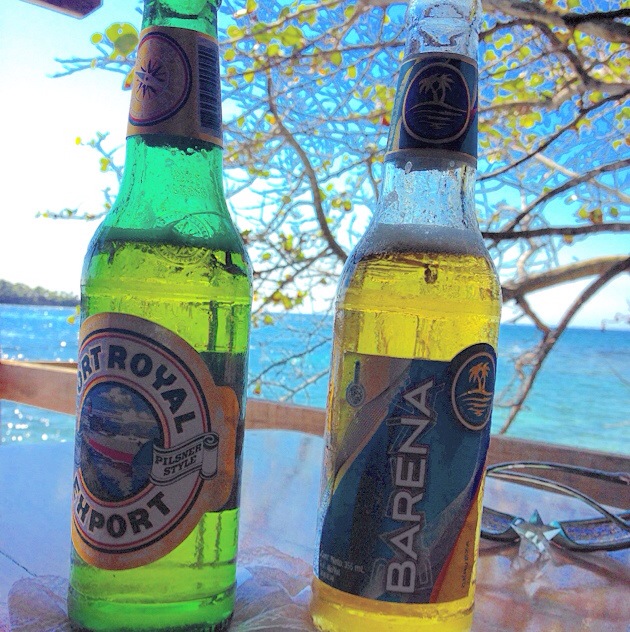 As we sipped our beers in paradise I took in our surroundings.  The resort was renting snorkel gear, but we brought our own, so after our tasty beverage we found a chair and doned our gear and swam around the bay.  It was some of the most amazing snorkeling I've ever done! Crystal clear water, tons of tropical fish, and big colonies of coral.  Stunning.  Really wish I had a gopro to take pictures of the gorgeous underwater world.  After we were tired we sunned in lounge chairs (provided by the resort) and then snorkeled once again.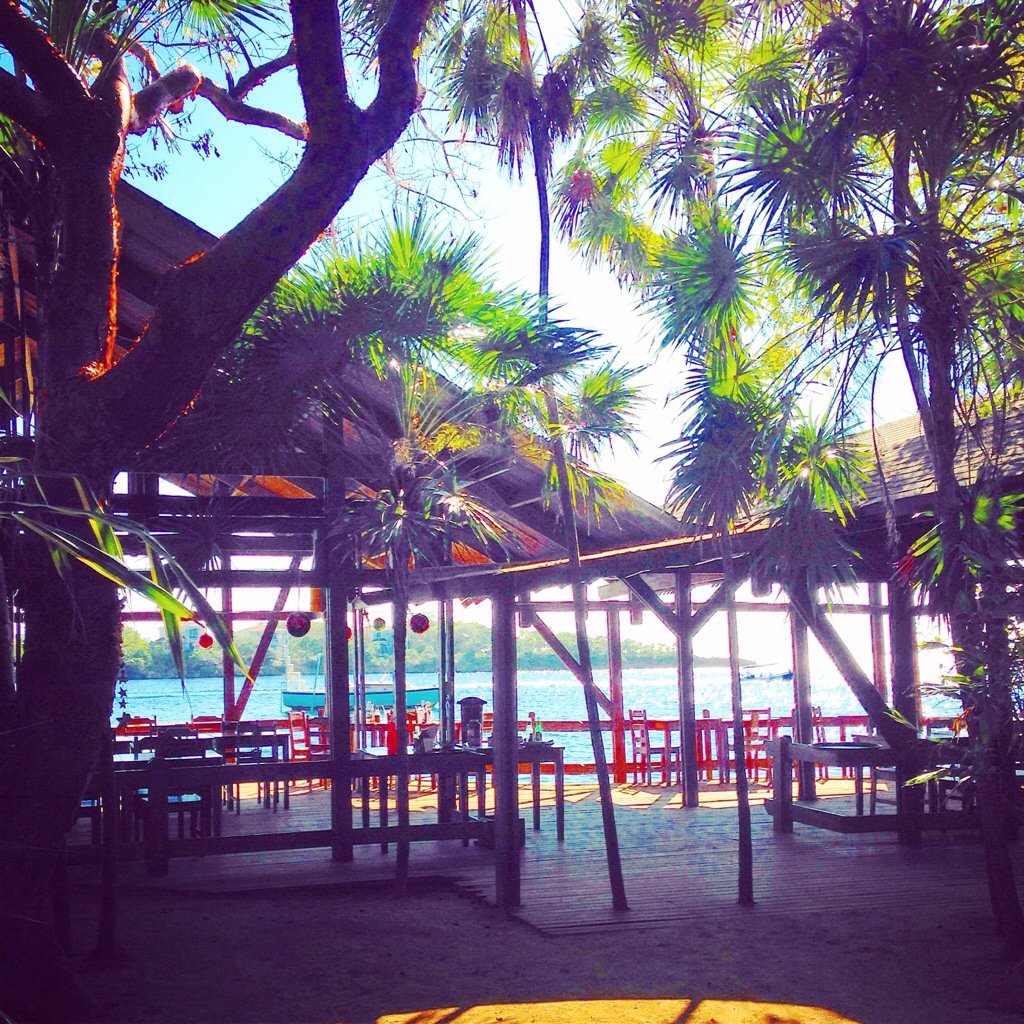 We both saw eels! I saw a small brown and yellow spotted one, while Erik saw a large grey eel.  And we saw a HUGE school of tangs, they were gorgeous.  Having worked at a exotic fish store that sold many types of these fish I was able to point out some familiar ones likes wrasses, gobies, damsels, angelfish, tangs, triggerfish, and so many more! We decided to grab some lunch while we there to support the resort since we were hanging out there all day, and it was tasty.  I had coconut shrimp and Erik had a wonderful fish sandwich.  After that we quickly walked a little bit around the West End.  It was not very pedestrian friendly but we went in a few shops and saw the bay from a different perspective.  We then took the cab back to the boat.  I really enjoyed our ride, both there and back.  Our driver took us there one way but took us back a different way so we were able to really see a good part of Roatan.  He drove us through Coxen Hole which was the city center of the island.  He told us a lot about the cultures of the Mestizos, Mulattos, Creoles, and Garifuna.  Sidenote: During college I took Latin American History, Latin American anthropology, and Spanish all in one semester so this stuff is really interesting to me.  It was definitely not a wealthy people that lived on that island, but they all seemed very happy.  I think we really made the best of the day and while our excursion did cost $60 cab ride + $20 meal, I still think we got the most for our money.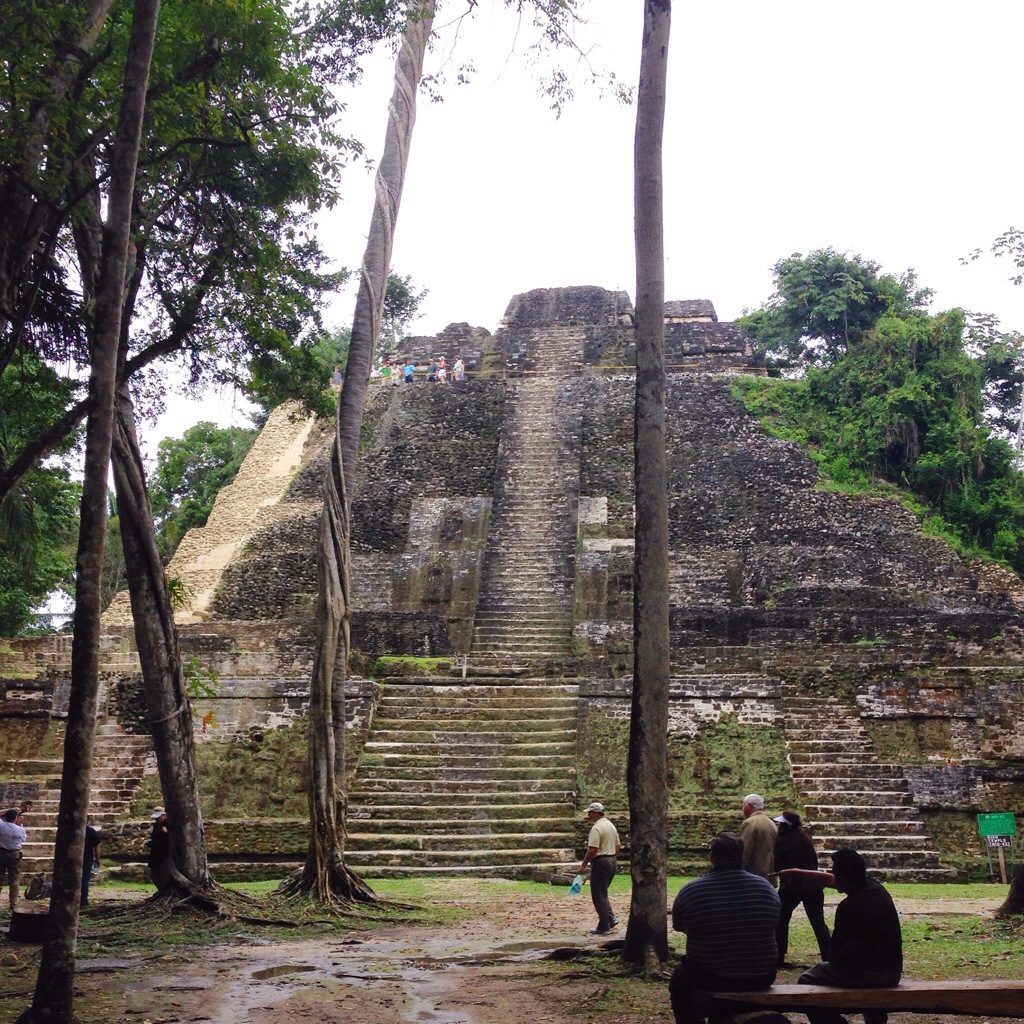 The next stop was Belize City, Belize.  Erik and I had researched what to do here, and I read many reviews saying the best of Belize is out of the city, and the cruise ships planned excursions also concurred with this view with many of them being 30-45 min out of the city.  Erik's aunt had planned an adventure that included a 30 min ride out of the city, a 30 min boat ride along the New River, and a guided tour of an ancient mayan ruin.  Lamanai was the name of the city and it was very neat! Again I love Latin American history and culture so again it was great hearing the tour guide talking about history and such. The "High Temple" was over 100ft tall and we were able to climb to the top via a new walkway that went up the side of the ruin.  Once at a top platform we had the option of climbing higher.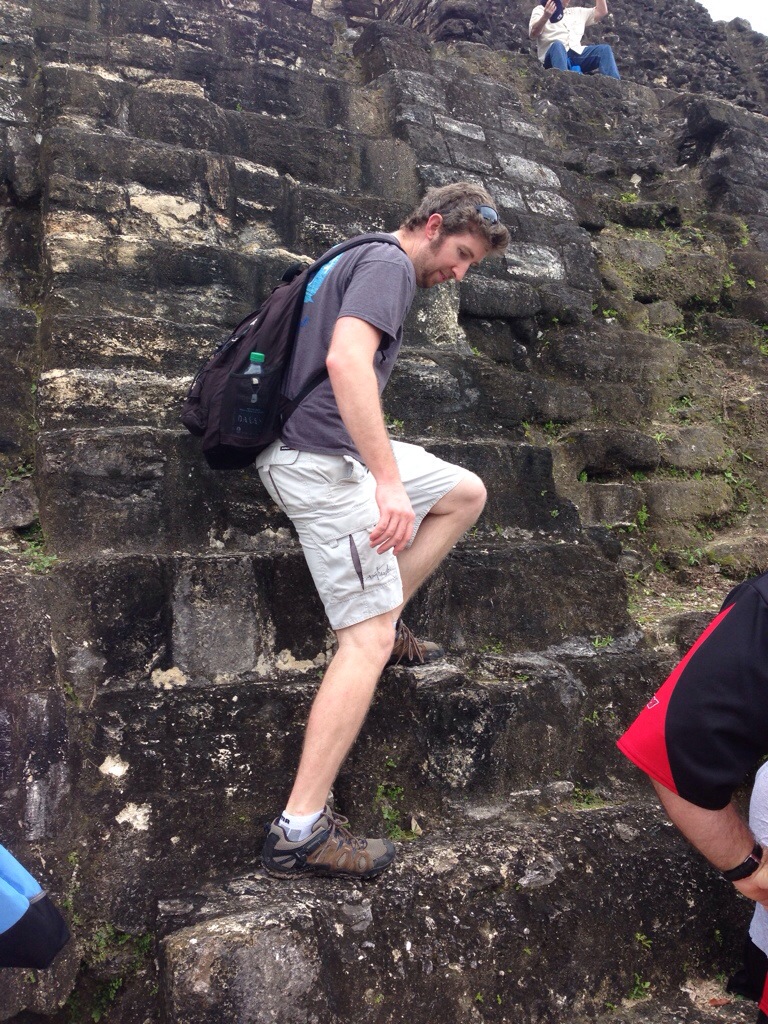 I'm quite clumsy and scared of heights so I watched Erik climb those extremely awkward and high steps.  I honest to goodness have no idea how the priest go to the top of that temple, considering the mayan people were historically much shorter than an Erik, I can only assume it was arduous.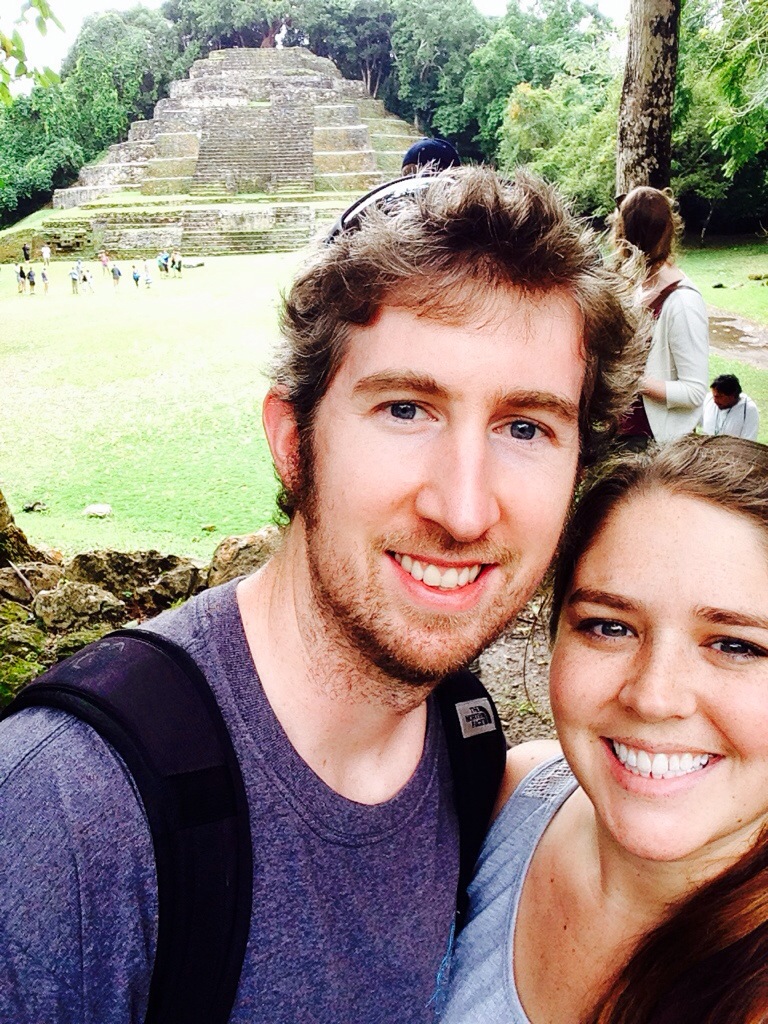 There was also another impressive "Jaguar Temple" that had jaguar mask masonry work on the exterior.  It was a  really great trip.  Unfortunately we were a little late getting there so our time was a bit rushed but it was extremely awe inspiring.  We even spotted some howler monkeys in nearby trees! We took the boat ride back and did a bit of bird watching, and when we got back to the base on the river the guides had a delicious Belizian feast waiting for us: delicious slow simmered spiced chicken, the freshest and spiciest salsa, beans and rice, and coke in glass bottles. It was the best off boat food we had the entire trip! Muy delicisio!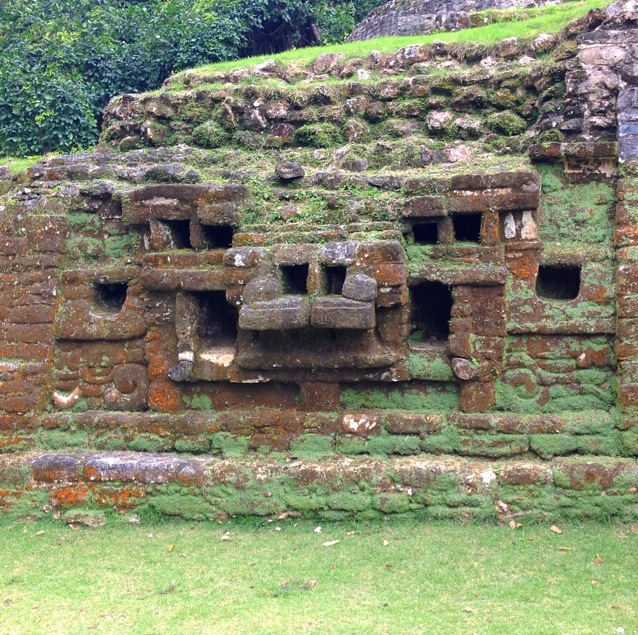 Our last stop was Cozumel, Mexico.  This was the one stop where we decided to go ahead and book an excursion through the cruise ship.  We recently got our dive certification, and I would have been very disappointed if we were not able to dive due to something falling through so I really pushed to go ahead and book.  At only $60/person for a two tank dive trip, this was cheapest of the diving options all trip so we went ahead and signed up.  And I am so glad we did!  We got off the boat very early and met the group where we were herded onto a dive boat.  There was about 30 people on this dive boat, and the gear was already set up (we filled out a sheet with our size fins, if we needed masks, size of BC needed, etc prior) but it was a little jumbled together and you just kind of grabbed a set up and hoped it fit. They divided us up, in our group there were 5 divers and one dive master, which was great.  When we got our certification we were schooled on how to properly check all gear for safety, which is a pretty big deal considering your dependent on this gear to breath underwater. But when it came time to hop in, the guide told us to start descending.  I'll admit on the boat on the way there and first jumping in the water my nerves were a bit high strung, but once I was descending and realized I could still breathe and everything was good my jitters immediately disappeared.  And it was phenomenal! Definitely the highlight of the trip! I am so hooked on scuba diving!  We got to dive at two sites and the guide explained the first stop would be deeper but have more neat formations but potentially less fish, while the second dive would be not so deep and hopefully see more fish and even a sea turtle.  Well the first dive was spectacular.  We were about 80ft deep.  Cozumel is part of the second largest barrier reef system in the world, and is known for its drift diving where the current effortlessly carries you along the great wall.  It was so epic.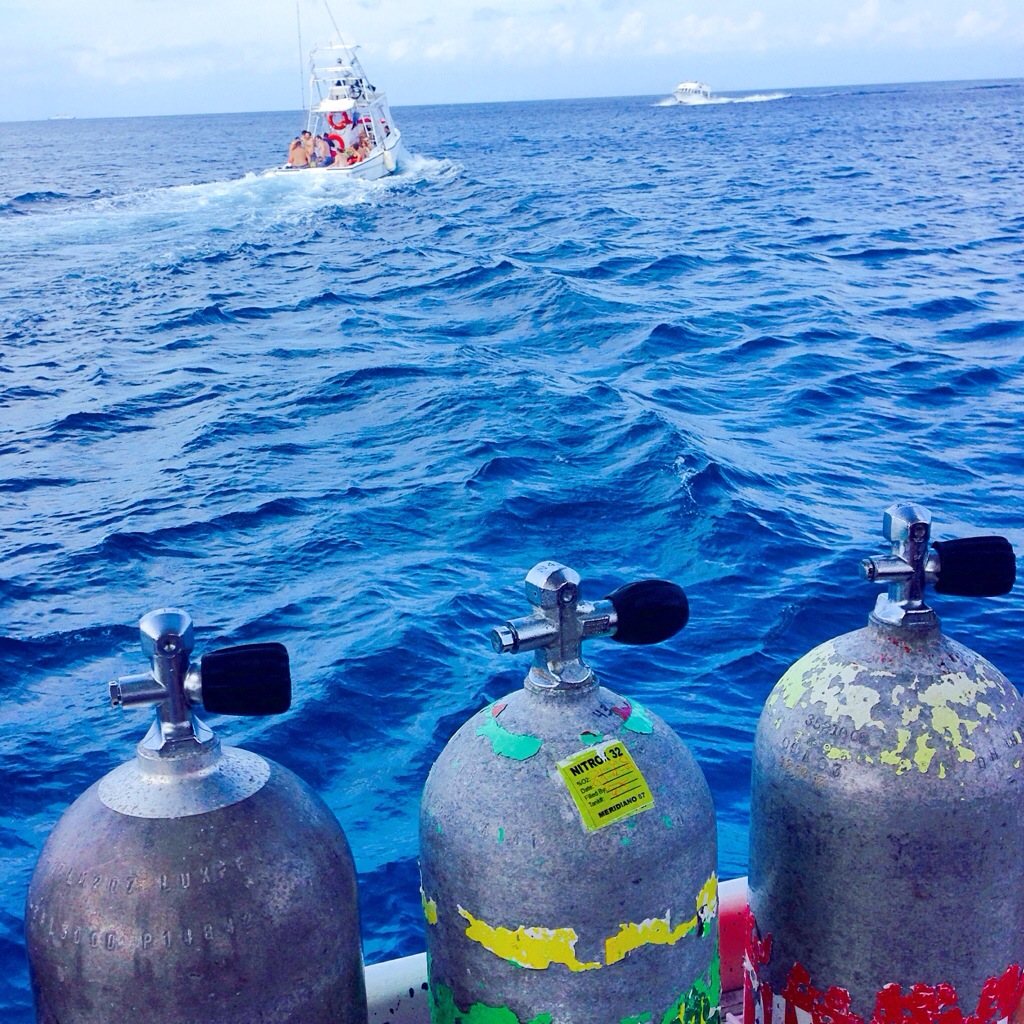 We saw so many beautiful fish and corals, and our guide was really great.  He led us through underwater passageways and tunnels and made sure to point out things that weren't visible right away such as seahorses, giant lobsters, eels, and large fish lingering in the distance.  We stayed down there for about 45 min, before we re-surfaced and headed to the next site.  The guides swapped out our tanks, and down we went again.  This site was also very pretty, but shallower, we were at about 50ft and it was sandy on the bottom.  We still saw many fish and great coral formations.  Very neat.  Can't elaborate enough on how awesome diving is!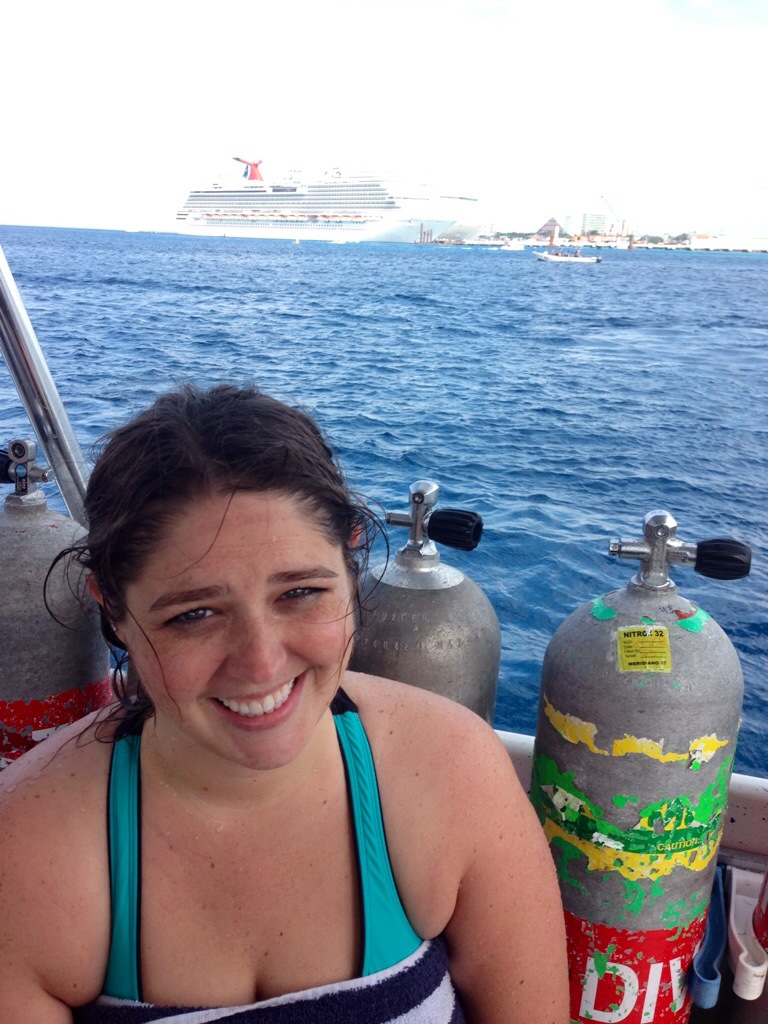 After our diving trip we were able to walk around Cozumel a bit, and sorta wandered away from any sign of people, so we wandered back.  We grabbed a quick bite at a local joint where we got 4 tacos for $5 and a cerveza for Erik and a coke in a glass bottle for me.  It was tasty and fresh.  We found our way back to the outdoor market and I got some earrings and a mexican pancho.  It is fun bartering with the people there.  At first we just knocked off a few dollars from the earrings, but when I saw the perfect pancho I admired it.  The shop keeper came to me and said it was $20 and that was a great deal considering they sold it on the main drag for $25.  I agreed it was nice and a fair price but after all the activities through the day we only had $12..  "ok" he says, "$18".   I thanked him again but we only had this $12, and started walking away when he said "fine, I am the owner here and I will sell it to you for good deal"  We got it for $12, it was funny though as he bagged it he tried an add on sale, but I politely reminded him we didn't have any more money.  Cozumel was definitely a touristy stop overall but the diving was unbelievable!
After the final stop we had one day left at sea.  Unfortunately the night we got back from scuba diving, Erik got food poisoning so I was up with him on the hour every hour from midnight to 3am.  Poor thing.  The whole next day he spent in the room, and I would come check on him and bring him food in between lounging in the sun.  But hey, I guess the best day to get sick would be the last day we were stuck on the boat.  Overall it was a really great trip!  It was so nice to take a break from boat work and winter weather to explore little bits of paradise.