The struggle is real
So there we were, the time between winter and spring. Erik has put in the dirty work, he has put in the elbow grease, and now we are at the point where we don't really have much bottom work to do that isn't dependent on temperature (epoxy, paint, etc). Ragnarok is sanded down to gelcoat, the blisters are ground out, the thru-holes have been removed, the rudder is off, the non-working depth sounder and knot meter have been knocked out.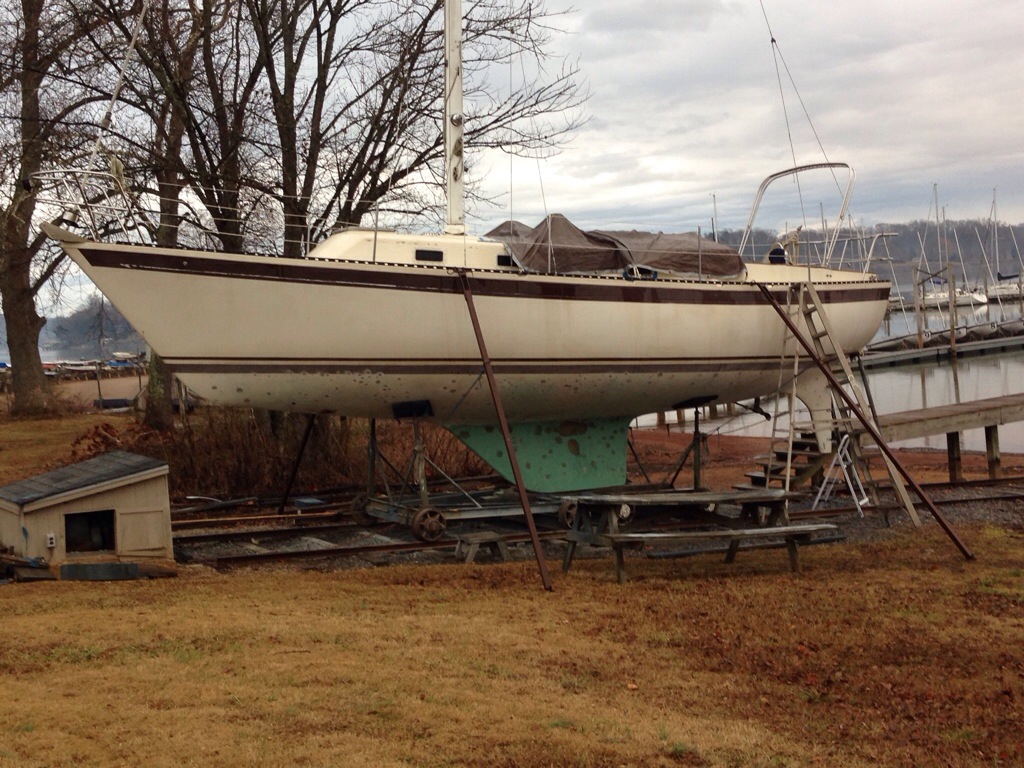 Blood, sweat, and tears have all officially been invested in this boat. Here is a picture of our non-working depth meter. It was permanently sealed in the bottom. But it didn't work, so it needed to come out. What a tough job. The red paint around the depth meter is the original bottom paint, the red smear on the right side of the red paint is Erik's blood. But don't worry, it's out now!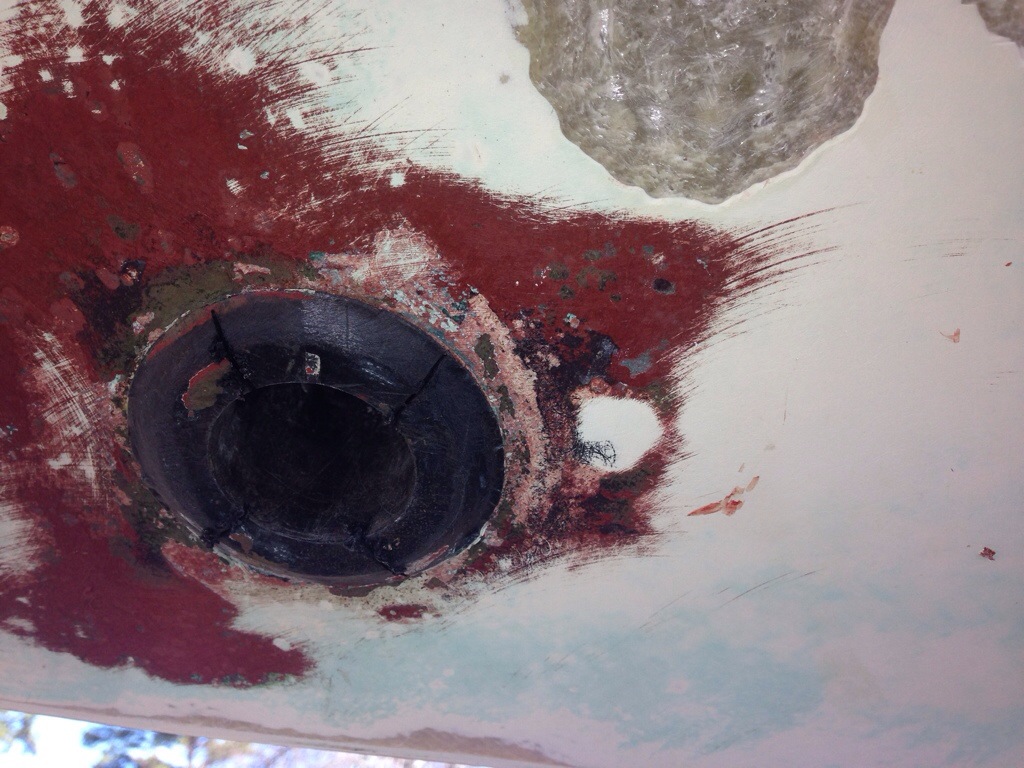 Here he is getting the stubborn things out!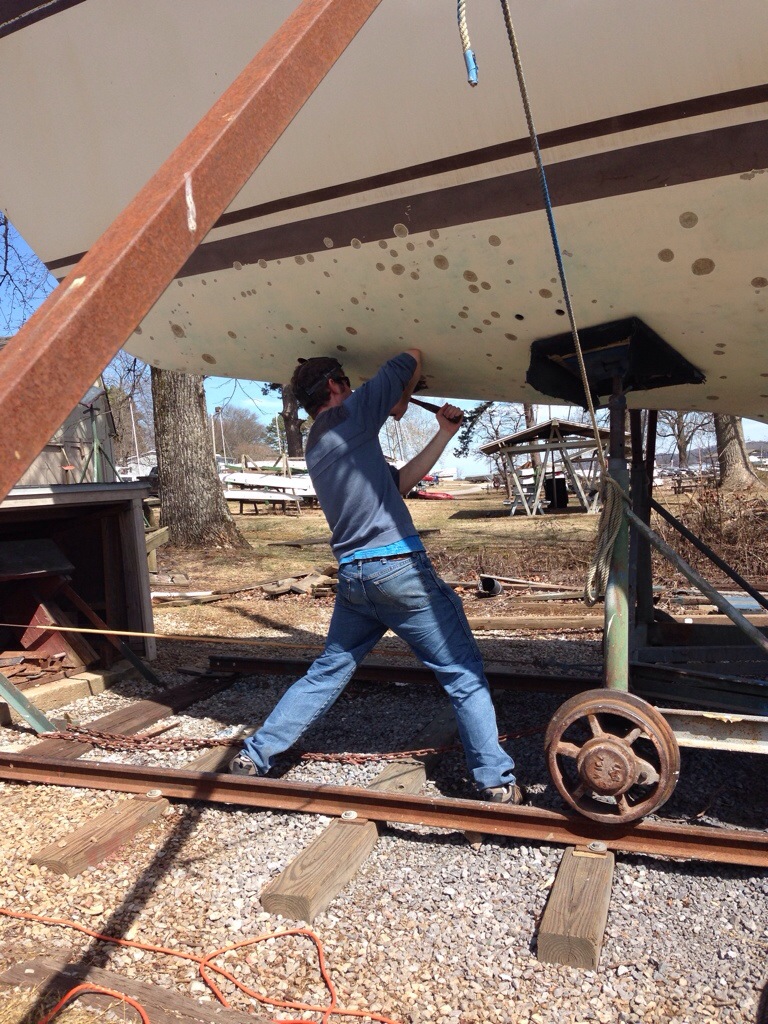 Winter is a difficult time for me to function. It's cold, I'm bundled, and I can't really do much else. Erik has been hard at work sanding and prepping the boat, and during some of the coldest bits of winter while unable to work outside, he endlessly researches for the boat. Some recent additions: these beautiful bronze seacocks. We decided to go ahead and splurge a little on these bad boys, I mean they are a hole in the bottom of the boat so we definitely wanted them to be good quality. Erik coated them with an anti-corrosion substance (corrosion x) so that they will stay shiny. ooooh aaaaah!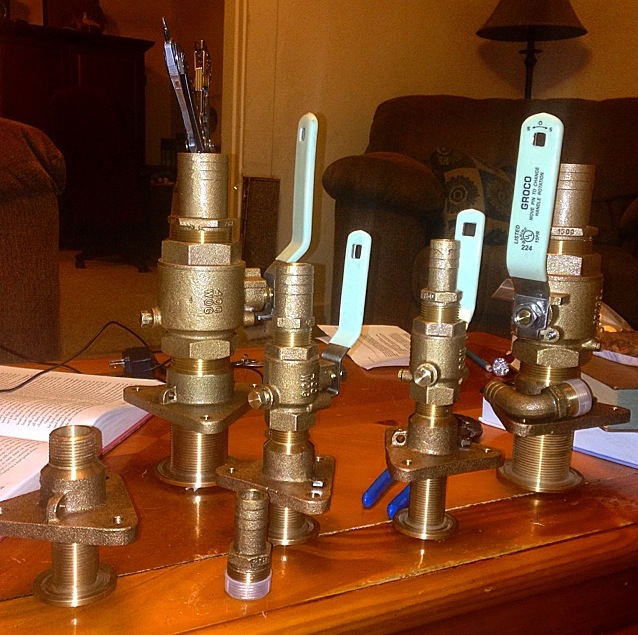 Another bit of a research project was our first solar panel! Once we get our boat back in the water, we will be at a mooring bouy instead of tied up at the dock which means we won't have access to dock power. We figured this would be a step in the right direction since we plan on becoming self-powered long term so for now we got one 100watt solar panel. It is semi-flexible, so we should be able to mount it to our bimini, or anywhere else we please! This should be enough to keep the bilge pump running and our battery charged once on the mooring. We haven't connected this yet, but soon! Erik is very proud of the great deal he got on this panel. I am very proud of that pitcher plant in the left hand corner Erik got for me as a birthday gift a year and half ago!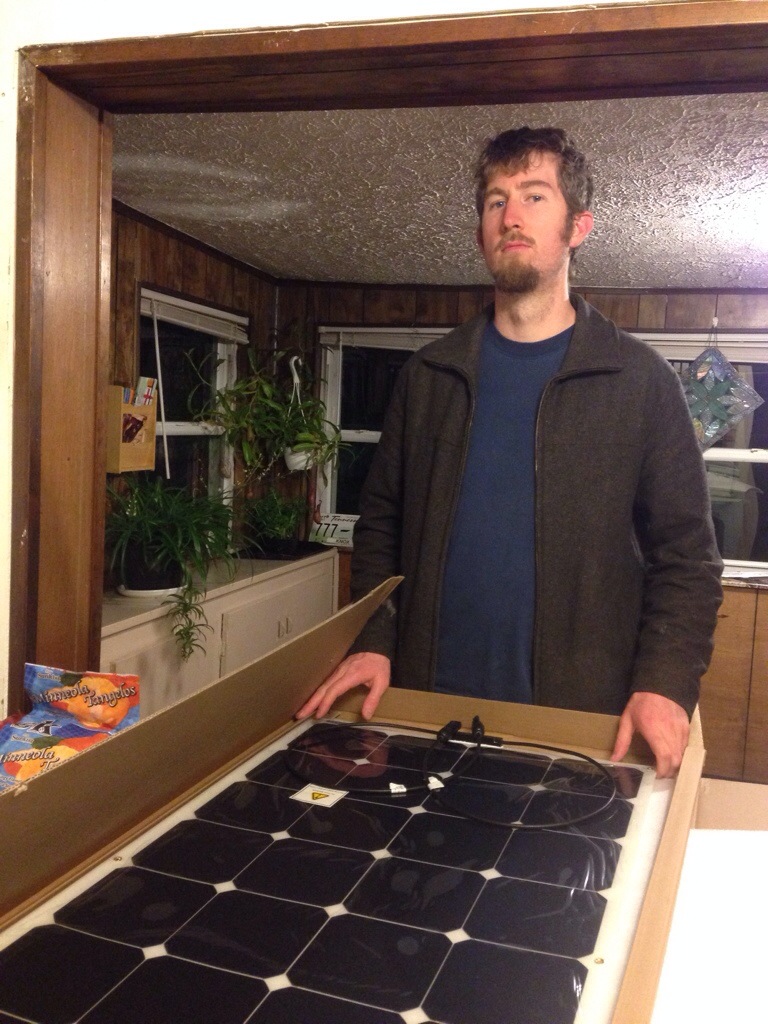 So between the days that Erik has been busy working on the days he could, and busy working on the days he couldn't, we were able to squeeze in a few "snow days". It really came down a few times, first a pretty severe ice storm hit. We were very lucky that we never lost power in the below freezing temps! Erik worked nights the week the ice hit, and when he got home the first night he proclaimed, "The roads were so icy that when I hit my brakes I started sliding so I had to pull over and do doughnuts!". This is when the four wheel drive is a godsend.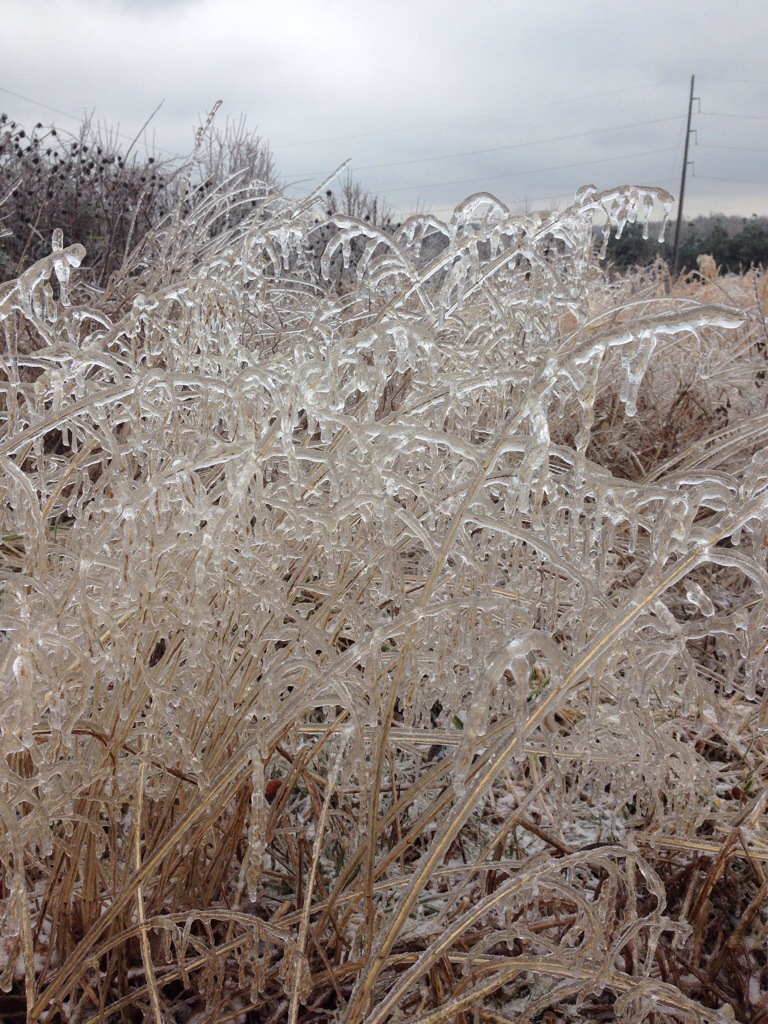 It appeared everything was covered in crystal. It was gorgeous. I ran around the yard with Bryson and sounded like we were walking on broken glass.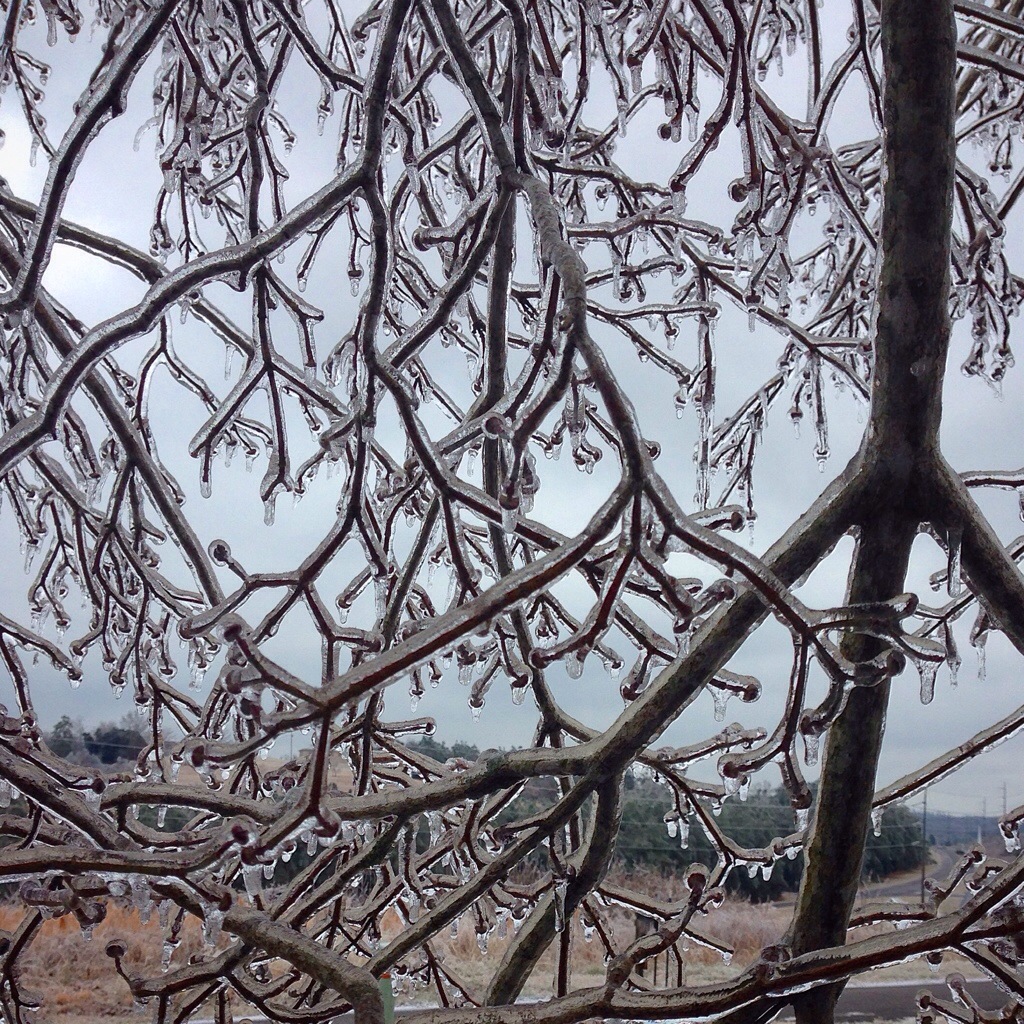 So magical. Then after the ice a nice big snow cloud rolled in and we got about 8-10 inches. Bryson loves the snow, and we enjoyed playing in it. He loves to stick his whole face in the snow and run around. He's silly.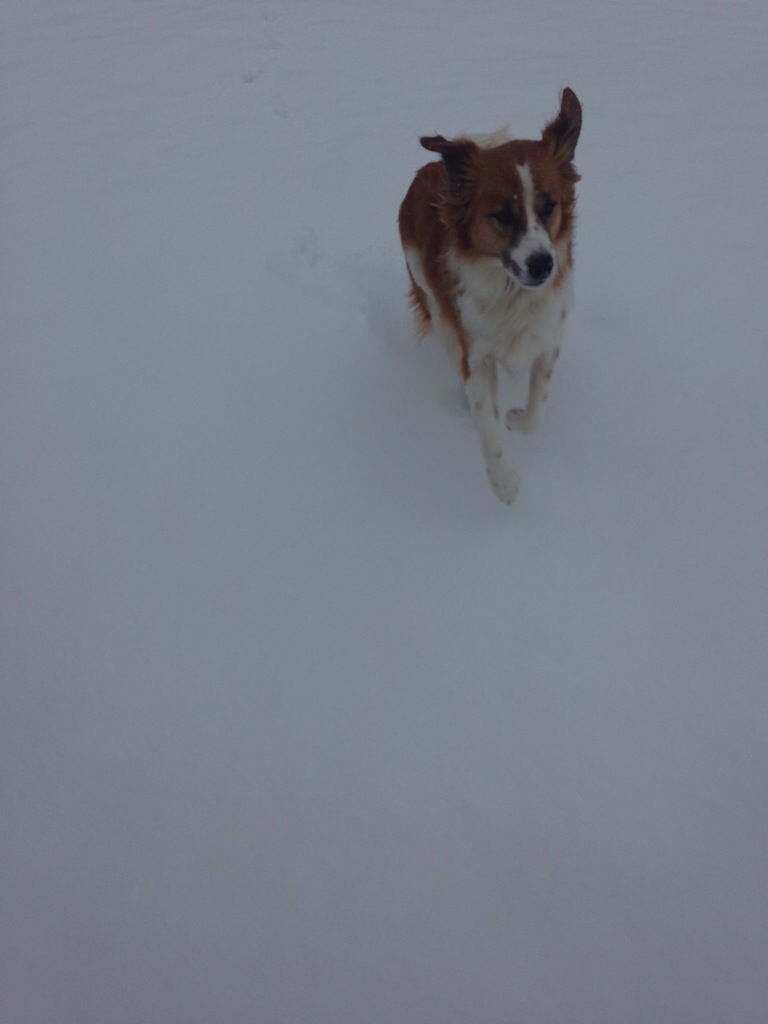 We did get a gorgeous frozen sunset too. I really love sunsets 🙂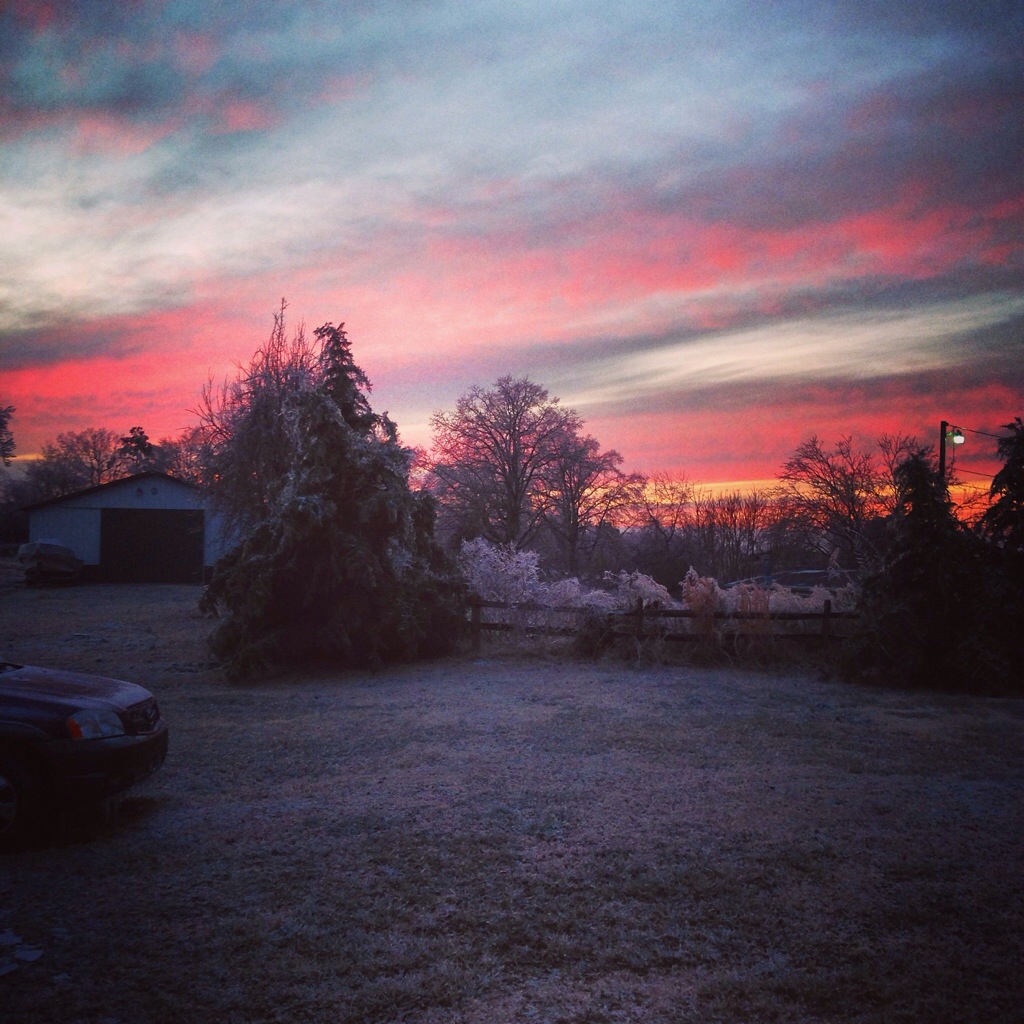 And then, after all that beautiful fluffy snow Erik took me skiing for the first time ever! Erik has been skiing since he was a child and is very good! In fact when we first met and started hanging out he took a ski trip out to Colorado in Feb 2013. Well on that fateful trip he tore is ACL. I actually remember talking to him on the phone when it happened. He told me he landed a jump funny, fell, and hurt his knee. But the very next day he was able to continue his trip and kept on skiing. I assumed he was fine. It only took 8 months for him to realize it was actually his ACL. So in Oct 2013 he got his ACL replaced, and for the next year recovered. SOOOO that was a long story about why this was now the first time in 2 years we could finally got ski! We went to Beech Mountain, in North Carolina and the conditions were ideal. It was a warm(ish) sunny day, and it was after the big snow fall so the snow was so fluffy and plentiful. Really spectacular.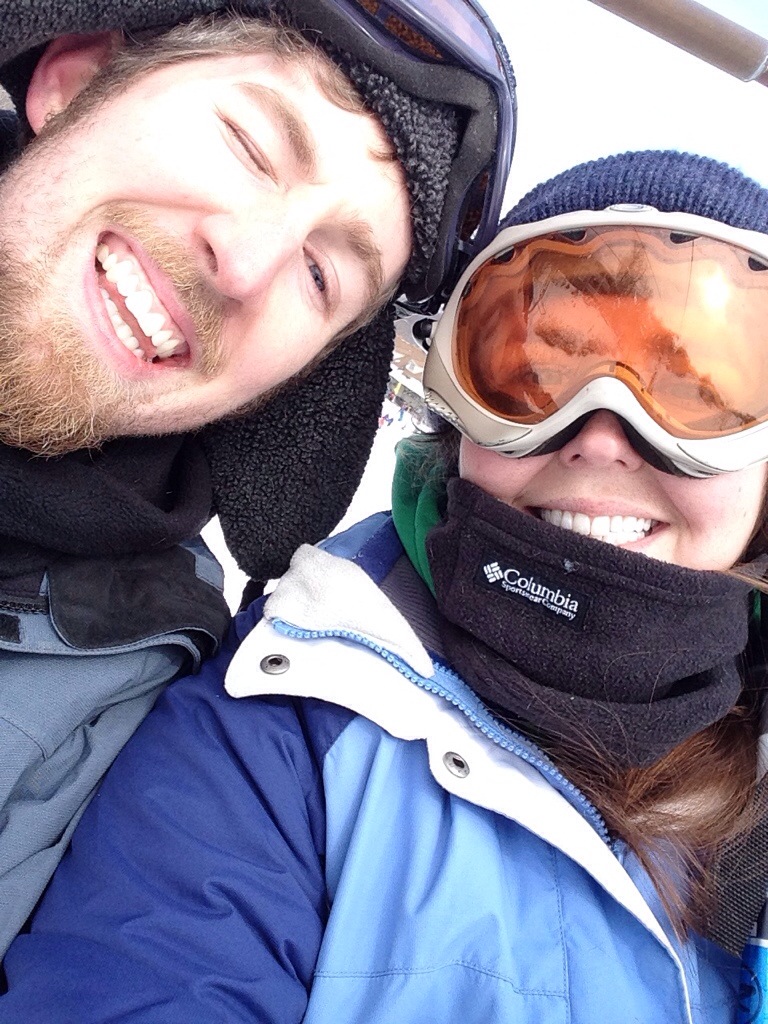 I was very nervous about skiing for some reason, I think walking around in those clunky boots was what scared me the most (I'm prone to falling and ankle injuries). But once we rented the gear I very carefully made my way to the bunny slopes. I looked at Erik and said teach me your ways. We had a quick lesson in learning how to walk and generally get around with skis on your feet, learned pizza and snow plow, and then I was antsy to get going! I am one of those people who learn best by doing, so off to the ski lift we went! Getting there was good practice in what I just learned, and using the lift was a lesson in itself. When we got to the top of the green circle, we just went for it, and I'm sure I fell almost instantly. Thats when the trouble started. I couldn't get up! Erik looked at me like I had something seriously wrong with me, and couldn't figure out what I was having problems with. I didn't know! I just couldn't get up! But after a minute I realized getting up in real life vs. getting up with skis/boots on are not the same thing. They are in fact very different from each other. So after I quit trying to lean forward and pop up with my ankles and instead lean sideways and push up with my hands we continued. I had a blast! I went down the green circle at least 3 or 4 times, and then felt confident enough to tackle a blue square. I got going really fast, practiced some fancy techniques, but mostly just fell and it was fun! The snow was soft and forgiving if you fell just right. Then I fell wrong and my skis fell off, and I needed a break so I sat at the top and enjoyed a brew or two while Erik shredded the more difficult stuff. He was so sweet staying with me and doing the easy things, but it was great to watch him fly off the mountain side. After regaining composure I was eager to give it another go, but my body said no. I fell non-stop all the way down on the last run because my body was exhausted. And I was drunk. I had such a good time, I made Erik take me again the very next weekend. We went to Ober Gatlinburg, and the conditions were less than ideal. It felt like falling on broken glass on concrete when you fell, so I played it cool and just ran the easy green circle over and over and worked hard not to fall. Still a good time! I can't wait to go again, and am considering buying some gear if we are still here next winter.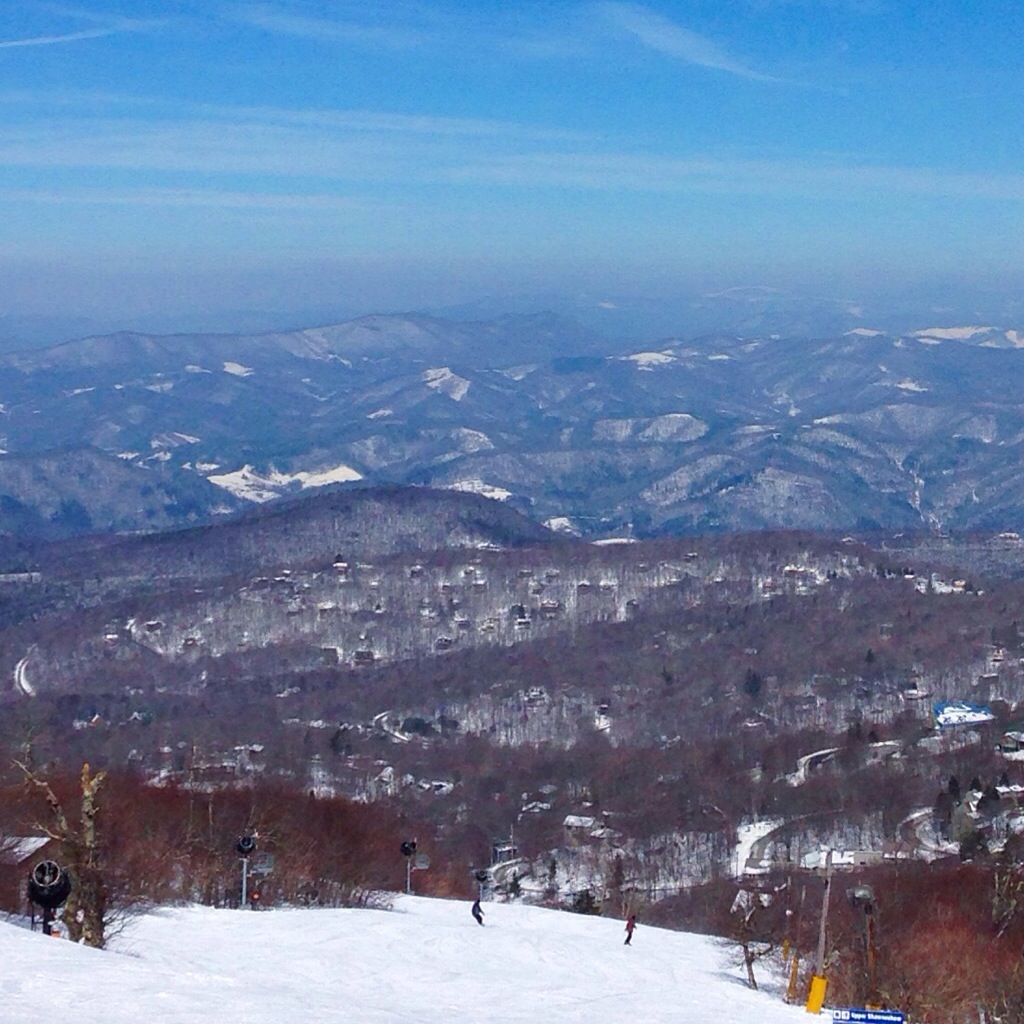 Erik and I also celebrated our 2 year anniversary! It's been the best two years of my life! I could not imagine my life without Erik and I am thankful everyday for him. I have never been more loved, he shows me daily how much he adores me. He is the best roommate and I love waking up to his handsome face every single day. We made homemade sushi for the special occasion. YUM!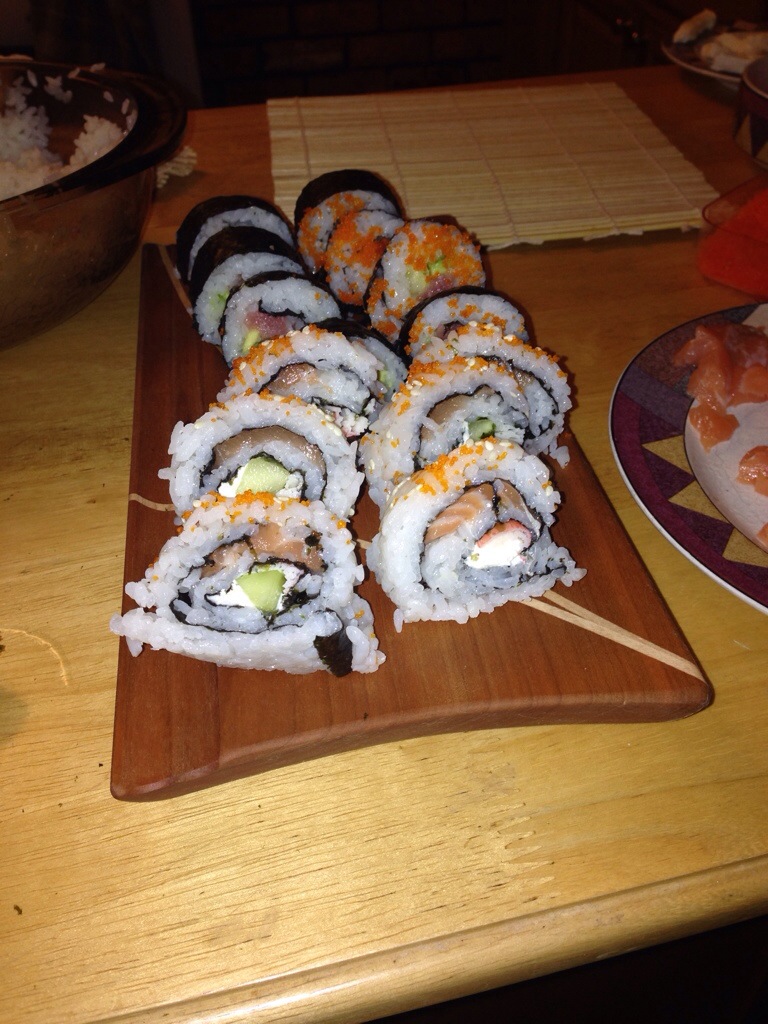 Well that's where we are now. In between the winter and spring. Just waiting for it to warm up so we can get the ball rolling on getting this bad baby back in the water!