Been Busy! vlog 1.3
Hey guys! I know it's been forever since I posted, but when the weather hasn't been crap I've been staying pretty busy.  A quick trip to Houston, mardi gras in Shreveport, a ski trip to Beech Mountain, and really nasty weather has made it difficult for me to get anything done! We keep working here at the house and have gone through quite a lot of stuff! I think we are all ready to move aboard, now we are just waiting for the weather to lighten up.  And we need to wrap up all the loose ends here at the house.
We took the boom off our boat when we heard there was a crane working on the docks at the yacht club.  We imagined a perfect scenario of the crane being able to pull our mast for us, so we went ahead a prepped for that.  Well it didn't happen, but at least we tried! So we finally carried that thing back out to the boat and put it back on.  Erik attached the main sail and the sail cover, it actually looks like a real sailboat now!  But of course we've come across a problem… when getting it all prepped, a few of the ropes looked a little dingy.  The middle line (the outhaul line) is a knotted tangled mess!  Inside we have at least one, if not two, pulleys for reefing the lines.  And also there is a metal rod that we can see inside the boom.  And theres also a pin that goes all the way through the boom that all the jumble seems to be stuck on.  When we try to remove the pin it won't budge, when we pull on the rope it won't budge, we can't reach inside the boom to get the knot.  Im honestly not sure what the next step will be, but we are trying to figure it out by reaching out to the Aloha group and Cruisers Forum.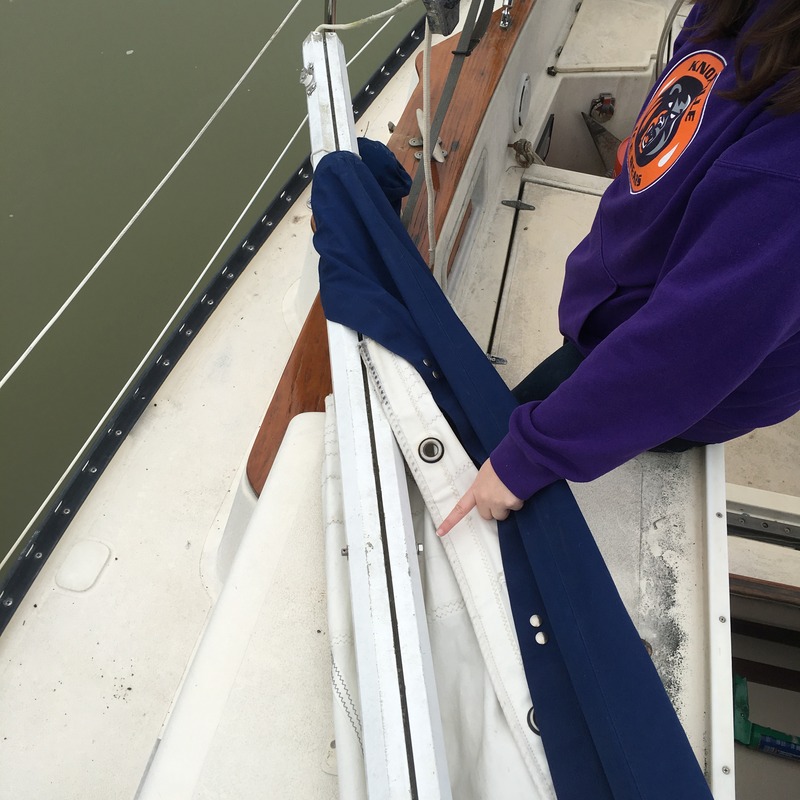 We've started re-plumbing on the inside as well because the existing lines were gross and sticky and yellow.  I don't want my water coming from that! So we are replacing them all with PEX tubing, and it's almost complete! Just need to hook it up to the pressure water pump and hope we were able to fix it good enough so we don't need to replace it.  Erik also installed a 2 stage filter so we will have delicious drinking water.
We've got the inside looking and feeling like home, can't wait until we finally take the leap and move a board! IM READY!