Right place right time 
So I took a little hiatus from the boat.  After Mom finished her radiation treatment in early Feb, she never really ate or drank afterwards so on March 8 she finally admitted herself to the hospital.  I was supportive from afar, they placed a feeding tube, but things only got worse.  So right in the middle of the chaos I packed a small bag and headed to Louisiana to be with her.  What should've been a short visit turned into about 3 months.  I won't go into much details but basically anything that could've gone wrong did.  However my mother is safe at home and getting stronger everyday! Through the whole process I knew she was a fighter, I could tell even when she was unconscious her body would make it through this.  It was really tough for all of us, but I am so thankful that I was able to be there.  Everything happens for a reason and there was a reason I am unemployed at the moment!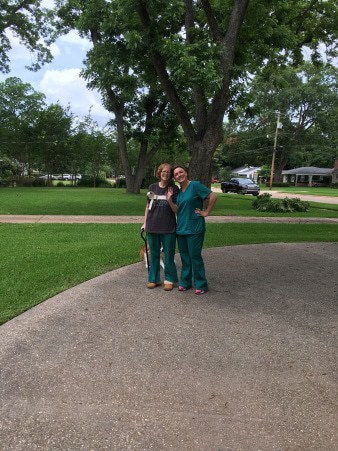 Erik was very supportive while I was away, and kept himself very busy!  He moved from the mooring ball, to the work dock, to the pump out, back to the mooring, rafted up with fellow boaters and dropped anchor, and took an adventure an hour away from home, and even sailed her for the first time!  I was so proud of that because I still get a little nervous when I'm helping with all those things but now I know he really doesn't NEED help and it takes a little pressure off me.  He also did a ton of work while I was away too! He installed a high water alarm in the bilge, got our pressure water working, replaced some sanitation hose, had to deal with some solar panel issues (our 100W renogy panels quit working but they honored their warranty and refunded us), and he undertook the task of making Ragnarok pretty again!  He buffed and waxed her!  He used a rubbing compound and then wax.  I came home for week (while mom was in rehab and before she came home) and helped out a little with this, but he is such a hard worker and I am so grateful to have a man like him.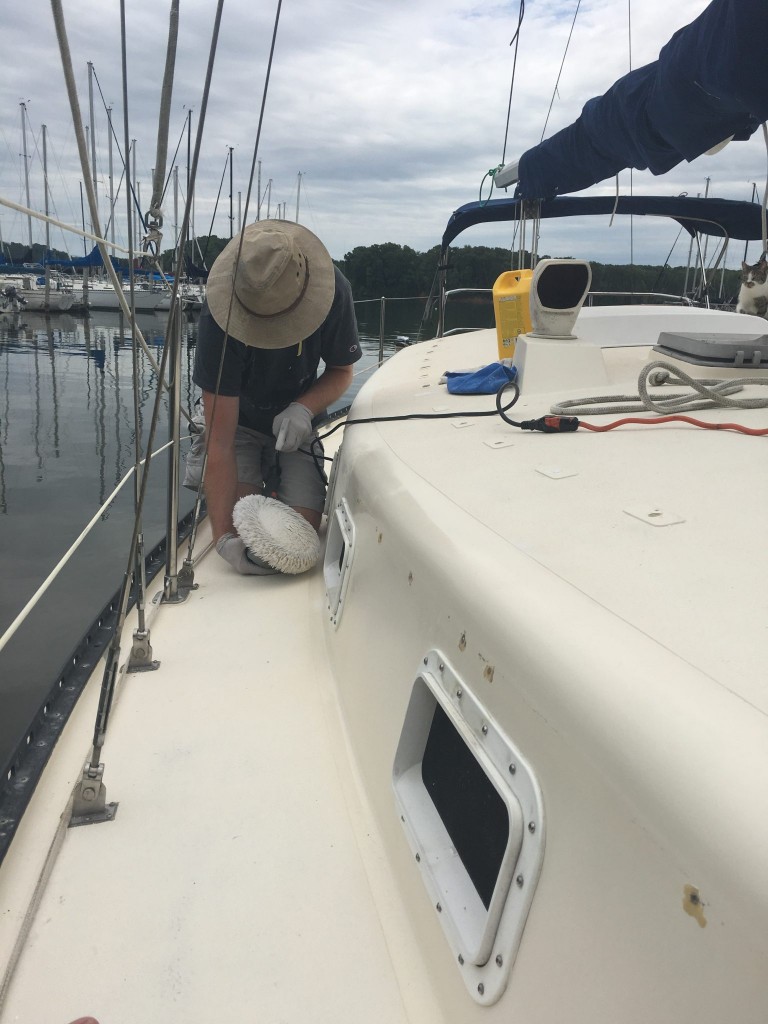 And we got the name put on the transom!!! WooHoo! It's been a long time coming and I am sooooo proud of all the work we have done!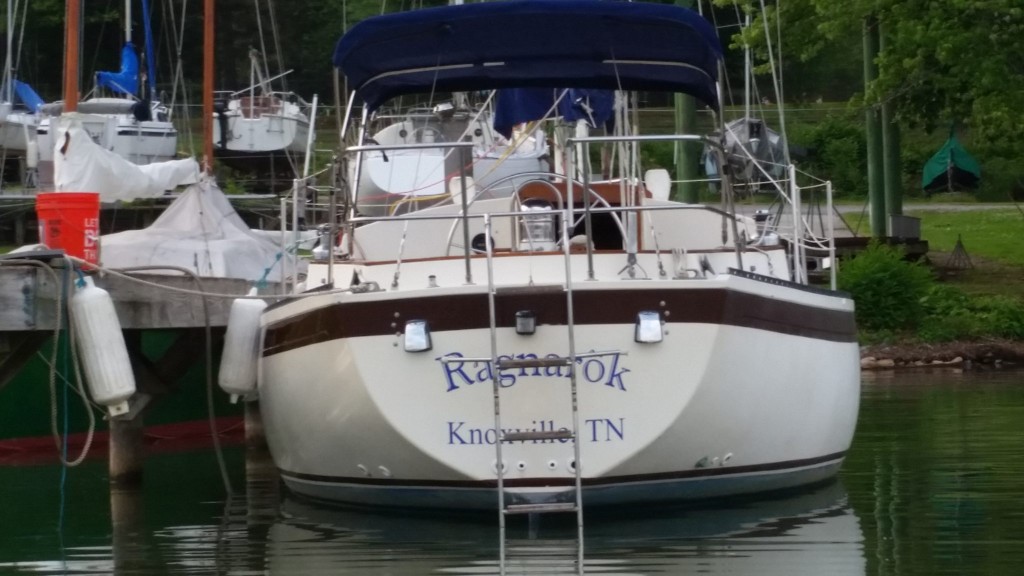 Oh yea! Erik also found an outboard motor for the dinghy!!! We've been cruising craigslist for a long time waiting for the right one and we found it! Unfortunately I haven't used it yet because we let the sail camp borrow it for 3 weeks. But Erik says it starts up on the first pull! And he can lift it on the boat himself.
Oh and for the week I was home we were relaxing on the boat when I noticed the boat thats  tied up on the mooring ball next to us was loose and drifted into its neighbor!! If the wind would have been blowing the opposite direction it would have hit us and after all that work buffing and waxing it wouldn't have been good!  We didn't have the outboard at the time so we rowed over and put some fenders in between and to tie the boat up to the ball so that if the wind shifted it wouldn't come our way.  Eventually a senior member got the CYC safety boat out there and Erik helped him tow it to shore and tie it up.  Pretty sure the owners still don't know what happened, its so crazy how rarely some people check on their  boats.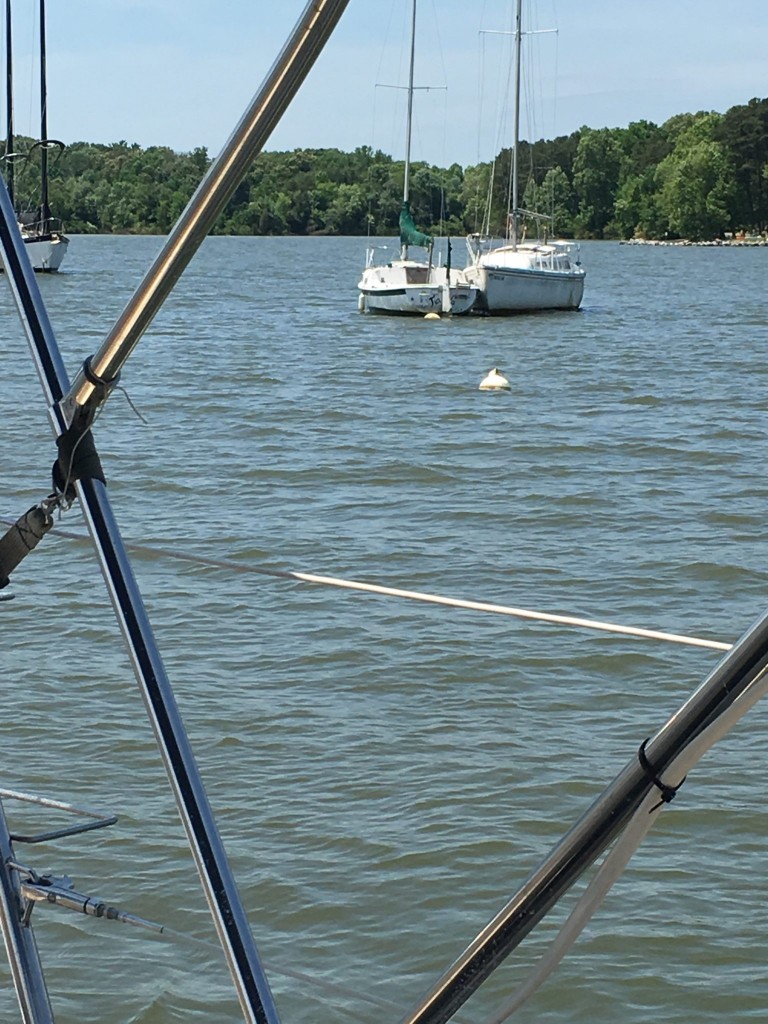 All work and no play is no fun so while I was home for the week we enjoyed each others company (since I had been gone so long) and played mancala and Erik taught me chess.  I really enjoy getting to spend all day on the boat.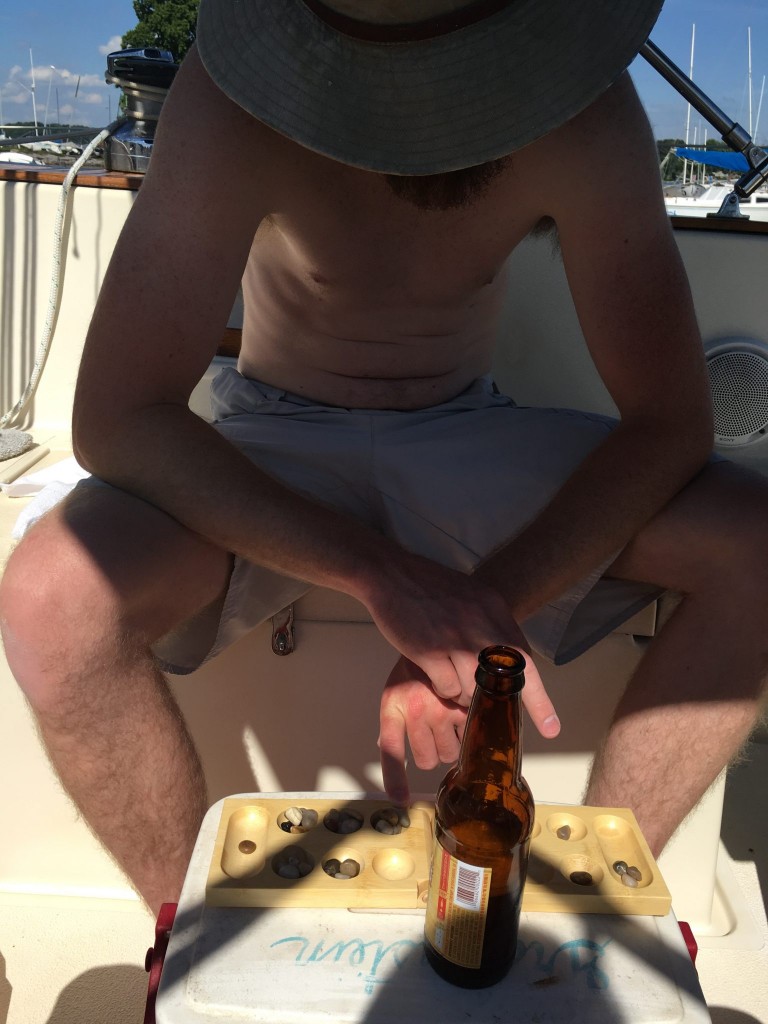 Well I know I'm behind but just wanted to try to catch you up on everything thats been going on lately and why I've been a little absent.  But everything is moving in the positive direction at this point and we are excited and thinking about heading off soon! She is so shiny!