Sometimes keeping it simple is the way to go! When we started thinking about moving aboard this meant no more kitchen gadgets or gizmos.  One of the things I really took for granted on land was a toaster! So now when I serve toast for breakfast it is really special!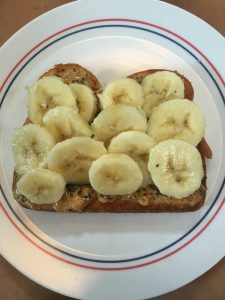 Ingredients:
Butter (or coconut oil)
Bread
Peanut Butter
Chia Seeds, Toasted Coconut, Nuts, etc.
Banana (1 large banana usually is enough for 2-3 pieces of toast)
If you've got a toaster go for it, but start by tossing some butter (or coconut oil
) in a pan, and put the bread in it.  I then do my best to slather some on the other side.  Flip it when it's nice and golden brown. Then spread some peanut butter on the toast (I love doing this while its still warm and the peanut butter gets melty).  To add extra nutrients and protein sprinkle some chia seeds
on top.  I will also add some toasted coconut
occasionally (especially good when cooked with coconut oil) to give it a tropical flare! Then add sliced bananas!
Even though this is a simple breakfast, it really sticks to your ribs and keeps you full quite a while! I do make double for Erik,  so make two pieces if you've got a big appetite! What are some of your favorite ways to jazz up simple toast?!