One of Erik's favorite treats is toffee, so when he picked up a bag at the store I knew I would want to make theses decadent bars! They are sinful and very dangerous.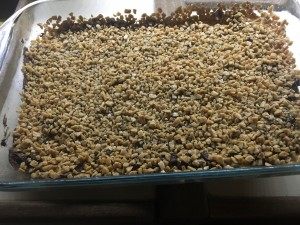 Ingredients:
Base:
3/4 cup butter
3/4 cup brown sugar
1 1/2 cup flour
Filling:
10oz (1 can) condensed milk
2Tbsp butter
1 cup chocolate chips
1 1/3cup toffee (1 bag)
Cream base ingredients together and press into a 9×13 dish.  Bake at 350 for 20-25min.  Let cool while you prepare filling.  Heat condensed milk and butter over medium heat for 10min until thick.  Pour over base and bake at 350 for 15min, or until golden.  Sprinkle top with chocolate chips and toffee.  Let cool completely, cut into bars, and enjoy!