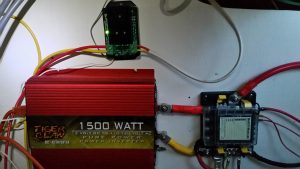 One of the first upgrades we did on the boat was setting up the power system to be able to run power tools without shore power. A big part of that was finding an inverter for our sailboat that was up to the task without breaking the bank. The Tiger Claw 1500w inverter
has served us well for over a year now so we'll share our thoughts and experiences with it so far.
Finding the Right Inverter
I have a Dewalt D28402K angle grinder that draws 10 amps at 120v, which means you need 100 amps at 12v (either way you're drawing 1200w). Thats the most power hungry tool we have on the sailboat, so it served as the basis for determining what size inverter we needed. After looking through our options of 1500w and 2000w inverters sold by the marine supply stores, I wasn't too impressed with what we'd be getting for the prices offered (often over $500). I started investigating the off brand models to see if I could find one with decent quality and stumbled on the following video review of the Tiger Claw. The video begins at the point he starts up a dehumidifier with a high surge load, which was the point at which I was fairly sure that this inverter could handle the angle grinder. In another videos he compares it to a more expensive Aims inverter and finds the Tiger claw to be much better quality.
We took our chances and made the purchase! When I got the inverter, I wasn't able to test it for some time due to the battery box construction taking more time than expected (probably because we couldn't run power tools on the boat until it was done)! Everything finally got put together and I was very pleased to see that the inverter works like a charm and can run the grinder for an extended period with no issues. Its been working great for over a year with no sign of any trouble!
Our Sailboat Inverter Installation
Installation location is fairly limited because you want the inverter as close to the battery back as possible to minimize voltage drop between the batteries and the inverter. We have it located above the battery box and protected from the elements under the port coaming. Even when the cockpit locker to access it is opened, rain isn't able to get in. I do worry about salt spray in the air eventually causing some corrosion, and am considering spraying corrosion-x on the internal components. I'll report back on how that goes once its done!
While our boat does have a few 120v a/c outlets installed, they're not connected to any power source, as I'd rather not have live 120v wires running through the boat when we use 120v a/c power so infrequently. This inverter doesn't seem to be designed to have the 120v output hardwired into an a/c system, so if thats your goal, this might not be the inverter for you. We simply have an extension cord plugged into the inverter, which works for us since we're mainly using it to run power tools and charge the laptop (We hope to find a reliable 12v charger for our computer but haven't been successful yet).
Where to Buy
As usual, Amazon has great prices and more reviews to help you make a decision. You can find it here: Tiger Claw 1500W Pure Sine Wave Power Inverter DC-AC
One more inverter to take a look at is the VertaMax 1500w inverter
, which wasn't around when we bought, but could be a good option as well.