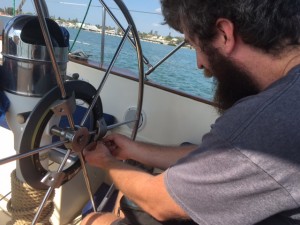 We quickly learned that one of the most important things you can add to your sailboat is a self-steering autopilot! After our first overnight crossing it was at the top of our to-do list, but it's not an insignificant purchase and installation. We'll review how the wheel driven Raymarine EV-100 autopilot has worked for us so far.
UPDATE, Sept 6 2018: After 1.5 years and about 2,000 nm later (Tampa, FL to St. Martin) The autopilot motor gave out on us! Its under warranty for 3 years, but we're going to have to mail the burnt out motor internationally to get our replacement. While its still under warranty, I'm not going to be rolling the dice with our $5 replacement motors and will wait for Raymarine to send us an official new motor assembly. Treat these motors as disposable and buy a spare motor assembly thats ready to swap out underway for $80 if you need it to work uninterrupted.
UPDATE, Nov 1 2018: We made it to Grenada where we are trying to get a replacement motor for the autopilot. Raymarine warranty support is awful! Would not recommend. Have moved the EV-100 to the "bad" section of the review page. Will update if we actually get the part.
 Yes, you should buy an autopilot!
When we started our trip we had no idea how to prioritize upgrades to the boat. We wanted to get started without many of these potential upgrades in order to see if they were truly necessary, or at least worth the expense relative to other potential upgrades. For those reasons, I wanted to make at least one overnight crossing without an autopilot, and also so that we would know what to expect if the autopilot stopped working for us in the middle of a trip.
You can see how that went HERE. I firmly believe now that an autopilot can be considered a safety feature for a short-handed crew. It nearly functions as having an extra crew member on board who never gets seasick, doesn't veer off course, doesn't drink your beer, and you can turn them off with the push of a button! It frees your hands and attention for managing lines, reefing, surveying the horizon for obstacles, monitoring the engine, eating some food, using the restroom, etc.
Will the Raymarine Ev-100 wheel pilot work for me?
Firstly, do you have a wheel? If you use a tiller instead you'll need a tiller or below deck pilot.
Next we need to consider boat size. The Raymarine Ev-100 autopilot is recommended for boats up to 16,500 lbs (we sneak by at 13,500 lbs). If you want a wheel pilot and are much beyond this weight, you should probably consider the CPT autopilot instead. The CPT can generate 85 ft-lbs of torque, while the Raymarine EV-100 generates 22 ft-lbs, so if you have heavy wheel loads, it's the way to go. However, the CPT is more expensive and less versatile, as it is a standalone unit that cannot interface with GPS or chartplotters.
Below deck autopilots are even more powerful, but are accordingly more expensive and difficult to install. The Raymarine unit seems to have plenty of power for our boat, so we went with it.
EV-100 Autopilot Installation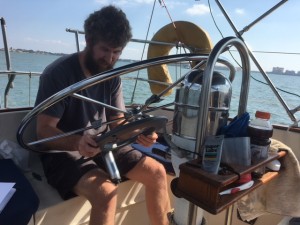 The installation process isn't rocket science but definitely takes a full day or two of messing around with it. There are 4 distinct units that need to be installed: wheel drive, p70 control panel, ACU-100 computer, and the EV1 sensor core (compass). The wheel drive goes on your wheel, the control panel needs to be within arm's reach of the wheel, the computer ideally needs to be near both the batteries and the wheel drive to reduce voltage drop while operating, and the compass needs to be away from magnetic interference (metals and electricity).
You need to drill holes into your steering pedestal to mount the support bracket and cut the bracket arm to length (hacksaw will work). You may also need to cut a hole in your cockpit to mount the p70 display/control panel, or otherwise find a way to mount it on your binnacle. Just make sure the p70 is within arm's length of the wheel, because often you'll want to be able to keep one hand on the wheel while you engage the autopilot or adjust settings. We also had to splice our NMEA2000 backbone on our boat into the Seatalk ng backbone provided. We cut one end off of the Seatalk ng backbone and replaced it with a Maretron field attachable connector, which you can find HERE. That allowed us to connect our two backbone cables.
If you're looking for in depth instructions you can sift through the Raymarine EV-100 pack official manuals (which there are a lot of).
Our Experiences
We've had our Raymarine wheel driven autopilot for over a year now. We've traveled from Tampa, to the Florida Keys, through the Bahamas, and now into the Dominican Republic. Our sailboat is near the upper weight limit recommended, but we havent yet experienced any time when the autopilot had trouble turning the wheel. We end up turning on the autopilot almost any time we're going to be moving for more than about 30 minutes, so it sees alot of use.
There are times when going deep downwind (unfortunately a rare situation on our current route) that the autopilot has trouble with the following seas trying to cause us to broach. This doesn't seem to be because it lacks power, but simply because it cant see behind us to predict when a wave is about to overtake us until it actually happens, at which point some amount of broaching might be inevitable. In those situations I end up hand steering.
The only other time we've had an issue is when trying to head as close into the wind as possible, sometimes a wave will knock the bow across the wind before the autopilot manages to react. We sometimes end up having to sit 5-10 degrees (depending on sea-state) further off the wind than if I were hand steering to avoid this.
Overall we've been very pleased with the performance, and we wouldn't be without one!
Spare Parts
Even though we've had good luck so far, its always good to carry spare parts, because everything breaks eventually. You can find aftermarket spare belts, but make sure they're for the ST 4000 MKII (grey) wheel drive thats used in the EV-100 pack. We bought this one for less than $20, which looks like it will work.
I even found a blog where someone had success using a $6 generic drive motor after the original burned out. It does seem to involve salvaging a gear and bypass capacitors from the original, so if that seems questionable you can buy a pre-assembled replacement motor from Raymarine for about $80 instead.
Where to Buy
Buy/read reviews on Amazon: Raymarine EV-100 Autopilot
Shop around though, because the lowest prices change often!
There is also almost always some kind of manufacturer's rebates going on at Raymarine.com/offers so check there to see if you can save a bit more on the purchase.
If you end up making any kind of purchase on Amazon within 24 hours of clicking on one of our Amazon links, we'll get a small commission, so thanks for supporting our blog!