The Magma 10-piece nesting cookware set has been a great addition to our galley! In this review, we'll discuss how the pots have served our tiny kitchen needs so far.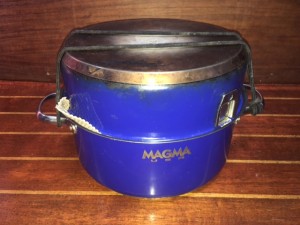 Optimize your cabinet space
Outfitting the galley was a task I was eager to take on.  Each item needed to be functional, well thought out, and if it served more than one purpose it was definitely a great addition. We figured the most important piece of kitchen equipment was the pots and pans we would be using daily. This led to us purchasing the Magma 10 piece nesting cookware set (link to blue ceramica non-stick version, other versions discussed below)!
People always suggest to just use what you've got. If you use it on land you'll use it at sea! I definitely agree with that statement, but by switching to nesting cookware, I am able to fit five pots in one large pot space!
Investing in new cookware specifically for the sailboat was a simple choice.  In my very small galley I would only have room for one or two pots and pans, or I could nest them all together in a very small space! My home kitchenware was a mismatched assortment of yard sale and thrift store finds, so switching to something just right for my new tiny home was exciting.
The removable handles and nesting properties of the magma cookware set were very appealing.  The cost is a little high, but these are high quality stainless steel pots. We wash everything in saltwater followed by a freshwater rinse, and there has never been any rust issues after using this set daily in a marine environment for two years.
Review of our experiences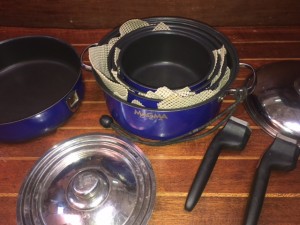 I use the magma nesting cookware on a daily basis…often multiple times a day! The small pot is one of my favorites and quickly heats water to boiling (even on our alcohol stove).  The medium sized pots gets used frequently for pasta and larger meals.  The big pot is great for giant one pot meals!  But the skillet by far sees the most use.  It's nice and deep, and I often make all sorts of skillet meals in it.  Check out our recipe section for some inspiration.  In fact the only other pot I have besides the nesting cookware is our pressure cooker! Everything else gets cooked in our magma set.
Once you take the handles off the pots, everything fits into my very small kitchen sink! The large pot and skillet fit diagonally, but they still get in there!  You never think about things like that until moving onto a boat! So I recommend getting in your galley, measuring the space you plan to store your cookware and your sink, and making sure it will be the right fit for you.  If you don't have your boat yet, I can almost guarantee you will find a spot for it.  I forgot to measure before I purchased, but it fits perfectly in my small galley.
The set comes with two lids:  one large lid for use on the skillet and the large pot, and one lid that has grooves to fit every sized pot in between. The small and medium pots nest inside the large pot, the small lid flips upside down in the nest, the large lid on top of the big pot, and the skillet upside down on top of it all.  It comes with a bungee to keep everything secure while sailing.  The versatility and compact size of the pots make me extremely pleased, and they're one of my many tools to success in a small sailboat galley.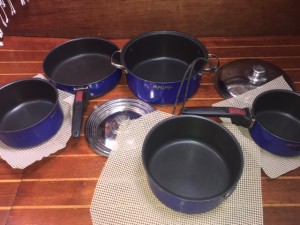 Stainless steel, ceramic, or teflon non-stick coatings?
Magma offers a wide variety of pots and pans suitable for tiny living including camping, RV, and boat life.  Picking out which set was just right for our boat was slightly challenging, but two years later I am still pleased with our choice.  I opted for the beautiful blue stainless steel teflon nonstick set, since blue is my favorite color, and I have other blue kitchen items.
Magma offers lots of options: plain stainless steel, ceramic coated (ceramica), and teflon coated.  I chose the teflon because I knew we would be dealing with limited water and wanted something that would be super easy to clean.  In fact after I'm done cooking a simple meal like eggs, a wipe with moist rag will clean the non stick pot!
The non-stick linings scratch very easily so be sure to only use plastic or wooden cooking utensils in the pots and pan.  Also be sure to store the nesting cookware with a soft divider in between each pot (make sure the divider comes up to where the handle attachment point is, since it can scratch the sides of the containing pot too!).  We use the vinyl drawer liners, but felt or another soft divider would also work. Some of the current offerings come with a set of pot protecters in the set, but ours did not.  We were shown how important this is when Amazon shipped us the first set of cookware, which we bought at a discount because it was an open box returned item, supposedly in new condition.  It looked like it had been returned over a dozen times with the box beat up.  I opened it up and sure enough the non stick was very badly scratched.  I easily returned it, got a brand new set in mint condition, and have kept them that way ever since!
Where to buy Magma Nesting Pots?
We bought our blue teflon set through Amazon, but the version we bought seems to be mostly discontinued. The teflon version is still available from one seller, but at a significant markup to the other options. It's listed as the last item in the ad banner below. The most similar offering currently is the blue ceramica version (on the left), and you can see the plain stainless steel option next to it is available at a discount to the non-stick versions.
If you click on any of our affiliate links, including using the banner below and then make any kind of purchase from Amazon within a few hours, Amazon will send us a referral fee. If you do, thanks for supporting our blog!