One of my favorite dishes from Louisiana cooking is my mothers Jambalaya! It is delicious and simple.  The traditional recipe calls for crawfish and sausage (my personal favorites) but any addition will be great! Chicken and shrimp are also popular, however turkey spam is most convenient for me! You can make as much or as little jambalaya as you like.  The key is for every cup of rice, add 1.5 cups of broth.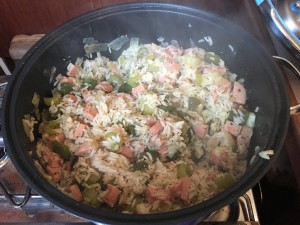 Ingredients:
Onion, celery, bell pepper (diced)
Seasoning: paprika, garlic, salt, tonys, thyme, basil
meat
rice
chicken broth
Sauté the trinity (onion, pepper, celery) in butter until translucent.  Season with paprika, garlic, salt, tonys, thyme, basil.  Add meat of your choice: sausage, crawfish, chicken, shrimp, spam.  Add rice.  Then slowly stir in chicken broth and bring to a boil.  Reduce heat and simmer for 20min without peeking or stirring once! It's yummy! Serve with a salad and french bread if you've got it!
-I generally use 2cups of rice, and 3 cups of broth with a pound of sausage and a pound of crawfish, but using a can of spam is also proportionate.  When I don't have celery on hand I just a pepper and onion (staples I try to keep in stock) Versatility is the key to success when cooking on a boat!