Sunday Sunday Sunday
Sunday was a Funday full of many tasks.  We spent the night on the boat because Saturday night we had a night on the town! Finally! We went to see Portugal The Man and it was a wonderful show, I thoroughly enjoyed myself and had wonderful company.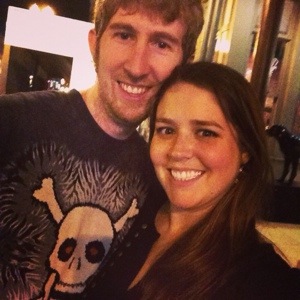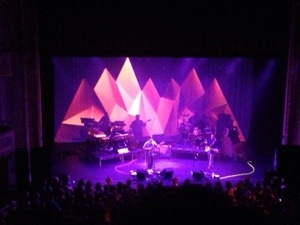 Instead of bar hopping afterwards we decided to swing by the 24hr Kroger and grab some sushi for dinner and stock up on boat friendly food.  We came back, ate, and crashed hard.
And then I woke up on the wrong side of the bed, angry for no good reason.  But Erik soon checked my attitude and I felt better.  I wasn't sure what Erik had on his agenda, so I started testing those waters.  And welp water it was!  The water to the docks had just got turned on (due to a water line bust from this winter) and he had flushed our water tanks a couple of times.  The previous owner filled them with propylene gylcol or antifreeze to winterize it, which we have decided we will NOT do. Antifreeze is important in the sinks, drains, and other valves that connect to the water directly (seacocks) but we both agreed that a good drainage on the tanks should suffice and worse case during a freeze the valves may crack, but after today I honestly think replacing a cracked valve would be easier than what we dealt with.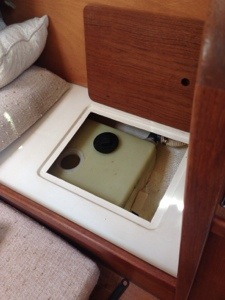 So our water storage situation is two 30 gallon tanks under the settees.  There is a water pressure pump (which is not working currently, add that to our project list) and a foot pump.  In all likelihood we will use the foot pump more, but we will need the pressure water to shower and stuff.  As I mentioned Erik had flushed them a couple times while I was gone (girls weekend rafting trip!) but he did this all using the foot pump.  So we decided to get serious.  The two tanks connect at the bilge at a T coupling (so you can use one or the other, or both) and then either gets sent to the footpump or the pressure pump.  Well we just unscrewed a fitting and  viola!  Drainage with no labor.  My job was to fill the tanks, and man the bilge pump.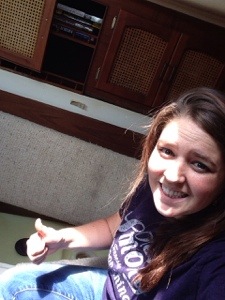 Usually the bilge pump is set to "automatic" where if it accumulates enough water it automatically pumps it out.  Well with what we were doing we just shut it off, waited till that sucker was full, turn it on, and it pumped out.  Pretty quickly too! The pump does 750 gph.  While we were filling and draining and filling and draining, we decided to test our manual bilge pump.  This is an extremely important safety feature.  In case the boat starts taking on water in an emergency situation, the main bilge pump SHOULD pump it out, but if it ever goes out for some god awful reason, theres gotta be a way to get water out of the boat.  This manual pump consists of a little handle that connects to a large tube that basically creates a siphon and pumps the water out.  Well, you guessed it! It doesn't work! I tried it, Erik tried, no works.  Erik fiddled with it, Erik tried it, and it worked! Then I tried it, and it didn't work.  Erik messed with it some more but at this point in the evening I was starting to get HANGRY. We can't be dealing with an unreliable manual bilge pump, that's the end of that story.  Add this to our project list.
Ok so we are out grabbing some Subway because that is the only "fast food" Erik agrees to eat, and needed to stop by Home Depot to grab some bleach, washers, and I wanted some tiny tube for siphoning debris out of the bottom of those nasty tanks.  This method was tedious, but it was succesfull. And we added a bit of bleach for them to soak until next time.  We will drain them one more time, then re-fill, add a small amount of bleach and it should be drinkable water.
So that's what I did today.  While I was working on that Erik finished re-beddeding all of the chainplates! WooHoo! Cross that off the list.  He also wanted to see what was going on the  engine intake strainer.  This is what cools the engine by pumping water through the engine, but it gets strained first so no jellyfish go in the engine.  We disassembled the mount, but the hoses that connect to the seacocks were in really bad shape and not wanting to slide off, so he just cut it.  Can't be fooling around with them seacocks.  So yep can't start the engine again until we fix that.  The theme of this trip was definately water, and our plumbing systems.  This boat is like a giant onion with a bajillion layers.  As soon as you think you have a grasp on what's going on, you're wrong.  It's like a very complicated puzzle.  But I have a feeling once we have solved it, it will get easier and easier the next times we have to deal with anything in those smelly onion layers.
ALSO the Cetol Project Part ONE is complete.  The flat broad pieces of wood in the cockpit have been sanded and coated with 2 coats of marine cetol and 2 coats of gloss!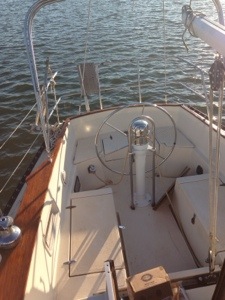 Lookin' good and shiny.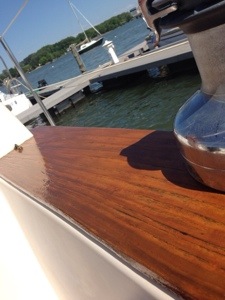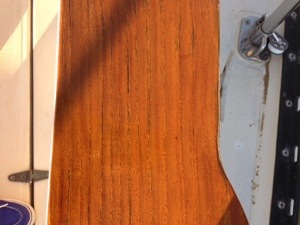 The narrow pieces are next, and they will not get as intensively sanded since their odd shape.  We will clean and brighten then cetol.  Can't wait until all the wood is looking good!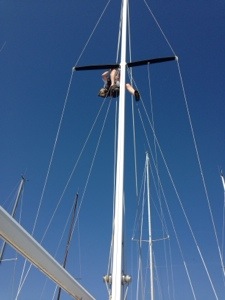 Erik decided to climb the mast again, and I think the only reason was for fun! He's getting good at it.  No the real reason was so that he could check out the electrical conduits at the different heights (the halfway point at the spreaders and the tippy top).  At the base it is extremely difficult to get a grasp of what's going on inside since the opening is a hole with an inch diameter.  We needed to figure out what was going on with the conduits so we can ponder what to do with our electrical wires that need to be replaced…. Hmmmm more on that at a later date.
We decided to seal the mast with toilet bowl wax.  This is basically like a ring of ear wax (minus the smell) that your toilet bowl usually sits on to seal it.  Since our mast boot was in bad shape (I say was because it's gone now) water was leaking down the mast more than desired, so hopefully this should seal out the water.  It's not pretty, but we will get a new mast boot soon.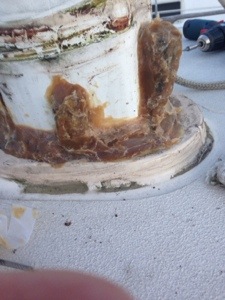 And in the midst of all this, Eriks transmission went out.  This happened last weekend.  So I got to go pick up a new used transmission we will put in andd then hopefully sell it.  Well of course in transit Erik yells RED LIGHT (he shouldve said yellow light but anywayzzzzz) I slammed on my brakes and got transmission fluid alllll over the back of my car.  I did put a large piece of cardboard down but it got all over the backs of my seats too.  Ahh the things I do for love.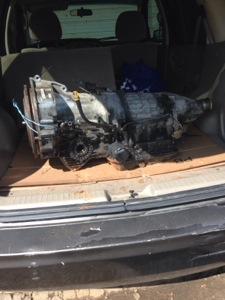 My sweet man child got his wind vane in the mail, and we were late for a mothers day dinner because he was futzing with it.  I said "ERIK we have to leave now!"  He said, "FINE but I'm taking this with me!"  He successfully put it together while wearing my flower crown.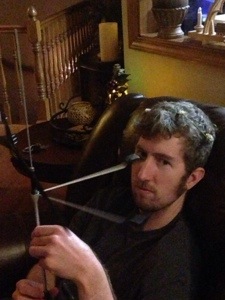 I was trying to get a picture of the sunset but someone was in the way… with another pump he pulled out.  This is a back up bilge pump (similar to the pressure pump, but we cant get it out because the screws are stripped/corroded so his plan is to figure out how this one works, order/borrow a tool that gets those stubborn screws out, and fix the pressure pump)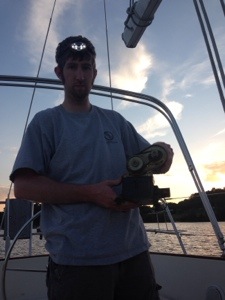 Annnnd Bryson spent the night on the boat for the first time! He did pretty good! He gets on and off by himself and can now get in and out of the cabin by himself too (though he still doesn't like it if there is one thing anywhere near him while he's getting up or down and will halt all progress until said thing is moved)  It was a good day for him to be out there, not too hot.  Here he is relaxing in a cool breeze.