Spring in the air
So things are trucking right along.  It's hard to realize that this is going to be something that happens overnight.  As much as I wish we could be done and leave tomorow (especially after days like I had today!) in all reality this is going to be something that takes time… and lots of it!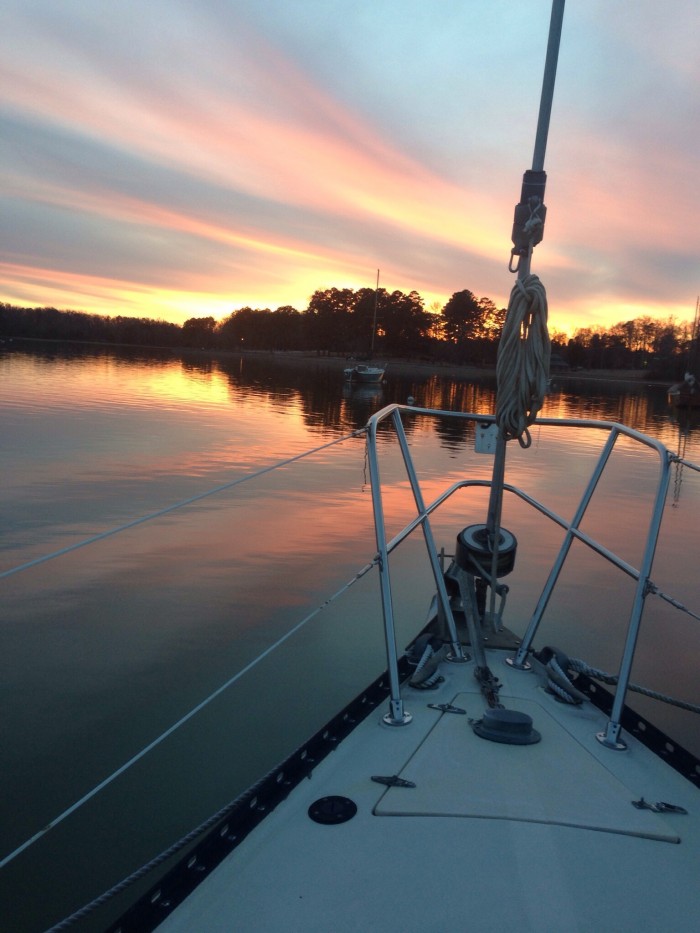 We visit Ragnarok as much as we can.  Sometimes all we do is brainstorm and daydream, but it's still nice.  One of my favorite features is the "liquor locker" and neat little cubby with cutouts to store bottles, how cool! Another neat feature are the  interior oil lamps, we got those bad boys up and running.  May tweak them and work on them a bit more (the wick was not moving up as you turned the knob) It may have been a few things… an old wick, a too fat replacement wick, or the knob mechanism but they do burn just fine.
Here is a pic of our "Liquor Locker" pretty neat!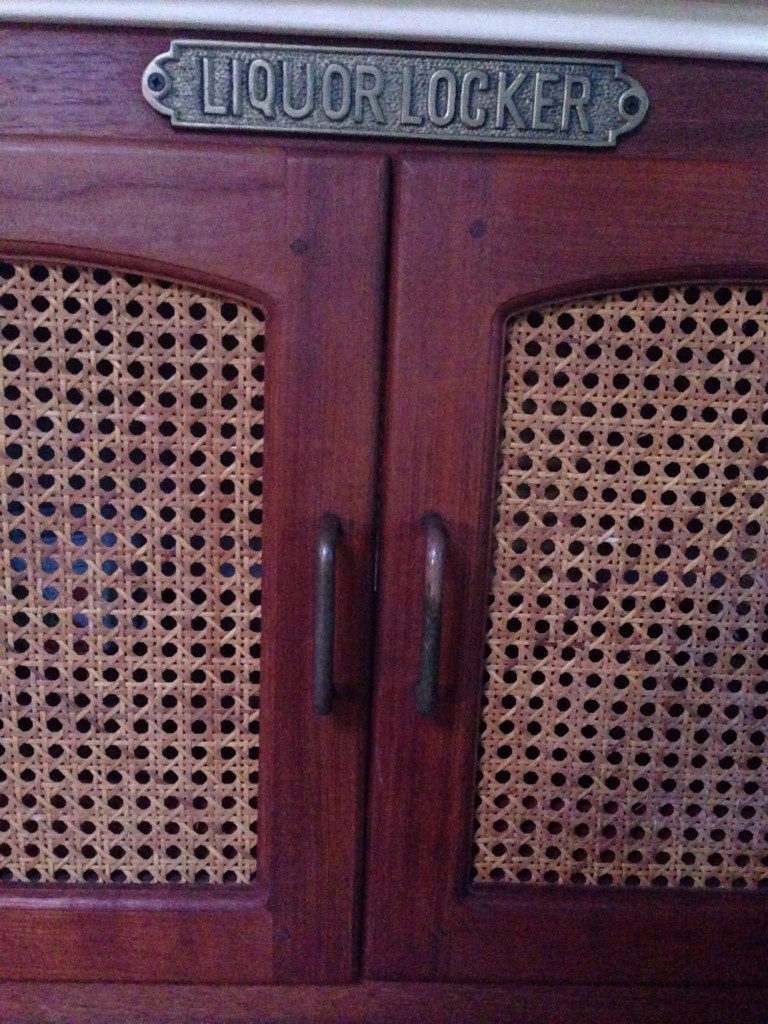 Cool round cutout for liquor bottles. I'm glad the original owners had their priorities straight.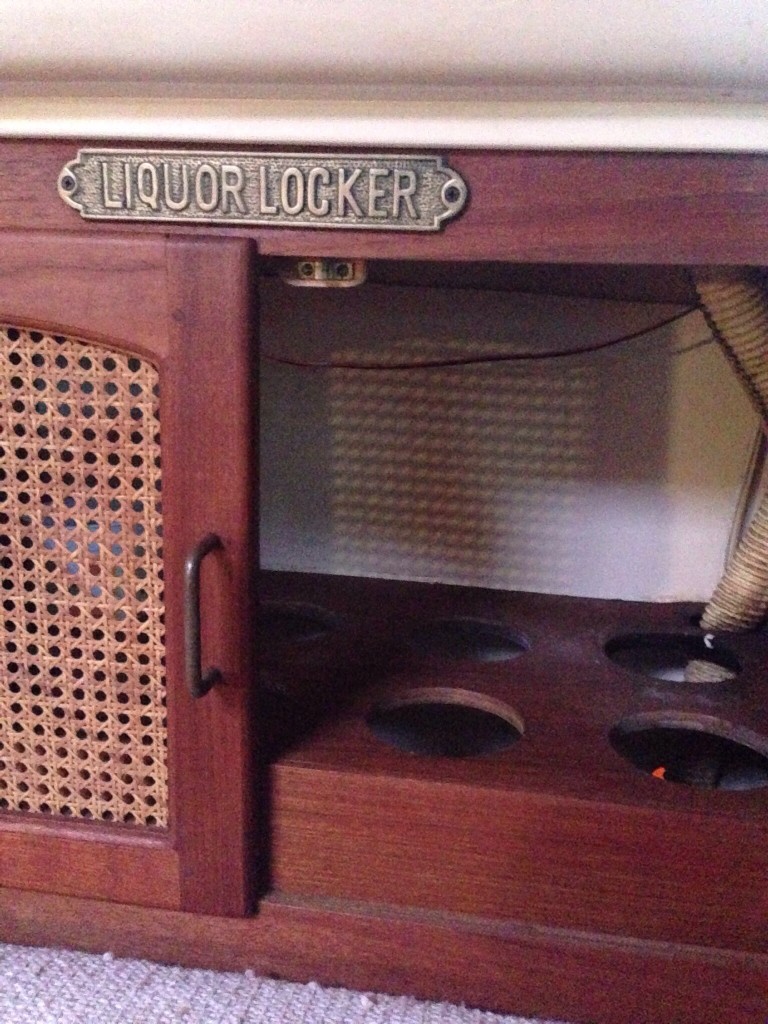 One of the oil lamps burning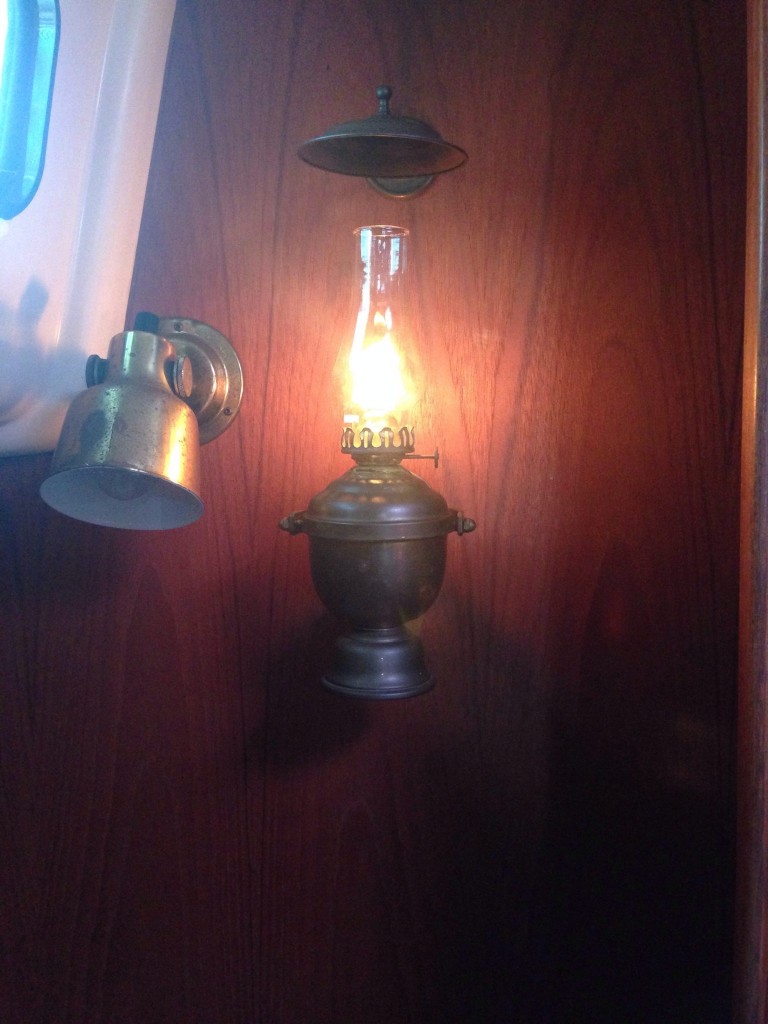 Every time we go to the boat we learn something new.  For instance, did you know that when you run your diesel engine that not only is exhaust (which Erik did check for) supposed to be coming out, but water as well! I didn't either.  But luckily while we were sitting there, with engine on, testing it out for the first time since we bought her, a gentleman walked by and we introduced ourselves and we told him "o hello there, we turned on our engine for the first time today" and he replied "i dont see any water, is your seacock open?" derp.  I didn't even know what a seacock was… its basically an intake for  water to pass through your engine cooling it then being returned to the lake (or ocean one day!). Makes enough sense.  Well at this point I said to myself… welp that'll do for today! My learning here is done.
Erik checking out the cubby space where the engine lives.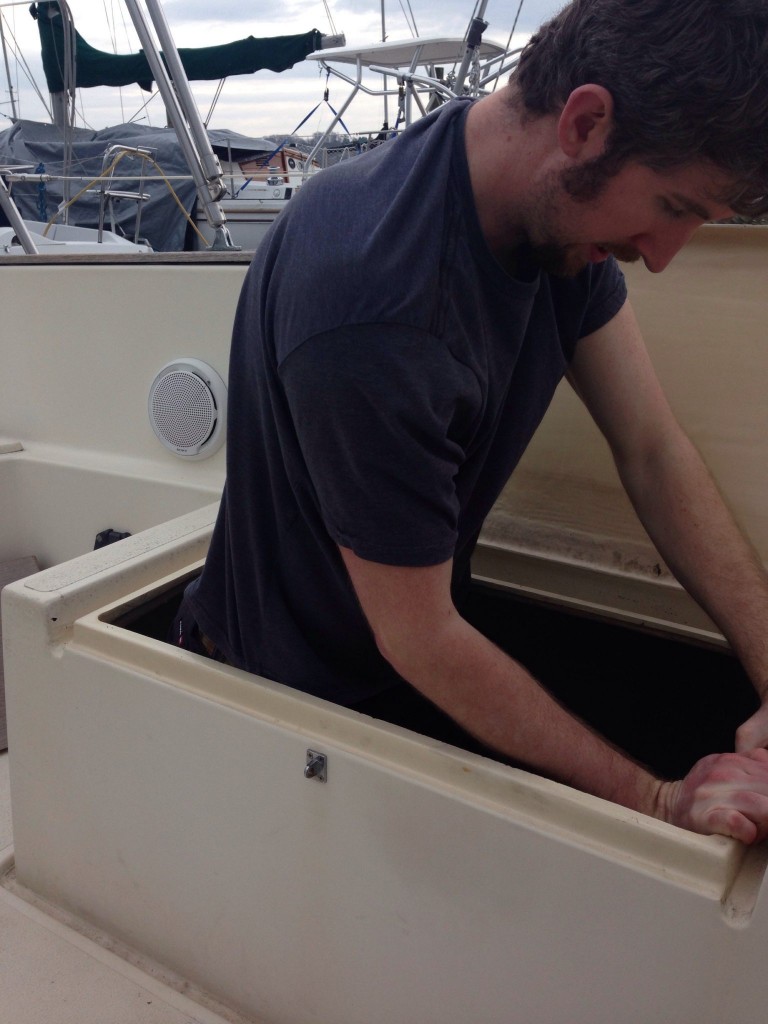 But of course, Erik my wonderful boyfriend, found the seacock valve with ease.  Turn that on: check, start engine: check, notice all of the water dripping from the engine: WHOA hold on.  Engine off, valve off, inspect engine.  I knew now we were in over our heads… why is there water coming out of the engine.  But I swear Erik is really good and smart and withing ten minutes he had found the cracked gasket, and also the drain plug to drain the water from interior engine in case it freezes again (which it's already there! and he's at the boat right now putting a marine heater on it to prevent freezing) So yep! Next time we head to the boat, we must replace the spare parts before turning her on! fun times.  What about all the water that came out of the engine you ask?
This brings me to the bilge pump! Water gets inside sailboats. End of story.  But what happens next?  it all drains to the lowest point on the boat… the bilge.  There is a pump in there that pumps out water when it reaches a certain level. Our bilge pump works! When we turned the engine on the second time (after we opened the seacock) and all the water started dripping from the engine we were intially startled, lurching for the valve on the seacock, shutting off the engine, and then heard a rumbling from somewhere else.  It happened so fast I didn't realize where it was coming from, but of course my Erik knew instantly, hey open up and see if that was the bilge pump.  YUP.  We tested it a few more times by pouring water in and watched it get pumped out.   So fun.
The interior with all the covers open, you can see the engine under where the stairs go, and that hole in the floor is where our bilge pump lives. The bilge basically pumps water out of the boat.  We were able to test the pump last weekend :p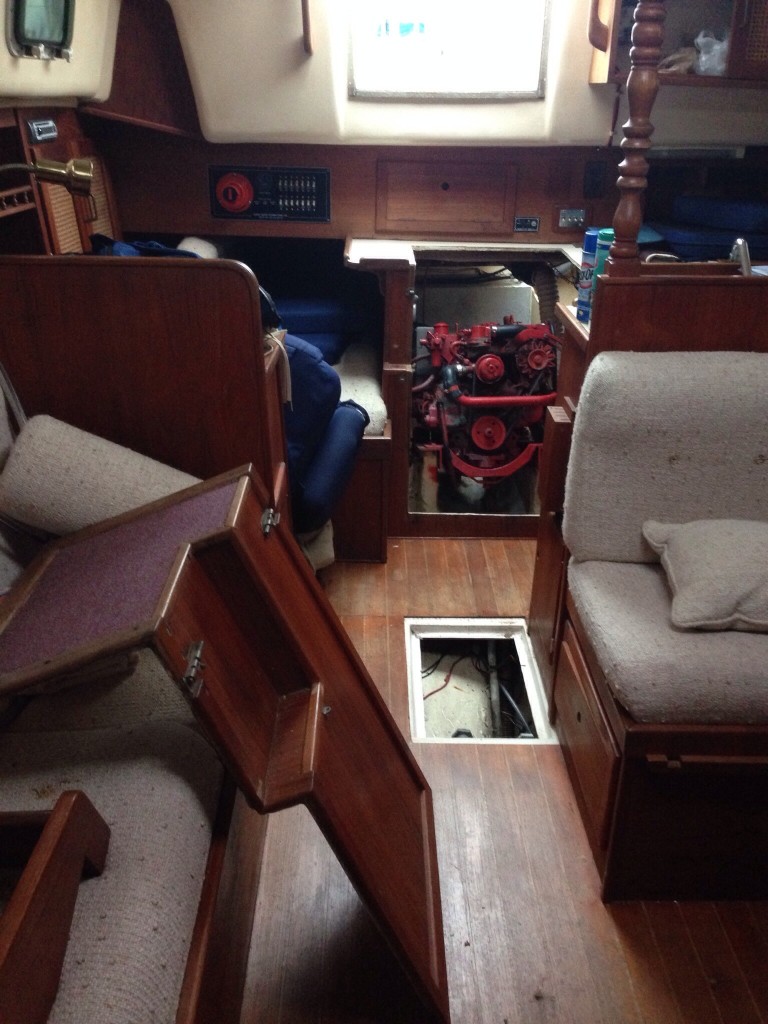 There is a lot to learn! So many intricate ins and outs that have yet to be discovered! But it's really neat to the progress we are making (albeit baby steps).  I got to add a little more personal touch by bringing our tye dye sheets and blankets on board! Makes for a good napping spot and I'm sure it won't be long until we spend the night on Ragnarok! Over the course of the next few trips we will be de-winterizing her, hooking up the plumbing, and maybe get the oven working so we can really get cookin (pun intended)
Got to add some personal flare 😉 I love my tye dye and now we have a cozy nap space.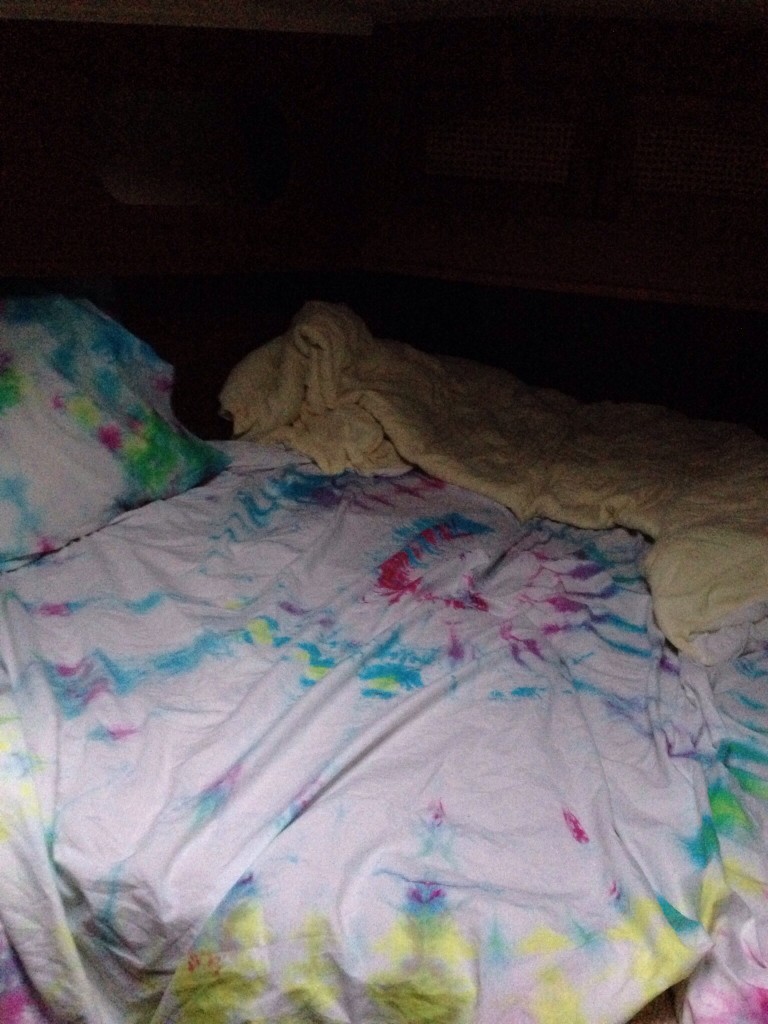 Ciao for now!