About halfway, my birthday, almost there!
As I mentioned in the previous post, the first leg of the Tombigbee was less than ideal.  The frequency that we were going through locks and the miles in between anchorages were rough.  But things got better. After the Aberdeen lock, the next three locks make up the "river section" where waterway follows the course of the Tombigbee river.  We got in to the groove and were putting in lots of miles.  We were accustomed to anchoring right out of the channel and used a bow and stern anchor if we needed to.  Stennis, Bevill, Heflin Locks all passed before us.  Stennis lock was the last lock in Mississippi, so we crossed into Alabama and kept heading south.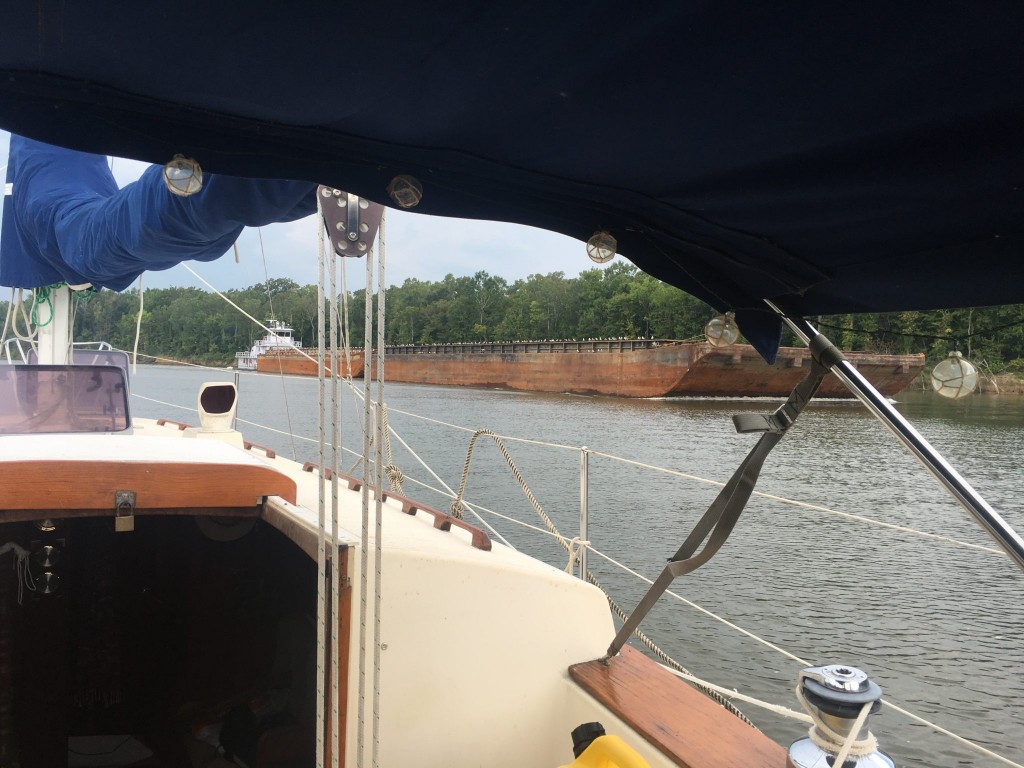 Another day, another journey down a new section of river.  Nothing extremely mentionable from this stretch of river sticks out, except every day we were getting closer and closer to the coast.  After traversing many locks, we came upon Demopolis.  On the way there are great white cliffs on the edge of the river! It was very cool sight after seeing very little scenery.
Getting closer to Demopolis, we started to realize we were running a little low on provisions, diesel, and water.  Our holding tank was almost full and we had a large pile of laundry.  And at this point we were almost out of alcohol for the stove!  So after running our engine all day, we kept a few cans of soup in a cubby above it, and at the end of the day it was warm and we would eat it right out of the can! We didn't use any fuel for heating it up and we didn't dirty any dishes to wash, I felt like a hobo genius!  I also figured that by the time we were in Demopolis it would be my birthday!  So after thinking about it for a while, we finally decided to take the jump and stay at a marina (gasp!)! We stayed at Kingfisher Marina for $1.50/ft/night.  This ended up right under $50 for one night for our 34ft sailboat after tax.  But we were smart about it.  We made sure to get there early, around noon.  They had a courtesy car (which was the deciding factor in staying there) so the first thing we did was take it for a spin.  It was an old dusty Buick.  We got some fast food (hey-o mcdonalnds!) for the first time in a month and headed to walmart.  We got a ton of groceries! We searched high and low for denatured alcohol at wally world but to no avail.  Finally we found a local hardware store so tried our luck there and we hit the jackpot! I was elated!
All I wanted to do for my birthday was bake me a cake, but with limited fuel I postponed.  Now with our alcohol in tow I was ready to bake it up! I made sure we got a ton because Ive really enjoyed cooking and baking and hate to be limited with fuel.  It takes us about one month to go through one gallon of alcohol.  What a great birthday gift!  And after we got back to the boat, we unloaded and ordered a pizza! It was a pizza party!  Gosh I miss pizza.  Thats gotta be in the top things I miss about living on land. So after that successful day, we utilized our second day to do our pump out, fill the tanks, and wash all the clothes. We were there on a weekend so there was a live aboard assisting us, not the owner or manager, and he was super laid back.  We told him we were just staying one night and asked if there was a time we needed to be out by, but he just said as long as we were gone whenever.  So we stayed there until evening then just skipped downstream to the next anchorage.  It was like we got two days for the price of one!  That was one other perk to traveling during the off season, there were not many other boats so we got a good spot and laid back attitude.  We anchored right above Demopolis Lock for the night ready for the next stretch of river.
From Demopolis it was 215 miles to the coast.  At this point the river was the Black Warrior-Tombigbee River. This section of the river is natural, and so there were more twists and turns, more anchorages, and more scenery.  This was also the section of river everyone warns you about… No where to stop for fuel except Bobby's Fish Camp between here and the coast.  So like I mentioned we did fill up in Demopolis.  We have a 20 gallon fuel tank, and also carry 20 gallons in jerry cans.  Demopolis is one of the biggest stops for tugs to fuel up, and the gentleman working the register said they had pumped over 60,000 gallons of diesel that month (August).  Whoa! At this point I also realized we were in gator country! We saw about a dozen of them chilling on the side of the river.
We kept on keeping on, excited to be headed to coast!  We had more than enough fuel to breeze by Bobby's but I had read so many reviews about how it had the best catfish ever and I really wanted to stop.  We anchored about 2 miles above the camp the previous night, and headed on down on a Thursday hoping to get lunch.  Well they didn't open until 3pm, so we just tied up at their floating dock for a couple hours and waited it out.  It was really cool and quirky place, but reading the reviews people had mixed feelings.  The floating dock would probably allow 5 or so boats (depending on length) to tie up to it, but if there were more than they would raft up.  Meaning that other boats would potentially be tied to your boat that was tied to the dock.  I read a review of them being rafted up to 4 boats deep! That would be crazy, and if it was that busy we probably would have kept going.  But we were the only ones there! We had a delicious meal (a little overpriced, but when you're the only one for hundreds of miles I guess you do what you can!) of fried catfish.  Yummy!
After leaving Bobby's I knew were sooooo close! Just a few more days! We had become accustomed to passing tugs port to port as we headed south and they headed north, but at some point we ran into our first south bound tug. It took us an hour or so to catch up to him, because even though we travel slowly they travel slightly slower.  Once we got close enough Erik radioed if it was clear to pass, making sure there was no oncoming traffic or weird turns in the river.  Once we got the ok we revved up the engine as fast as it could go and passed them.  I was a slightly nervous wreck so I had to go sit down below, but after about 15min we passed them.
After running the engine long and hard on a daily basis, we made sure to keep an eye on her and her fluids.  Erik noticed that he needed to add coolant every once in a while, and that we had a small oil leak.  So we kept a close eye on it, and planned on doing a more thorough check once we got to Mobile Bay.